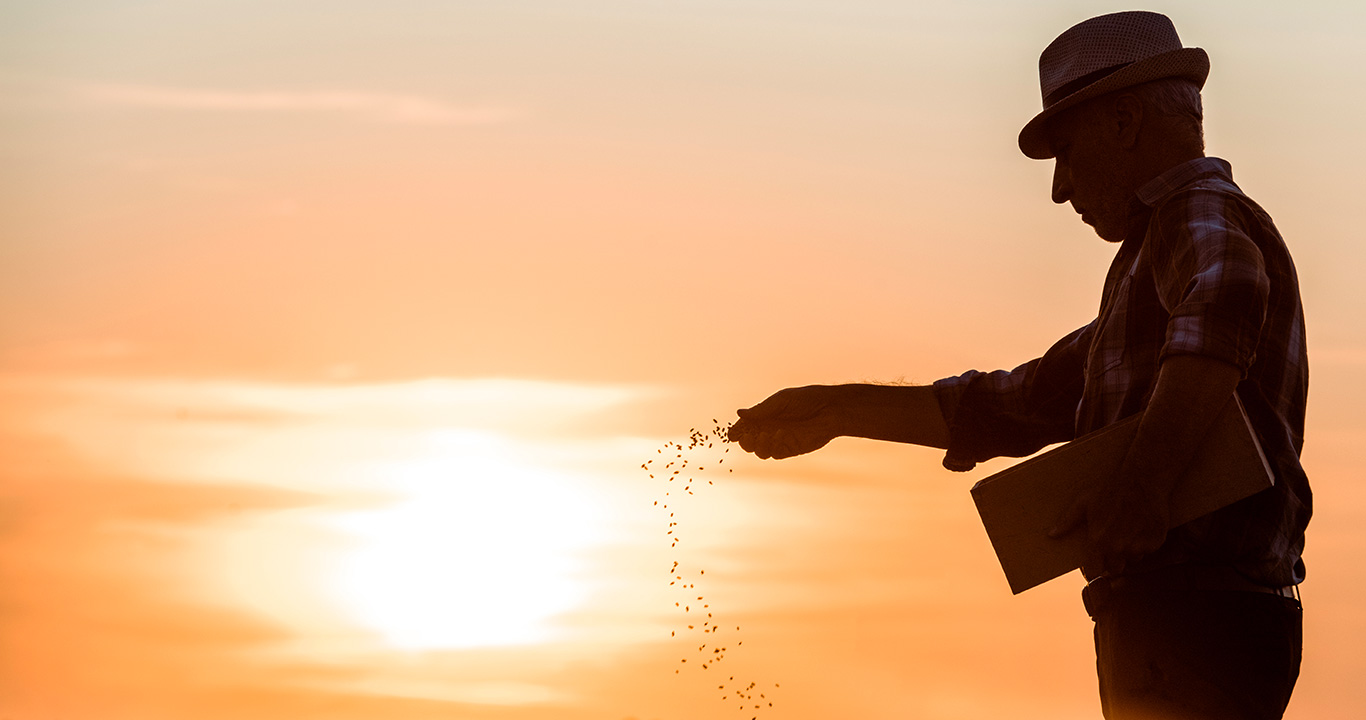 How science is pushing the frontier of seed care
Boosting seeds rather than treating plants: a path to more sustainable agriculture
There is a growing interest for biostimulants in the agricultural world as the trend towards increased sustainability and reduced dependency on petrochemicals accelerates. In this fast-evolving landscape, replacing chemicals that protect crops by killing what might harm them with innovative products that make seedlings more resistant is a promising tool to enable sustainable agricultural practices that preserve ecosystems while continuing to feed a growing global population.
Biostimulants for healthier crops
The idea is simple: to incorporate biostimulants in seed coatings that will help them germinate faster and stronger, thus reducing the need for chemical protection against diseases and pests during the plant's growth stages – but the technologies and modes of action are new and diverse.
"Applying products on the seed to enhance plant vigor is a more efficient and sustainable agricultural practice than curative foliar treatments."
Antoine Vielliard, director Seed Care, Solvay
Based on microorganisms (yeast, fungi, microbials), natural extracts, minerals, etc., biostimulants come in different forms and with varying modes of action, making this one of the most active and innovative fields in agritech today. A myriad of players, from start-ups to agrochemicals giants, are in a race to bring to farmers innovative solutions as an alternative to traditional pesticides, which are being pushed out by tightening environmental regulations and increasingly discerning consumers.
And if those reasons aren't enough, the pressure to switch to biological solutions is made even more urgent by the fact that traditional chemistries are encountering resistance issues from pests. "Biostimulants are not only safer to the environment, they're a more subtle and intelligent solution than mere chemical control," explains Antoine Vielliard, Director of Solvay's Seed Care segment. "Why? Because a healthy and vigorous plant in its initial development phase is less prone to disease and pest damage in its later stages."
A top tier global producer of seed coatings
For Solvay, a global leader in materials and chemistry serving a wide range of industries from aerospace to personal care, positioning itself in this segment has become a strategic priority, in no small part because it fits the company's commitment to increasing sustainability through chemistry and innovation. "Being able to formulate directly on the seed instead of on the plant is a more efficient and sustainable practice," sums up Antoine. "We've historically developed a formulation expertise for curative foliar spray, but we're actively moving towards preventive on-seed application with seed coatings."
  
  
Following the launch in 2019 of Solvay's first biostimulant, AgRHO® S-Boost (see above), which uses a breakthrough bio-based hydrophilic gradient macromolecule technology to channel water and nutrients from soil to seed, the next step was taken in 2021 with the acquisition of Bayer's seed coating product line. "Bayer is a long-time customer and partner and was looking for the best owner they could trust to take over their seed coating activity, and we were lacking the  competency to formulate on seed," says Antoine. "So the timing was perfect."
The result is that Solvay is now poised to offer its innovative biostimulants to the seed industry in a much stronger position, as this acquisition also places Solvay among the world's top three players in seed coatings.
One foot in the future of agriculture
The flagship product range in the newly acquired portfolio has been well known to the industry under the Peridiam® brand – "'diam' is for 'diamond,' because seed coatings are shiny, slick and offer a perfect surface finish along with excellent adhesion, in many ways similar to formulating nail polish," adds Antoine. Peridiam® is in the process of being fully integrated into Solvay's Seed Care offering: "we're going to develop 2-in-1 products combining Peridiam® coatings with biostimulants, as well as recommendations for customers who make their own formulations." Simultaneously, R&D teams are also working to transition the range towards biodegradable coatings.
And there is a lot more down the road. Drawing from Solvay's diverse portfolio, many new seed coating solutions are to be tested and developed. "This is a young and dynamic market, with lots of different new technologies being explored," details Antoine. "Using a biostimulant such as S-Boost for a field is one possible solution, but it all depends on the crop, the region, the local specificities… And then there are all the innovations on the horizon, with the digitization of agriculture and why not connected seeds one day! We are passionate about investing in these exciting new fields of sustainable and digital agriculture, starting right now!"