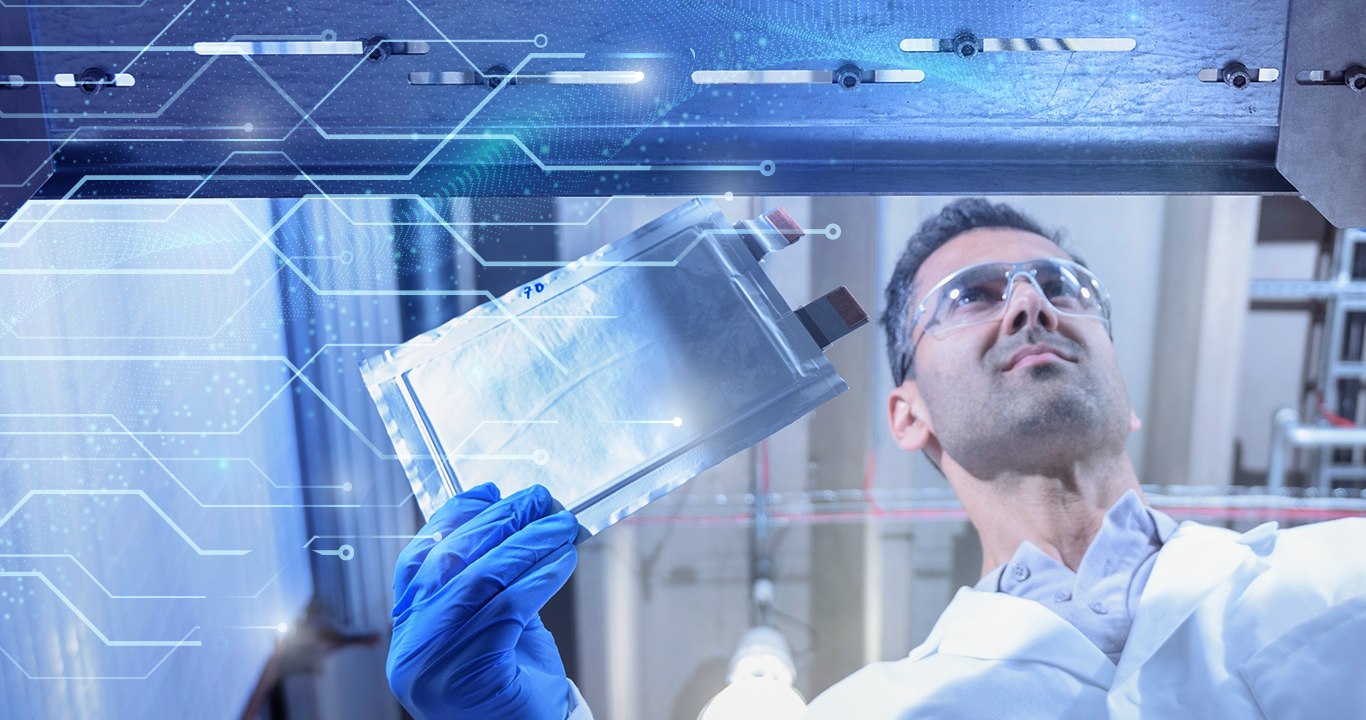 Paving the way for the future of solid-state batteries
Ushering in huge performance gains for batteries
You might have heard about the new, cutting-edge technology of solid-state batteries (SSBs), thanks to which batteries will deliver much higher performance. In reality, the idea of using solid electrolytes in a battery instead of liquid ones has been around for decades. But thanks to recent developments and innovations, this technology is finally on the verge of becoming applicable on a large scale, heralding major changes in fields such as electric vehicles and energy storage, crucial areas for the decarbonization of human activities.
Solid-state batteries: stronger, safer, and more flexible 
Offering double the energy density as currently available batteries, SSBs will quite simply allow an electric car to go twice as far on a single charge, and fast charging will be even quicker. "It's clear that solid-state batteries are going to be a game-changer in terms of performance," says Valérie Buissette, the Head of Solvay's Solid-State Battery Program. "Plus, they are made with intrinsically safer materials, offer more compact design possibilities and allow a simplification of heat management systems that will result in significant cost savings for users."
The term "solid-state" actually encompasses different technological options: from semi-solid batteries that offer incremental performance increases to all-solid-state batteries (ASSBs), capable of delivering the considerable boost mentioned above. Solvay, a long-standing materials provider in the field of batteries, decided to focus on the latter, the real breakthrough technology, "particularly sulfide-based, the most promising ASSB technology," says Valérie.
A solid-state electrolyte is a powder made of inorganic particles that ensure the mobility of lithium ions in the battery. Scientists were already familiar with the concept of ions moving through a solid – but not lithium ions, and not at low temperatures, until recently. These discoveries enabled the development of a new family of materials with the required properties in the early 2000s, but they still need to be fully developed at lab scale to fit with a viable battery application, before they can be scaled up to an industrial level.
"The work that lies ahead of us now consists in bringing this scientific discovery to commercial application," confirms Valérie. But that might come sooner rather than later: a recent convergence among industry players is likely to lead to the adoption of sulfide-based SSBs before the end of the decade.
"Very few industrial players can design, develop and industrialize the breakthrough materials required for solid-state batteries with the scale and reliability required by the industry, and Solvay is one of them."
Valérie Buissette, Head of Solvay's Solid-State Battery Program
 
Because of all this, and thanks to the fact they require no compromise on performance in terms of fast charging properties or total cost of ownership, SSBs are set to eventually overshadow their liquid electrolyte counterparts. But as always, there are hurdles to overcome and technological choices to make.
Solvay, in the driver's seat for solid-state technology
Solvay is the front-runner in Europe for the design and scale-up of advanced inorganic solid electrolytes. These materials, developed in our R&D labs in Paris, are key components for ASSBs to be able to meet rising demand to power electric vehicles.
To demonstrate the industrial feasibility and scale-up to a semi-industrial level, we opened a pilot research unit at our plant in La Rochelle, France. These investments were supported by the European Commission's Important Projects of Common European Interest (IPCEI) programme, the French Nouvelle Aquitaine and Ile-de-France Regions, and the French government. "This one-of-a-kind pilot asset will expand Solvay's research and innovation capabilities in Europe and be one of the first tools allowing large-scale prototype production," adds Valérie. On top of that, Solvay has also developed specific binder technologies adapted to the new processing and performance challenges posed by solid-state designs.
With the most advanced Asian players already lined up to manufacture the first pilot SSB cells, announcements have been made for commercial releases as early as 2028, if not sooner. On the European and North American markets, Solvay is well positioned to be "in the leading seat," says Valérie. "Very few industrial players can design, develop and industrialize the breakthrough materials required for solid-state batteries with the scale and reliability required by the industry, and Solvay is one of them. We have synchronized our timeline with key stakeholders across the value chain."
 
Stay tuned for the rapid emergence of solid-state batteries. The countdown may well have begun to the day you drive your first SSB-powered vehicle…