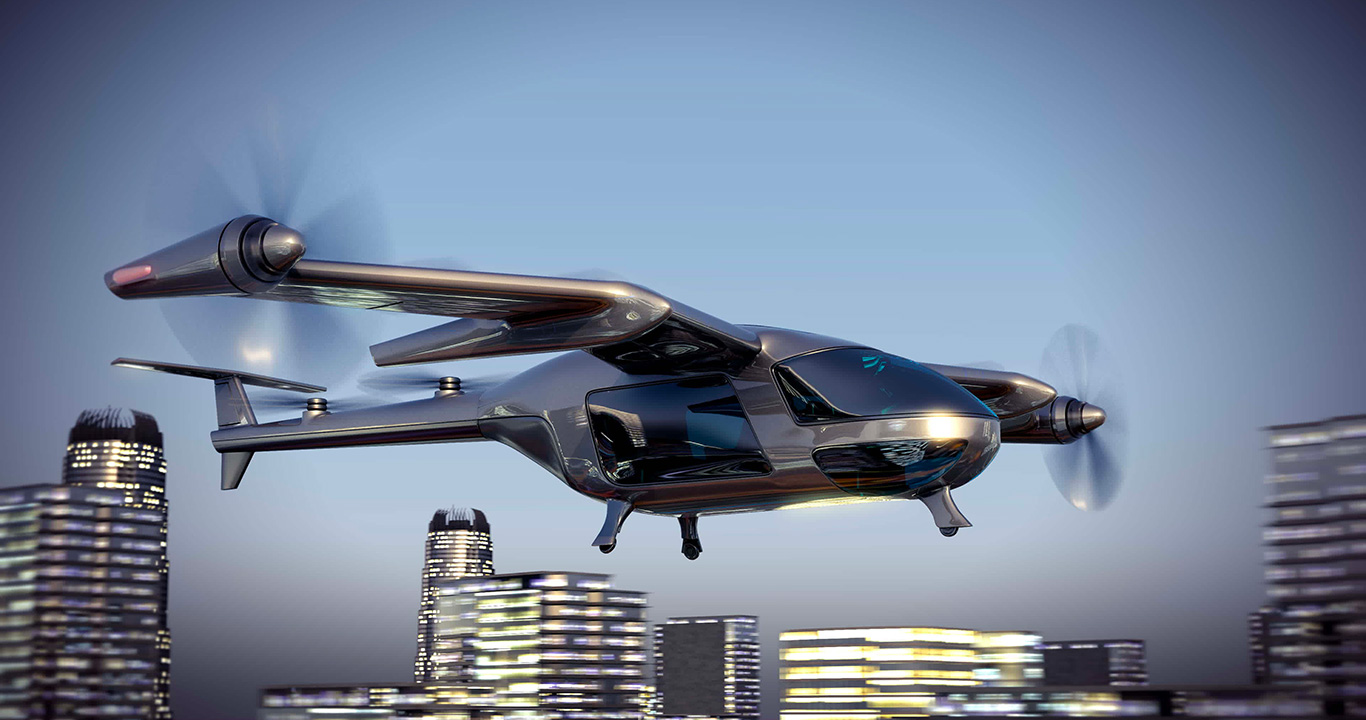 The high-flying materials to help urban air mobility take off
Solvay materials are the secret sauce in air taxis and drones
Among the variety of areas where Solvay's materials can help build means of transportation that are as light as possible, the urban air mobility (UAM) segment is probably the one where lightweighting is most crucial. This nascent and budding industry is busy developing new ways to move people and goods with super light, zero-emissions flying machines ranging from delivery drones to air taxis that sometimes seem to be pulled straight out of a science fiction movie.
 
Discover this and more at K Fair 2022
 
The future of urban air mobility
With their ability to significantly reduce weight and simplify manufacturing compared to metal, thermoset and thermoplastic composites have an important role to play in urban air mobility (UAM) technologies. "This is a new market with several hundred active companies, the majority of which are startups," explains Ales Krubner, Strategic Growth Manager at Solvay's Composite Materials. "Working with so many small players is uncommon for us, but we have a strong portfolio of materials that have been proven for aerospace applications." This means that by using these materials that enjoy an aerospace pedigree, UAM manufacturers can de-risk rigorous certification processes and accelerate time to market.
Another key element for this market is flexibility. The companies that build these nimble devices need to be able to experiment with different types of manufacturing processes and design prototypes as easily and rapidly as possible. To do that, in addition to thermoplastics, prepregs and resin systems, they can also draw from our range of adhesives and films to find the solutions they need while maximizing cost efficiency. "Our broad portfolio allows us to be material agnostic and to offer our customers the best solution for their specific part needs," says Edoardo Depase, Head of Marketing and Business Development for North America at Solvay's Composite Materials. "Also, our strong application engineering competency allows a deep understanding of their requirements and increased customer intimacy."

Podcast: Stephen Fitzpatrick, CEO of Vertical Aerospace

Materials for uses across the board
This is a diverse market comprising roughly three categories of vehicles: small delivery drones that can carry payloads of a few kilograms, cargo drones with a capacity of roughly 40-50 kgs, and air taxis that can transport up to five people – with or without a pilot.
These different segments all come with their own requirements and specificities, not to mention different stages of development for every project. "Material selection changes according to where the companies are in their lifecycle: do they need to build 10 prototypes or manufacture 1000 vehicles a year?" explains Lisa Walton, Market and Business Development Manager at Solvay's Composite Materials. "What's important is that we understand their future needs so that we can offer the most relevant solutions for them, now and down the line."
 
The area where Solvay's materials have the most to offer is for larger flying devices, where the need to combine lightweighting and high performance is the most crucial. "Vehicles such as air taxis focus on gaining the right balance of payload and range, coupled with zero-emission flight, so there is a strong trend towards fully electric propulsion," explains Sam Hill, UAM Marketing & Business Development Manager at Solvay's Materials Group. "Yet the technology as it exists today in terms of energy density means that batteries are very heavy, and that puts a strong emphasis on lightweighting - every gram counts!"
 
The good news is, Solvay's material offering spans the full application space of a UAM vehicle, from the main airframe to rotor blades, electric motors, battery components, enclosures and beyond, while its adhesives reduce the number of fasteners and improve assembly times. What's more, these materials have been tailored for exceptional balance of stiffness, damage tolerance and notched performance to support the demanding nature of highly optimized airframes and frequent take-off and landing cycles.
 
The best of two worlds to power air mobility
As a part of providing a service that goes beyond selling materials, Solvay's Composite Materials teams aim to work hand-in-hand with UAM customers both large and small and offer application engineering to help them determine what materials they should go for.
 
Our applications centers in Heanor, UK, and Brussels, BE, are there for just that: they offer virtual engineering facilities so that interested companies can come and see for themselves which materials offer what performances. "They don't necessarily know what materials they need, but they come to Solvay because this is an industry that sits between aerospace and automotive, and we are active in both segments," says Ales. "Our portfolio combines the high performance of aerospace applications and the high-rate manufacturing requirements of the automotive industry," adds Sam. "These are solutions that enable efficient structural design with high-performance materials, a key enabler to making UAM vehicles a success."
Urban air mobility is going to be electric or hydrogen-powered, and Solvay is seen as a partner for zero-emission mobility, a company with a strong focus on innovation and sustainability.
Innovation for zero emissions mobility
In terms of what's already roaming the skies, delivery drones are becoming a reality and middle-range cargo drones have started being used to transport supplies to remote areas. As for the air taxi market, there are still infrastructure and regulatory hurdles to overcome. Yet, Uber is announcing the launch of an air taxi service in select cities as soon as 2023. "That's when the market will truly take off," says Lisa.
In the meantime, Solvay is in an ideal position to serve this industry, offering the materials, support and know-how to overcome its many current and future challenges. And also because of the Group's reputation, as Ales explains: "Our involvement with Solar Impulse helps us generate interest in this industry," he says. "Urban air mobility is going to be electric or hydrogen-powered, and Solvay is seen as a partner for zero emission mobility, a company with a strong focus on innovation and sustainability."