Chemistry holds the future of eco-mobility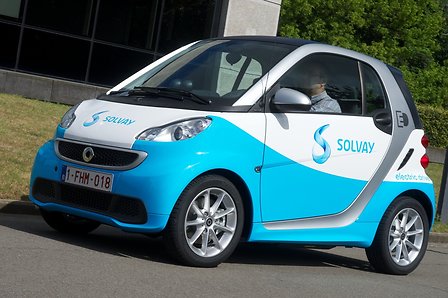 The need for sustainable mobility is rising rapidly as the world's population grows and urban living becomes more common. The numbers are staggering. The UN estimates that by 2050 the world's population will be close to 10 billion, an increase of 2.5 billion on today's population, and that three-quarters of us will live in cities. Ensuring that all of these people are able to move around easily requires radical new approaches to sustainable mobility.
To create these breakthrough solutions, Solvay has gone beyond the role of being just a material provider. We're now a solutions provider for processes, simulations, testing, and every other task in the manufacturing process. We care for our customers and their customers by helping them to integrate these technologies into their products.

Deploying a new Solvay technology has an impact on the entire vehicle. That's why Solvay is also working closely with our partners – both in academia and in industry – to understand each system and the impact our products make. This is a new approach but it also gives us an insight into the upcoming technology shifts and the roadmaps of our partners. We're also holding Tech Days with both aviation and automotive OEMs to demonstrate the added value and potential of chemistry for eco-mobility.
At Solvay we are focusing our research in four main areas: reducing weight; improving powertrain efficiency; electrification; and green solutions.
Reducing weight saves energy
One of the most important megatrends we're working on at Solvay today is light weighting. As a chemical company, that requires us to develop materials which allow OEMs to make lighter cars and aircraft. Because they are lighter, these mobility solutions consume less fuel and have lower CO2 emissions than existing vehicles and aircraft.
Many of our lightweighting technologies have already been deployed in projects such as Solar Impulse.
Our recent acquisition of
Cytec
has broadened our portfolio of lightweight solutions to address both the existing aerospace market and emerging trends in the automotive sector. These new polymers and advanced composites will reduce weight significantly. But in addition to new materials, we will also offer our customers the competencies they require to integrate them into their processes.
Improving powertrain efficiency
Engines can be quite inefficient. Up to 65 percent of the energy they produce is lost in the engine itself. Improving this figure is critical if we are to achieve true eco-mobility solutions.
To meet regulations, OEMs must downsize the engine while maintaining output. This creates significant challenges as the engines are hotter, pressures are higher, which affects the materials and plastics in the system.
This is an area where Solvay has already developed a number of solutions. They include Amodel® PPA which outperforms standard materials at elevated temperatures. Amodel® offers higher strength and stiffness, better retention of properties in humid environments, and greater resistance to a broader range of chemicals. With several grades, Amodel® can be utilized in many highly demanding applications including the new generation of exhaust gas recirculation (EGR) systems, turbo air ducts, or selective catalytic reduction (SCR) systems.
Solvay's NOCOLOK® flux brazing technology is the industry standard for brazing aluminium heat exchangers and other vehicle components. NOCOLOK® offers advantages including improved heat transfer and noise reduction.
With the help of Nocolok®, we can see a reduction in the size and weight of aluminium radiators
and about seven other heat exchangers in our cars.
Electrification
Eco-mobility is going to require a change to our current transport modes as well as ownership models. In the future, I believe we will have an increasing number of transport modes which are tailored towards specific missions. This will require more vehicle segments to meet different needs. In turn there will be more technologies to suit those different segments.
City vehicles are likely to be purely or partially electric. Solvay is already shaping the future direction of the lithium-ion battery as we develop new anode and cathode binders, separators and electrolytes create batteries with higher power density, longer life and at a lower cost. Our solutions include Solef® PVDF, anew generation of binders and materials for separators which improve battery performance.
Green and clean solutions
We're also using bio-chemistry to create material solutions without the need for petroleum or its derivatives. Technyl® eXten is a bio-sourced alternative to polyamides. It is used in automotive applications to manufacture fuel lines, flexible plastic pipes, and hoses and tubes for brake and clutch systems.
Solvay also has a range of solutions to improve fuel economy and reduce emissions. Products already on the market include our Zeosil® range of highly dispersible silica (HDS). Zeosil® reduces the rolling resistance of tires, and cuts a vehicle's fuel consumption by five to seven percent while still meeting international safety standards.
Actalys® and OPtalys® are two performance materials which boost the performance of catalytic convertors, thus minimizing emissions. They enable catalyst manufacturers and OEMs to achieve cost-effective compliance with emission standards.
These products, along with the many other solutions Solvay is working on today, will help to shape the future of eco-mobility. It's a sustainable future that we strongly believe will depend on chemistry.