Ready to learn more about our graduates' Industrial program?
James Daly, Industrial Director North America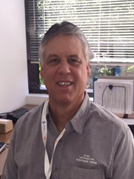 "In North America, Solvay provides the unique opportunity for engineers hired through our Foundations for the Future (FFF) program to work in different businesses and in different industrial roles during a five year period. By doing so, the FFF engineers gain insight into the direction they want to pursue in their career.

While most FFF engineers remain in an industrial role at the end of the five years, some have chosen to pursue a career in commercial or R&I. Also, as part of this program, they have the opportunity to meet and network with senior level leaders of the company, through several networking dinners organized during the first two years of their career."
Examples of potential future positions for you in Industrial
Production Unit Manager
Ensure production schedules in production units are met under the best cost, quality and time conditions and in accordance with QHSE standards, regulations and customer requirements
Monitor key performance measures related to operational performance (yield, cost, safety, quality, efficiency,…)
Manage and develop the team
Improve the unit's performance on a mid-term basis and apply best practices
Site Process Manager
Improve the performance of the site production units, by supporting the Production Unit Manager in the various fields (safety/environment, quality, capacity, competitiveness), or by defining projects, together with R&I, Engineering and the Technology team of the GBU
Deal with recurrent issues or opportunities
Design & manage capital projects
Manage the process engineering team
Maintenance Manager
Provide up-to-standard maintenance and associated activities to production in accordance with QHSE regulations and standards
Optimize maintenance processes, costs and service quality in a sustainable way and applying the latest technical and maintenance methods
Manage the Maintenance team and support their career and competency development