Solvay on a fast track toward growth in the aerospace & automotive industry
Solvay keeps building a unique and strong position in the aerospace & automotive industry, combining the world's broadest offering in ultra-performing specialty polymers materials with its expertise in composite structural parts. Buckle up for an overview of our latest developments in this field.
Lightweighting is key
The global trend towards CO2 reduction and resource efficiency are driving greater demand for lightweight composite materials. We expect the use of lightweight materials to grow significantly across all industries. The aerospace industry is currently the biggest user, while the automotive industry is massively increasing its lightweighting efforts. Already used in Formula 1 and luxury cars, composites should find their way into other automotive segments in the near future.

Major developments in the aerospace and automotive markets
Solvay's commitment to the aerospace and automotive industries has been further strengthened by the recent opening of a new Application Centre in Heanor, in the UK, which marks a major milestone in the company's strategy of collaborating with customers in the development of efficient volume production technologies for composite applications, key to the future of mass transportation. The new center is fully equipped with state-of-the-art automated material formatting and handling solutions as well as rapid-cure processes for high volume manufacturing.
Solvay and The Boeing Company announced that they had extended their contract through 2020 for the supply of high-performance, structural composite and adhesive materials used to lightweight Boeing's large passenger aircraft for legacy programs such as the B737, B747 and B777 as well as current and future platforms, including B787, B737MAX and the B777X.
This extended contract includes delivering on specific supplier initiatives as well as long-term growth opportunities with current and future qualified Solvay products. Solvay supplies a range of products for primary and secondary structure applications, such as flaps, doors, fairings and ailerons. Products include CYCOM® prepregs, adhesives and surfacing materials that offer high toughness and strength as well as tailor-made process materials solutions that lower manufacturing costs and save time as they offer excellent process repeatability.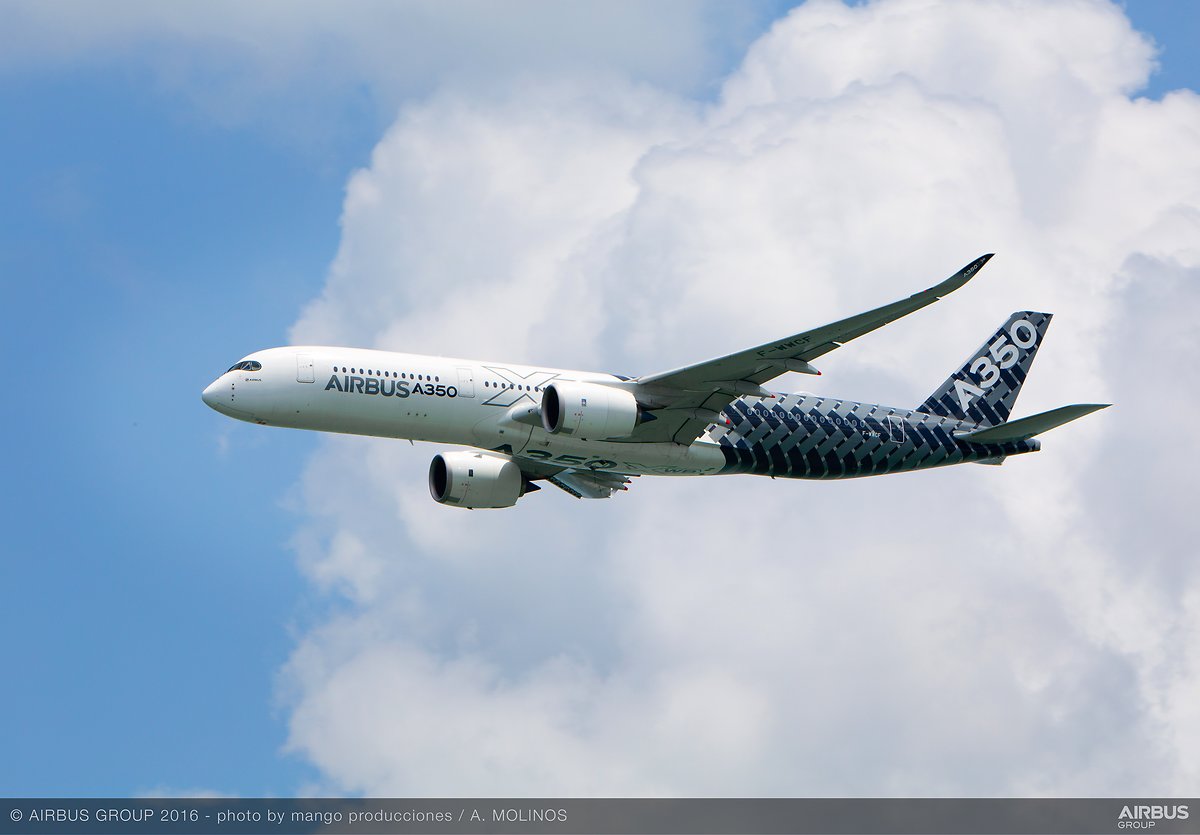 And last but not least, Solvay has obtained qualification from Airbus for its TegraCore™ PPSU foam, which is implemented on its flagship A350 XWB as a high-performance lightweighting material and paves the way for its use on other Airbus aircraft. Following rigorous testing by Airbus, TegraCore's™ applications on Airbus platforms can range from ducting to sandwich components which comply with the most demanding flammability, smoke density, and toxic gas emission (FST) requirements and are superior in impact strength compared with traditional honeycomb cores. TegraCore™ addresses the needs of the aircraft industry to reduce weight and thereby fuel consumption and CO
2
emissions but also saves time and costs in production, refurbishments and maintenance.
Solvay successful time at JEC World 2016
Early March, Solvay also had a successful time at
JEC World 2016
, the composites trade fair that took place in Paris this year. With more than 100 countries represented and 250.000 industry professionals, JEC World is the largest international show of the composite industry. This was the perfect occasion for Solvay to showcase its value-added composite solutions to further drive lightweighting innovation in both the aerospace and automotive markets!
The combined exhibition of
Solvay Specialty Polymers
, and newly formed
Composite Materials (previously Cytec)
global business units, presented a stronger portfolio of thermoset and thermoplastic prepregs, structural and 3D-moldable foams, adhesives and surfacing films, resin and compound systems, impact modifiers, carbon fibers, textiles, tooling and vacuum-bagging consumables.
By merging the technology platforms of the two business units, Solvay can now offer customers an unmatched range of materials solutions that help aircraft manufacturers build more planes faster and with lower costs in use. The broadened portfolio encompasses solutions for nearly every material aspect of airplane manufacturing, ranging from the cabin and cargo holds to secondary and primary structural applications. Solvay is therefore well positioned to strategically and holistically support its customers to solve technology challenges in a rapidly changing industry.
Combining the know-how, expertise and assets of Solvay's Composite Materials with that of Specialty Polymers, establishes a highly integrated materials solution provider for the automotive industry. Through its application engineering competence and newly enhanced global industrial and technological footprint in rapid cure thermoset and thermoplastic composites, films, foams and sandwich solutions for high volume applications, Solvay is ideally placed to meet the automotive OEMs and their supply chain lightweighting needs.

JEC Innovation Award
Solvay, Renault Trucks and its partners have won the 2016 JEC Innovation Award for Structural Parts in Automotive using a thermoplastic composite material to build a front structural module of a truck, called the firewall. This new high performance composite material is based on Solvay Evolite® thermoplastic resin reinforced with continuous glass fiber. The module weighs 25 percent less than a similar metal model, while the number of parts used to assemble was divided by two, thanks to the pooling of the partners' innovations in design, materials and manufacturing.
Lightweighting materials increasingly replace metal parts or structures enabling airplane and automotive manufacturers to meet ever stricter regulations to reduce fuel consumption and CO2 emissions of their vehicles.
The award recognized the excellent results of collaboration in innovation among five industrial companies, led by Solvay and Renault Trucks. In less than four years, they designed, manufactured and validated this new composite module. Assembled on a truck, it was tested on front crash, vibration and durability, showing it could meet the industry's strictest safety requirements.
"Solvay is very proud that its thermoplastic composites material has withstood the harsh testing conditions of the truck industry, proving the excellent performance of the Evolite®-based composite and increasing the role these composites can play in reducing CO2 emissions. I would like to congratulate and thank our partners for this highly impressive result acknowledged by JEC", said Nicol as Cudre-Mauroux, Solvay's Head of Corporate Research & Innovation. "The recent acquisition of Cytec will further boost Solvay's comprehensive expertise in high performance materials."
This important recognition awarded by peers acknowledges Solvay's innovation excellence in the field of thermoplastic composites. Our team is very excited to offer the most advanced technologies and services to our customers to solve their most stringent lightweighting challenges.