Long Fiber Thermoplastic Compounds
Fiber skeleton delivers new standard of performance in metal replacement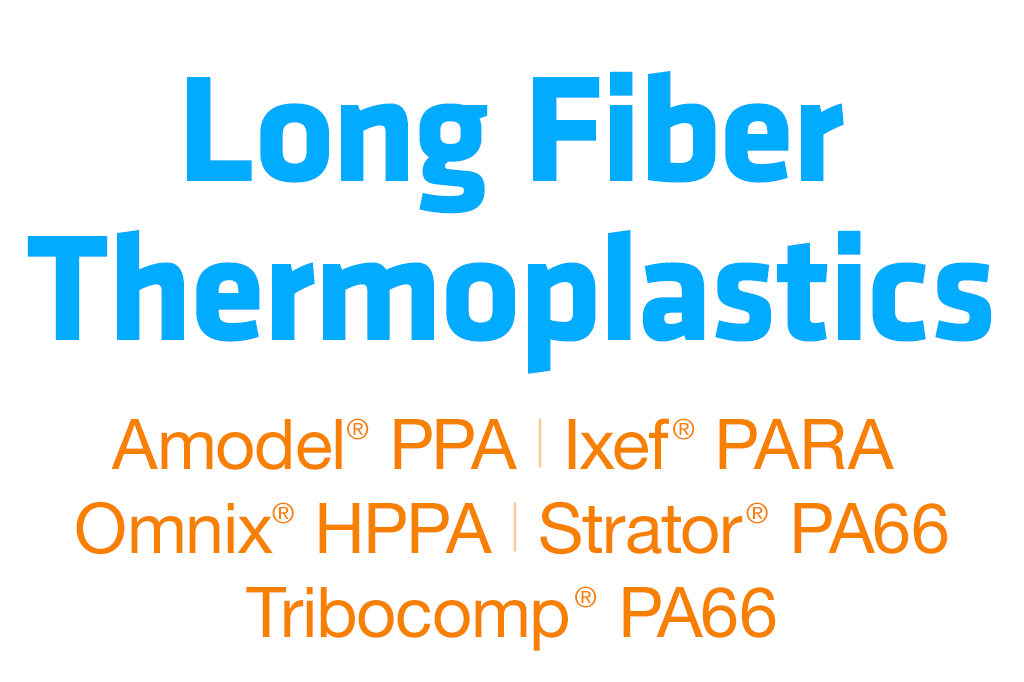 Solvay's Long Fiber Thermoplastics (LFT) are innovative long-fiber reinforced structural products that target challenging metal replacement applications and semi-structural applications. They are designed specifically to achieve maximum synergy between: high performance, design freedom, functions integration, weight reduction and per-part cost economy through fast cycle times.
Solvay LFT materials are created using a pultrusion process, where continuous reinforcement fiber strands are impregnated with plastic resin and trimmed to the targeted granulate length of typically, 7 to 9 mm. These materials are reinforced with glass fibers, the length of which corresponds to the granulate length.
The function of LFT's is to create, during the injection molding process, a unique 3D entangled long glass fiber network inside the molded part (shown below). This glass fiber network really forms a strong fiber skeleton, which ensures an optimal dimensional stability and significantly improves the thermal-mechanical properties compared to traditional highly filled short-fibers plastics.



LFT products can be processed on commercial standard injection-molding equipment. Simply, low shear conditions must be preferred in order to minimize unnecessary fiber filament breakage.
Solvay's LFT compounds are available in dried form, shipped in ready-to-use octabins and in 25kg plastic bags.


Key advantages
Key markets

Combination of high stiffness and outstanding impact strength
Unrivaled retention of mechanical performance at high temperature
Extremely low tendency to creep under high permanent loading
Outstanding fatigue resistance
Reduced isotropic shrinkage
High dimensional stability and very low warpage
High shear strength and high burst pressure
Excellent surface finish
Ease of processing and fast cycle times

Automotive
Advanced Transportation
Consumer Goods
Sport & Leisure
Industrial Applications
Water Management
Long Fiber Omnix® LF HPPA property improvement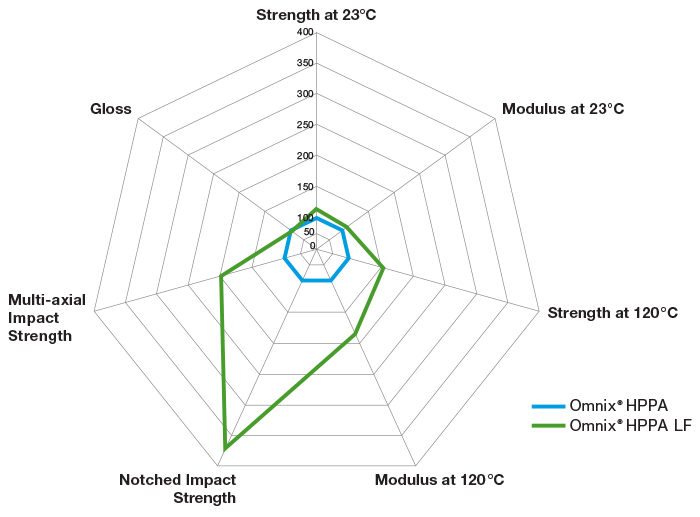 Improvement expressed in % vs. standard short-fiber reinforced Omnix® (Tg = 80°C) at same GF loading
Long Fiber Amodel® PPA property improvement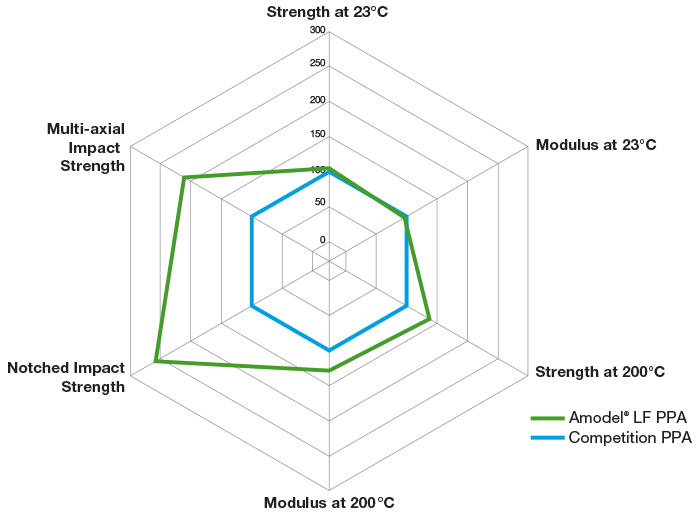 Improvement expressed in % vs. standard short-fiber reinforced PPA at same GF loading
Tensile creep at 150 °C and 60 MPa load – strain chart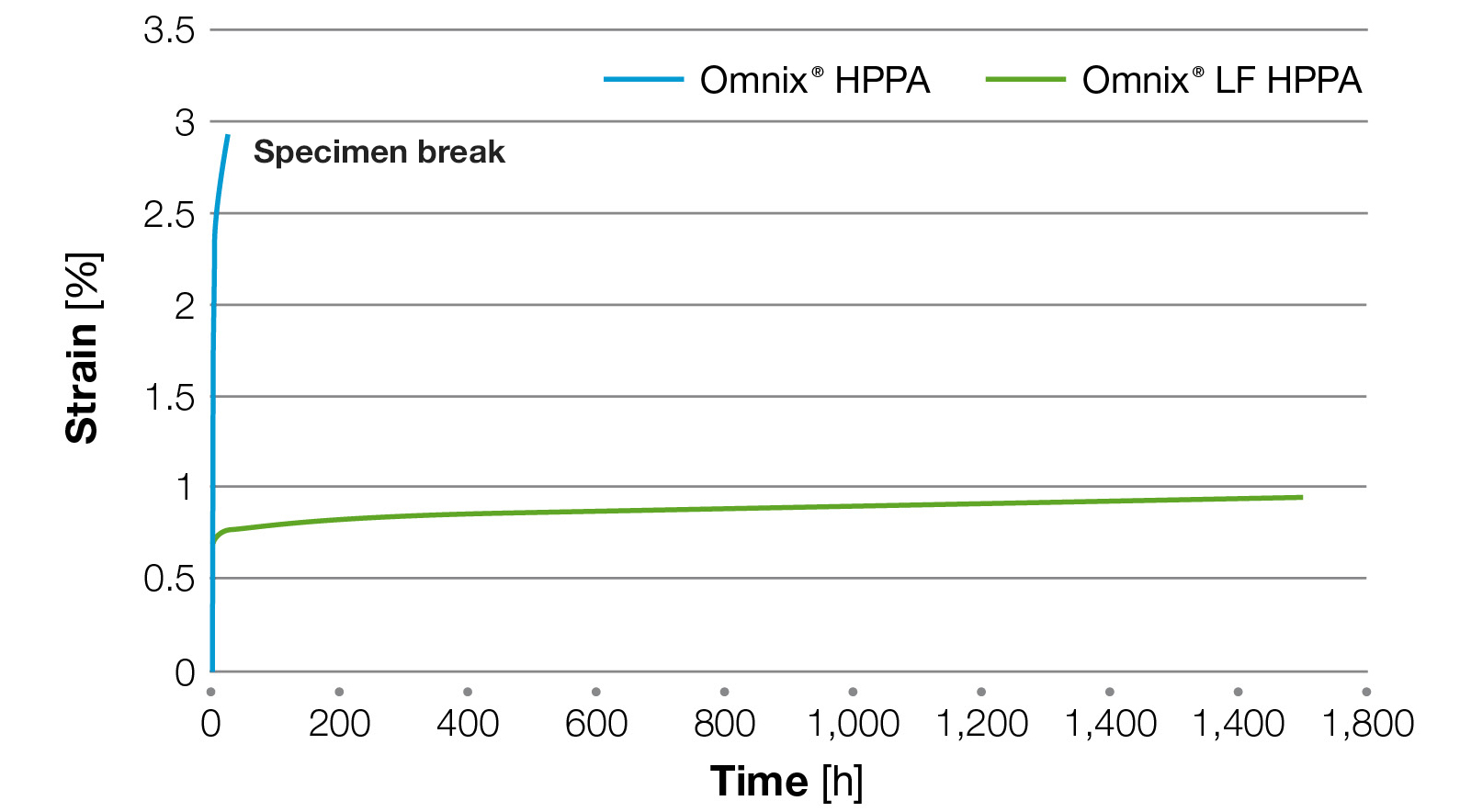 Graph compares strain evolution of specimen maintained under load for standard short fiber reinforced
Omnix® HPPA and Omnix® LF HPPA long fiber grade at same glass fiber loading.
Falling weight impact test
PTI-CEAST - 23°C - 25,2kg from 1m at 4,4 m/s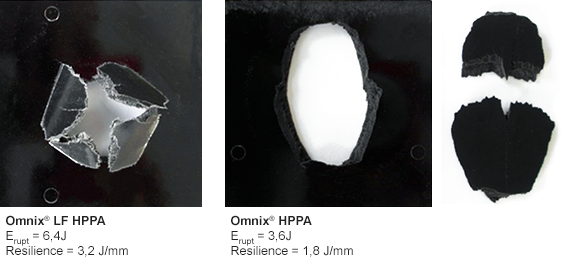 Pictures demonstrate, in case of long fiber product, the active participation of fiber skeleton in impact energy absorption and the resulting benefits of performances.