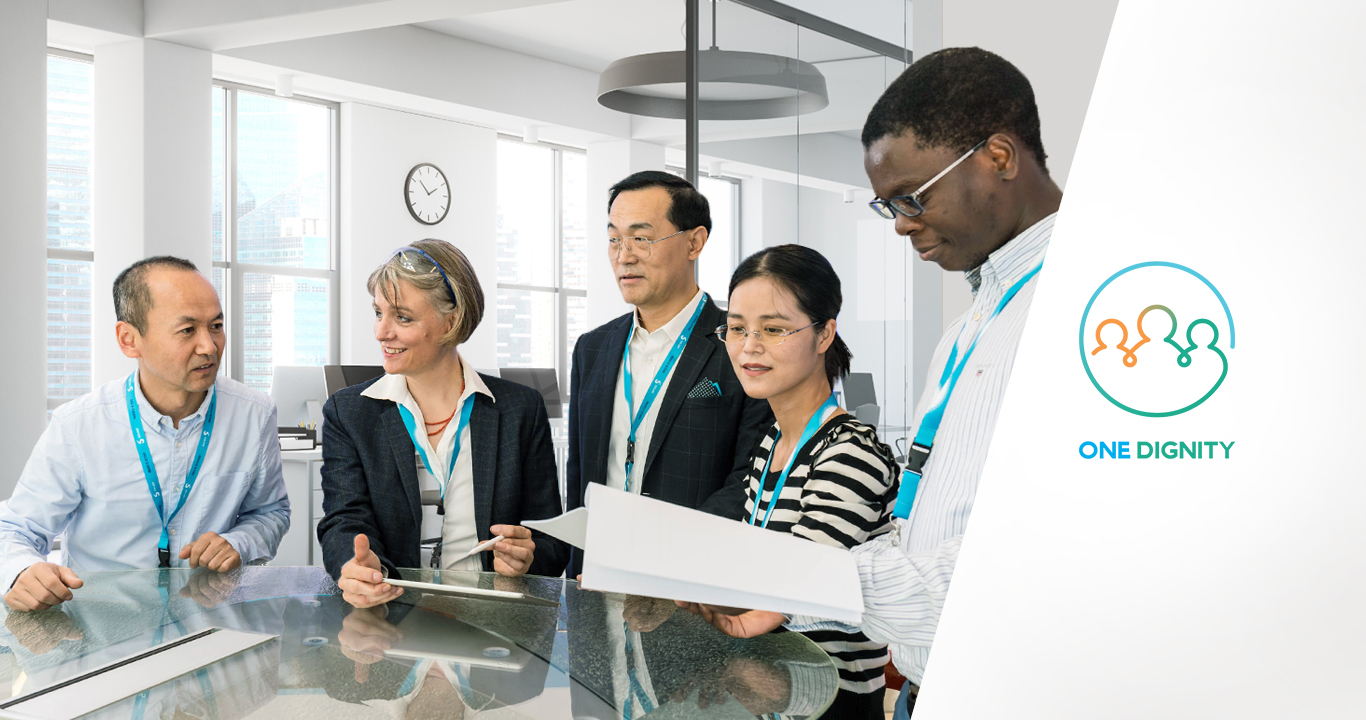 Diversity, Equity and Inclusion
Creating a diverse, equitable and inclusive workplace
Diversity
We want to foster a culture where people can come with their "whole self" to work and be at their best.
Gender parity
Accelerate gender parity at all mid and senior levels
About
We consider gender parity to be a bridge leading to  gender equity, which results from  ensuring the access of women and men to the same opportunities, rights, and material conditions, while respecting individual choices.
To accelerate our objective for more diverse management teams, we give ourselves the target of reaching gender parity for our middle and senior management by 2030.
Initiatives
Solvay has set clear KPIs to address the following priorities: 
- Accountability: reinforce the sense of accountability across the Group and providing the tools and resources necessary to set targets and follow progress
- Resources for women: empower women to own their ambition through professional development programs 
- Unconscious bias: raise awareness of barriers for women in the workplace through dedicated unconscious bias trainings
Some key actions taken to address gender equity include Solvay's partnership with the A Effect to provide professional development opportunities for female employees, and extended parental leave of 16 weeks.
Solvay is also a partner of numerous local organizations and initiatives to promote STEM careers for girls and level up gender parity across the industry : green light for girls, Elles Bougent, and GirLS to name a few.
Insights
In 2021, women represented 25.4% of Solvay's middle and senior management.  
As of January 2022, the representation of women at management level is as follows:
- 23% of total workforce
- 35% of Junior Management (S15-18)
- 26% of Middle Management (S19-22)
- 16% of Senior Management (≥S23)
Solvay has set the target to improve by 2% the representation of women in mid and senior management in 2022.
Disability Equality
Make our workplace optimal for people with disabilities
About
Our vision is to build a workplace environment that embraces everyone. We define workplace in the broadest sense, to include the accessibility of our buildings as well as the digital employee experience and our collective behaviours, so that our disabled colleagues feel as included and prepped for success as any other employee.
Initiatives
In partnership with Disability:IN, Solvay has started a diagnostic of accessibility based on 7 dimensions: culture, leadership, enterprise-wide access, adjustments and accommodations, employment practices, community engagement, and supplier diversity; and starting with 4 countries: Belgium, France, China, and the USA. This has allowed us to identify priority areas and concrete actions to undertake, such as increased awareness of providing suitable accommodations during hiring and onboarding processes, or setting up an ERG to advocate for employees with a disability.
Additionally, as part of our Solvay 4 Sport program, we've embarked on a multiyear sponsorship of three top athletes and medalists - Ambra Sabatini, Kgothatso Montjane, and Trenten Merrill -  to accompany them on their quest for victory.
Moreover, Solvay has been participating in the "DUOday" initiative for several years and is a strong partner of Diversicom in Belgium.
Insights
Solvay's most recent Group-wide employee survey on inclusion showed that our "Inclusion culture" index was 7 points lower for our employees who self identified as having a disability and 10 points below for our "Inclusive processes" index. We aim at closing some of these gaps thanks to the initiatives that will be launched this year.
Employee Resource Groups
Develop resource groups to encourage employees to bring their "whole self" to work
About
At Solvay we want employees to feel they can bring their "whole selves" to work, and believe that ERGs, which are grassroots groups led and run by employees, help create the environment to do just this. 
We believe in unity, not uniformity, and ERGs present an opportunity for us to actively identify and address possible processes and behaviors that contribute to inequality and exclusion. We firmly believe that recognizing and celebrating our diversity and differences brings us closer and makes us a stronger company.
Initiatives
We support ERGs by creating a framework to help them establish their objectives and structure, build visibility within Solvay and give them the opportunity to connect and learn from each other. 
We also provide financial and promotional support for the various initiatives they pursue over the year. 
Lastly, we ensure that each ERG has an advocate from within the Solvay Leadership Team, which ensures an open flow of communication and continuous dialog among all levels of decision-making within our Group.
Insights
We currently have 8 official ERGs and DEI Catalysts:
X Factor, empowering women in the workplace and MoMENtum, empowering the voices of men to advance DEI, are contributing to more gender equity.
Solvay Young Professionals Network is creating bonds between generations in our headquarters.
Solvay African American (SAAEG), Abled & Disabled Allies Partnering Together (A.D.A.P.T.) and Solvay LGBTQ+ Alliance Employee Groups have the mission to build a fully inclusive workforce for African American, Disabled and LGBTQ+ employees.
The Greater Houston Area DEI Community and Eureka are two "DEI Catalyst" that raise awareness on a wide array of DEI topics with a focus on their local community.