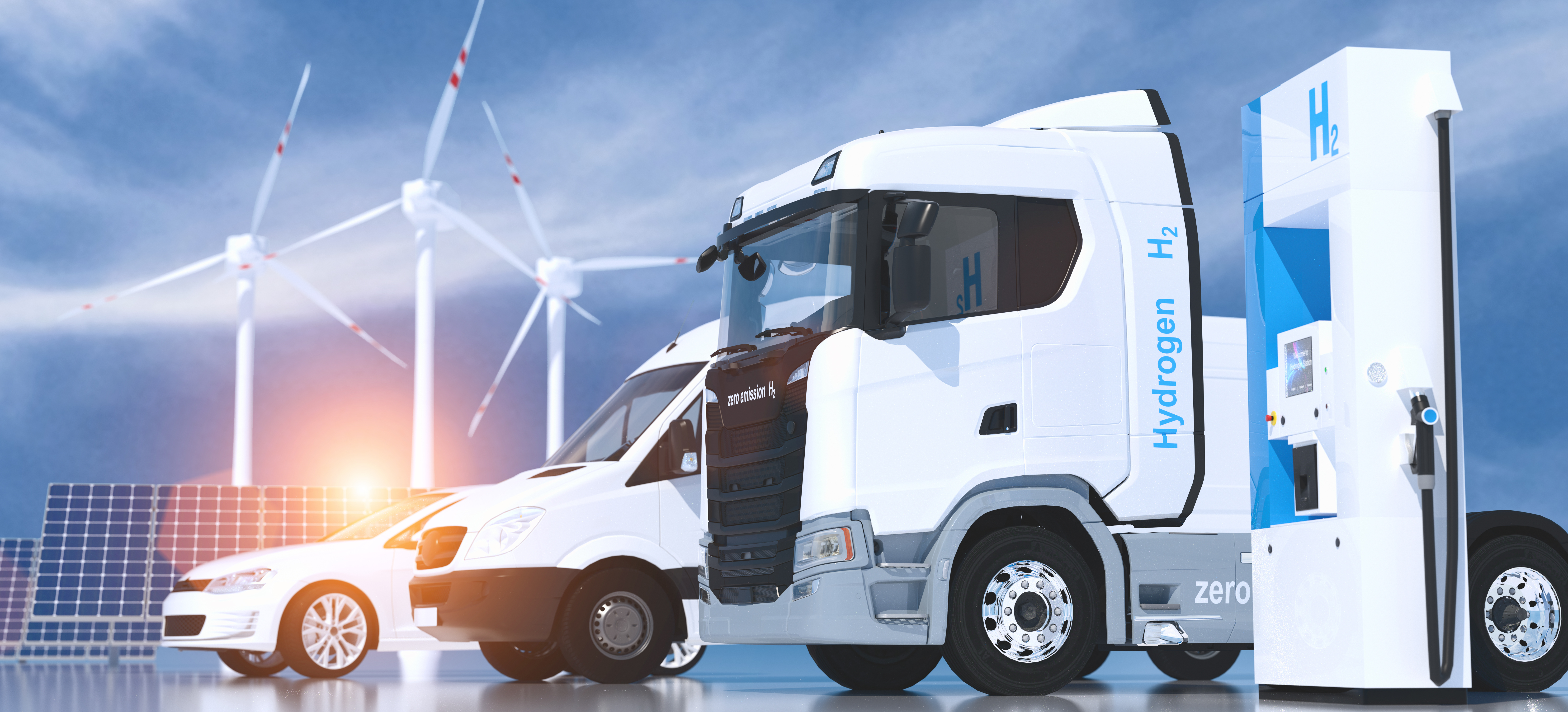 Material Solutions for Green Hydrogen
Solvay: at the heart of the

green hydrogen economy
The United Nations has set the goal of net-zero emissions for our planet by 2050, emphasizing the urgency for regulators, industry and the public to face the world's climate crisis with solutions that drastically curb carbon emissions. We won't reach net-zero targets with electric batteries or renewables alone. The best solution will be a combination of energy sources and technologies.  
We believe hydrogen plays a starring role in addressing this challenge. Hydrogen solutions can rapidly transition global energy systems from fossil fuels, to low-carbon and, ultimately, to carbon-free fuels. This energy carrier is a key lever for the decarbonization of hard-to-abate sectors such as heavy-duty transportation and other emissions-intensive industries such as steel manufacturing. Chemistry holds the key to transforming hydrogen into a green energy solution for the future. At Solvay, we're developing solutions based on our specialty materials to drive the green hydrogen economy forward. 
The green hydrogen revolution is made a reality with Solvay's advanced materials for hydrogen production, infrastructure and mobility. Used within electrolyzers, fuel cells and other facets of hydrogen systems, Solvay's products and solutions support today's leading hydrogen technology platforms. Our innovation focuses on enhancements to system durability, efficiency, safety and total cost of ownership to help our customers improve the viability and scalability of green hydrogen technology. And as the green hydrogen economy accelerates, we will continue to partner with customers to make it happen.
A broad portfolio of specialty materials 
Our offer includes ionomers and other high-performance materials which find use from the core, to the stack, to the plant. Common applications include membranes, electrode binders, hydrogen gaskets, diaphragms, enclosures, hydrogen cell frames and end plates, in addition to uses in thermal management and air systems.
https://www.youtube.com/watch?v=Zstq3jxBQIQ
Committed to a faster transition to green hydrogen
At Solvay, our commitment is to enable a faster transition to a green hydrogen economy for a clean planet. This work started in early 2021 when we launched a green hydrogen platform, bringing together all of the innovative materials and chemical solutions we offer to advance the emerging hydrogen economy.
By creating this platform, we have significantly increased the resources dedicated to this emerging market, including efforts in research and innovation. Solvay has engaged fully dedicated teams from research, engineering, sales and marketing to work together in crafting our added value proposition to the future green hydrogen market.
Our teams are located across continents, from the Americas to EMEA, to Asia. With a global reach and local presence, our focus is on building intimacy with our customers and co-developing solutions tailored to their unique requirements, pushing the bar on performance, safety, sustainability and cost.
Together with our customers, we are enabling the energy transition!
https://www.youtube.com/watch?v=bn6zLMVZd0Q