Specialty Polymers for Healthcare
Single Use Instruments
Single Use Instruments
Reduce Weight and Cost with Ixef® PARA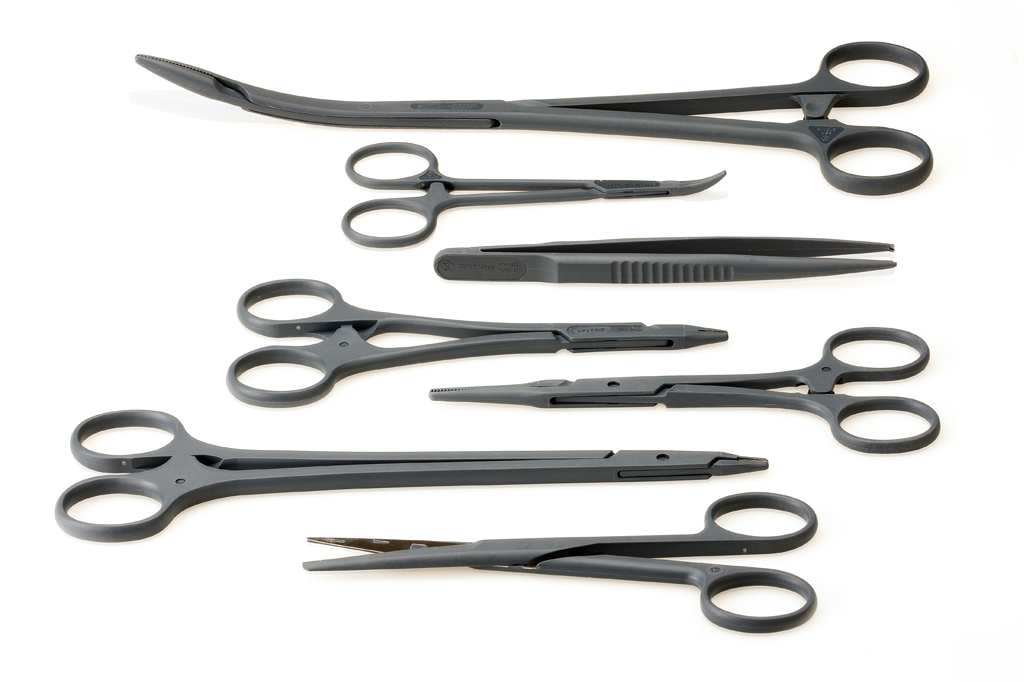 Ixef® GS-1022 is a 50% glass fiber reinforced polyarylamide (PARA) compound that uniquely combines high stiffness with an ultra-smooth finish that's on par with painted metal.
It can be sterilized using high-energy gamma radiation without any significant change in appearance or loss of mechanical properties. These features make it well-suited for replacing metal in single-use instruments, thereby eliminating central service costs associated with the sterilization of reusable instruments.
Mechanical Properties vs. Metals
Tensile Strength, ISO 527 test method
Ixef® GS resins demonstrate no evidence of cytotoxicity, sensitization, intracutaneous reactivity or acute systemic toxicity, based on biocompatibility testing as defined by ISO 10993:1
Gamma-Stabilized Colors
The Look You Want. The Performance You Need.
Ixef® gamma-stabilized colors give healthcare professionals a quick visual reference for differentiating instrument sizes and present OEMs with unique branding opportunities.
Ixef® Gamma-Stabilized Colors for Healthcare
Pantone Matching System (PMS)
Typical lot color chips were matched to the Pantone® Matching System (PMS) formula guide on solid coated stock based on a visual assessment. The colors shown here are a representation of the color after exposure to 40 kGy gamma radiation and should be used only as a guide.
Color Change after Sterilization
A slight shift in color can be expected between the Ixef® GF-1022 resin and the molded part that has been exposed to gamma radiation.
Color change after gamma radiation
Mechanical Properties
Properties after Sterilization
High-energy gamma radiation is most commonly used to sterilize bulk quantities of single-use healthcare instruments and devices. Dosage levels typically range from 20 to 40 kilograys (kGy) or 2 to 4 Megarads (Mrad).
Ixef GS grades exposed to these dosage levels retain their mechanical properties and exhibit significantly less color change than standard Ixef compounds.
Tensile properties after gamma radiation sterilization