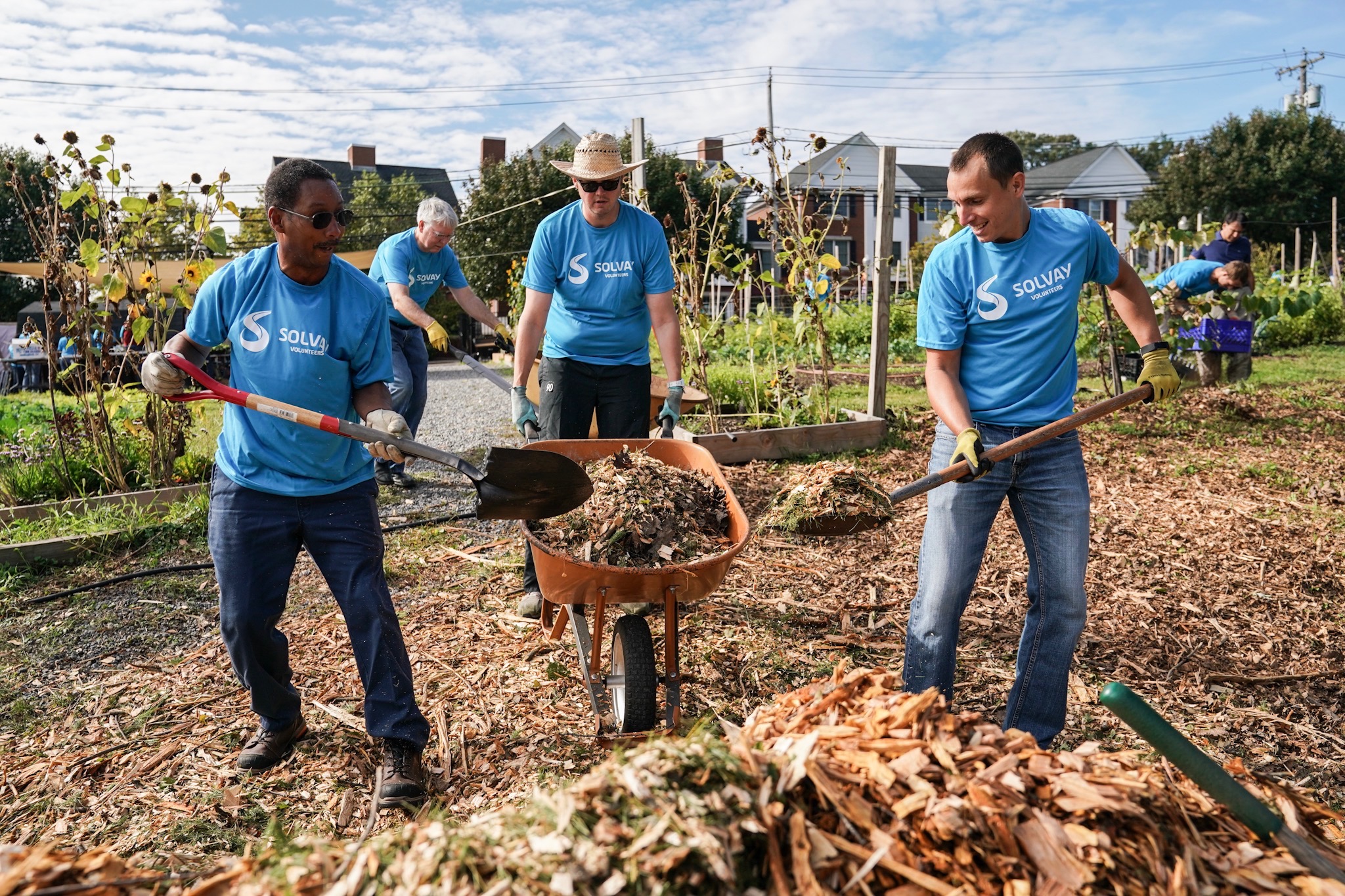 Solvay unites for global mobilization on Citizen Day
Citizen Day 2019
Joining international calls for climate action
On the occasion of international climate strikes and the UN's Climate Action Summit, Solvay's first World Citizen Day saw employees around the world engaging in environmental action from September 17-27, 2019. 
Solvay chose the theme of environmental preservation for its first-ever World Citizen Day, which aims to offer employees around the world the possibility to act for the environment within their communities. 
We have 24,500 employees – and that means as many opportunities to make a difference to our communities. I'm proud to launch the first Solvay Citizen Day in our history to bond around one theme each year. On this first occasion, we will address the preservation of the environment. Such concerted yet locally diverse actions on a global scale will raise awareness about how we can as individuals, as teams, as a company care for the one planet we all share.
Solvay CEO
Solvay's 160 sites organized their own initiatives between 17 and 27 September, in cooperation with local associations, government initiatives and NGOs with teams participating in local activities such as tree planting, clean-up campaigns, educational sessions and efforts to reduce plastic and paper use. 
On 20 September, descendants of Solvay's founding families and CEO Ilham Kadri also joined employees at the company's Brussels headquarters in activities to preserve biodiversity on the Solvay Campus.
Discover our commitment to sustainability 
Climate action around the world
Here are a few examples of the initiatives carried out for World Citizen Day between 17 and 27 September 2019.
Planting trees in India and Bulgaria
A local initiative in Bulgaria will see the planting of 200 cedar trees in a park in the city of Devnya. In India, Solvay employees will be planting trees to rehabilitate a protected forest in the Umbari Hills near Mumbai threatened by urbanization, in coordination with Adventure India, an NGO.
"It is high time we should all take good care of our nature and earth, and I'm proud that Solvay is encouraging us further to continue our actions" says Amol Patil, Facility Manager.
Education on solar power and water conservation
At local schools and communities in Brazil and the United States, educational initiatives will be conducted to raise awareness with kids aged 5 to 11 on environmental topics such as solar power, water conservation and recycling, on September 17 to 20.
A total of 30 to 50 Solvay employees will be involved at elementary schools and kindergartens in Paulinia, Brazil and Augusta, Georgia (USA), reaching out to 955 children. In Augusta, they will talk about the nearby Jasper County solar farm, for which Solvay is a major partner, and each kid will build a solar light from a mason jar. In Paulinia, employees will teach kids the concept of 5R: refusing, reducing, reusing, recycling and recovering waste. "Initiatives like these reinforce our position as agents of change and our will to innovate. And for the employees themselves, it shows the company is concerned about its attitudes today and tomorrow", says Ovídio Domingues, External Relations Coordinator at Solvay Brazil.
Cleaning up and sorting trash in Asia 
The cleaning up and sorting of trash locally of the Yangtze River, China and of the Rayong Beach in Thailand; 
Transforming unused land 
Putting unused land to good use is another aspect of the Wold Citizen Day initiatives. In Thailand, an empty lot will be transformed into a banana field for nearby schools, while in Chile, an abandoned space outside a Solvay facility will be turned into a public garden, for the enjoyment of all the city's inhabitants.
Promoting biodiversity around Solvay sites
Lastly, Solvay will also be promoting biodiversity on its own land around its production and research facilities. This will be the case in Lyon, France, and in Piedmont, USA.
In Piedmont, employees will be volunteering before and after work hours to restore an abandoned trail through amazing nature, where huge oak trees and streams crossed by rotting old bridges can be found. The trail was neglected due to the growth of the site, part of it having actually been paved over by a parking lot.
Connecting dots between business and sustainability
Solvay One Planet
We raise the bar in response to climate change, resource scarcity and creating a better life