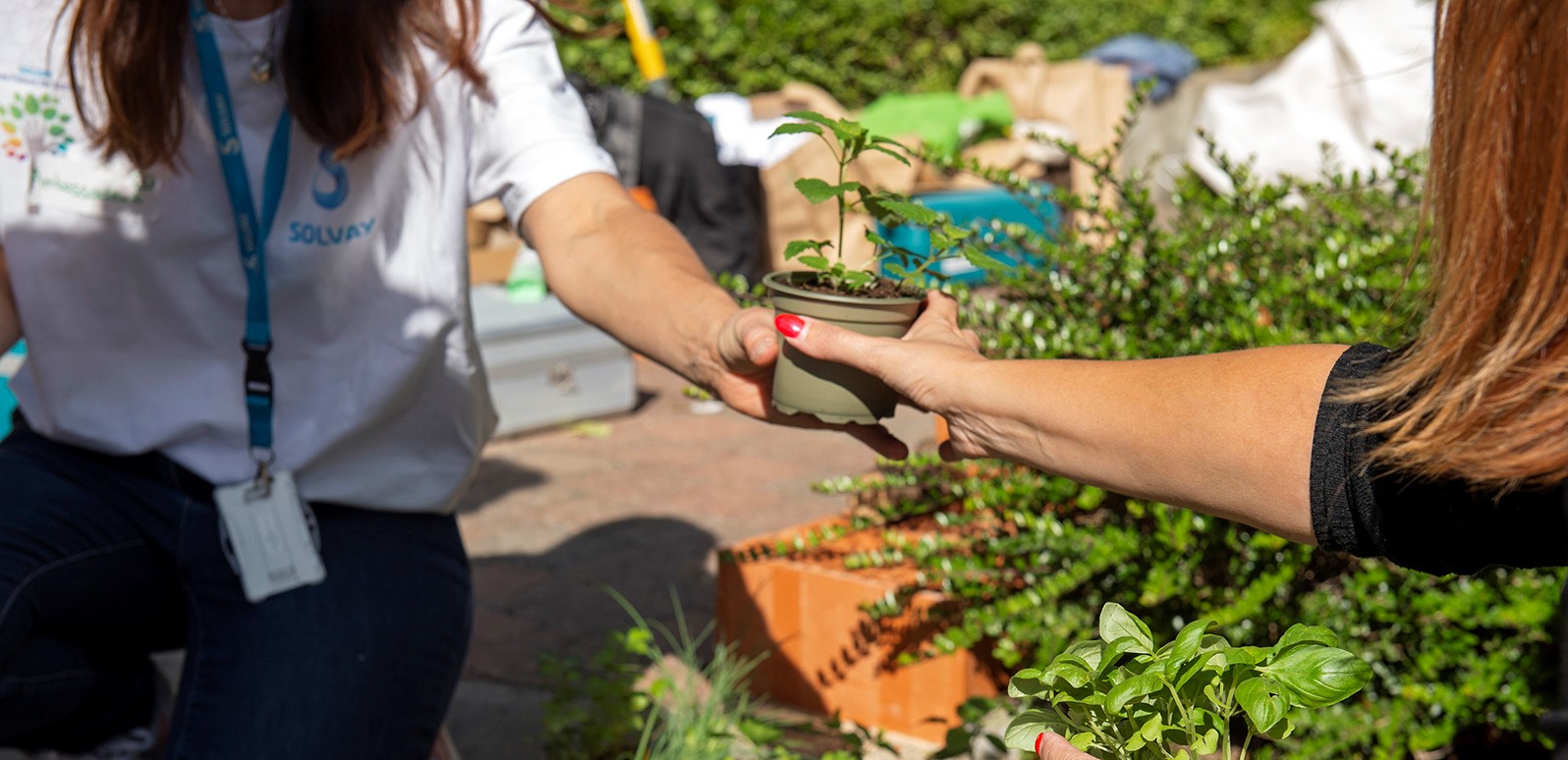 COP27 - Towards net zero by 2050
A chance for countries and businesses to report on their new ambition, plans and achievements 
Fighting climate change at an accelerated pace
Solvay is playing its part in raising the bar to fight against climate change. In line with our Solvay One Planet sustainability roadmap we've committed to reach carbon neutrality before 2040 in all businesses other than soda ash and before 2050 in soda ash (covering all scope 1 and 2 emissions in our global operations). 
What is new?
Solvay recently announced an acceleration in the pace toward net zero emissions with a new scope 3 target. The Group plans to reduce scope 3 greenhouse gas emissions occurring upstream and downstream of Solvay's facilities by 24% by 2030, compared to the 2018 baseline, effectively tackling 90% of the Group's total scope 3 emissions.
What is COP27?
COP27 is the 2022 United Nations Climate Change Conference. It is an occasion for participating countries and businesses to show progress in their plans to meet the Paris Agreement. Discussions at COP27 this year will take place in the context of a few overarching themes:  reducing emissions; adapting to a changing climate and prioritizing people facing direct impact of climate change; climate finance to support developing countries in their transition and managing impacts.
How does Solvay stand in relation to the COP27 agenda?
Accelerated pace toward net zero emissions with new scope 3 target
In July 2022, Solvay announced plans to reduce scope 3 greenhouse gas emissions by 24% by 2030*. This builds on the 2030 targets set out in our sustainability roadmap, Solvay One Planet, and represents the next stage in the Group's ongoing journey to net zero emissions. 
Committing to the scope 3 emissions target requires reducing indirect GHG emissions associated with activities occurring outside of Solvay's walls – practically working in close collaboration with our suppliers and customers. Initiatives include strategic alignment and climate commitments with suppliers, switching to bio-based and recycle-based raw materials, increasing the use of clean energy, and partnerships with customers to ecodesign new products and processes that will reduce emissions from cradle to end of life. 
*against a 2018 baseline ; incorporating 90% of the Group total scope 3 GHG emissions.
"With this commitment, Solvay is taking an important step towards net zero emissions and continuing its fight against global warming. We want to work with our business partners to achieve a drastic reduction of the carbon footprint associated with our activities along the whole value chain. " 
Ilham Kadri, CEO of Solvay
Concrete Climate projects to support action
Since 2019, Solvay has confirmed 40 projects that, combined, will enable us to reduce scope 1 and 2 emissions by 2.8MT of CO2 per year. This is the equivalent of taking 1.6 million cars off the road.
The projects are spread all over the world and include many switches to renewable energy to power Solvay's facilities. 
Leading decarbonization initiatives include the transition away from coal, substituting it with biomass at our soda ash plants in Rheinberg, Germany and Devnya, Bulgaria, and with Refuse Derived Fuel (RDF) at Dombasle, France. The overall impact of these initiatives is expected to represent an 8% reduction in the Group's total emissions by 2025.
We also announced that we are partnering with Oslo-based company Statkraft to purchase electricity produced by wind power. This agreement will enable our Voikkaa site in Finland to operate on 100% wind-generated electricity, helping to decarbonize the production of hydrogen peroxide at the site from 2023 onwards. 
This complements other initiatives to move to greener power, such as our agreement with a second solar farm in South Carolina that allows us to provide solar-generated electricity for our factories in plants across several states. In fact, six of our Global Business Units are now relying on 100% renewable electricity for their US operations.
Discover our latest
climate-related news