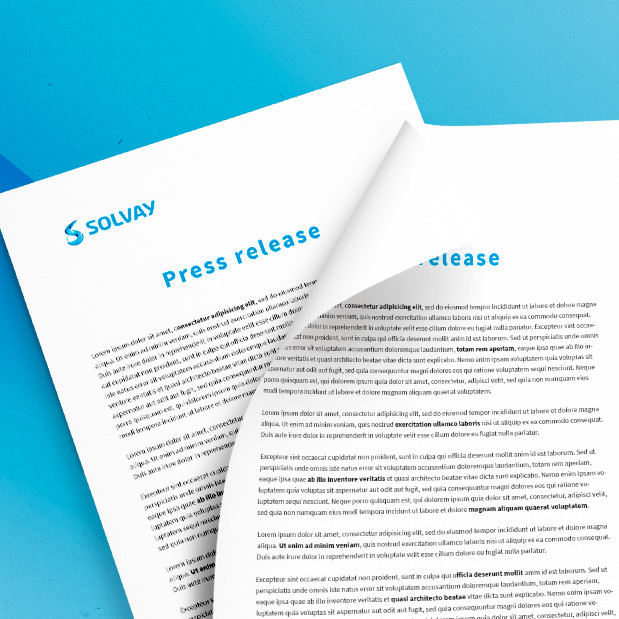 3rd quarter and 9 months 2014 Financial Report
| | | |
| --- | --- | --- |
| Net sales | REBITDA | Net income (Group share) |
| € 2,585 m | € 458 m | € 133 m |
| 7.9% | 9.5% | Adj. EPS (basic) 1.60 € |
YoY evolution (%)
Forenote
U.S.-based Eco Services business is reported under Assets Held for Sale and Discontinued Operations as from Q3 2014. For comparison purposes, 2013 and 2014 Income and Cash Flow Statements data have been restated for Eco Services' business discontinuation as well as for the updated reallocation of shared functions costs from the Corporate & Business Services segment into the Global Business Units. 
Both sets of data reflect the Group's application of IFRS 11. 
Furthermore, Solvay presents Adjusted Income Statement performance indicators that exclude non-cash Purchase Price Allocation (PPA) accounting impacts related to the Rhodia acquisition.
Q3 Highlights - Sustained strong earnings momentum
Group net sales at € 2,585 m, up 7.9% yoy, with volumes 5%, scope 2% and prices stable.

REBITDA at € 458 m, up 9.5% yoy, driven by volumes, external growth, pricing power and delivery on excellence programs. Margin improved to 17.7% of net sales and was supported by all operating segments.

Advanced Formulations at € 107 m, up 49% yoy, led by strong volumes and continuous solid construction of Chemlogics; 
Advanced Materials at € 187 m, up 14% yoy, with robust performance underpinned by strong volume growth and operational efficiency;
Performance Chemicals at € 194 m was up 5.2% yoy, thanks to good pricing power and benefits from breakthrough excellence programs;
Functional Polymers at € 21 m, up 18%yoy, supported by high manufacturing yields, broad excellence initiatives delivery and pricing;
Corporate and Business Services at € (50) m vs € (19) m last year, reflected different phasing with certain corporate programs and favorable one-off elements last year.

 Adjusted EBIT at € 254 m, up 10% yoy;
Adjusted Result from continuing operations at € 118 m, up 8.5% yoy;
Adjusted Net Income, Group share at € 133 m,up 12% yoy;
Free Cash Flow at € 122 m; net debt increased € 21 m from Q2'14 to € 1,665 m;
Announce interim gross dividend of € 1.3̅* per share (€ 1.00 net per share).
(*) One point three repeating decimal. Dividend payments rounded to the nearest Euro cent.
Quote of the CEO
Solvay in the third quarter extended its robust earnings performance shown so far this year, reflecting the benefits of its ongoing transformation and portfolio reshaping. Innovations at our growth engines Advanced Formulations and Advanced Materials strengthened their already solid market positions, resulting in substantial volume increases. Continuous excellence measures helped to secure pricing power and largely mitigated fixed cost inflation. All in all, Solvay expanded its strong operating margin and posted an operating profit growth of nearly 10 percent in the quarter.
Outlook
Solvay reiterates its confidence for 2014 and confirms that it expects high single-digit REBITDA growth. While vigilant about the uncertain and challenging macro-economic and geopolitical context, the Group is well-positioned to grow its earnings in this last quarter compared to last year and is determined to generate a strong free cash flow.
As an international chemical group, SOLVAY assists industries in finding and implementing ever more responsible and value-creating solutions. Solvay generates 90% of its net sales in activities where it is among the world's top three players. It serves many markets, varying from energy and the environment to automotive and aeronautics or electricity and electronics, with one goal: to raise the performance of its clients and improve society's quality of life. The group is headquartered in Brussels, employs about 29,400 people in 56 countries and generated 9.9 billion euros in net sales in 2013. Solvay SA (SOLB.BE) is listed on EURONEXT Brussels and EURONEXT Paris (Bloomberg: SOLB:BB - Reuters: SOLB.BR).