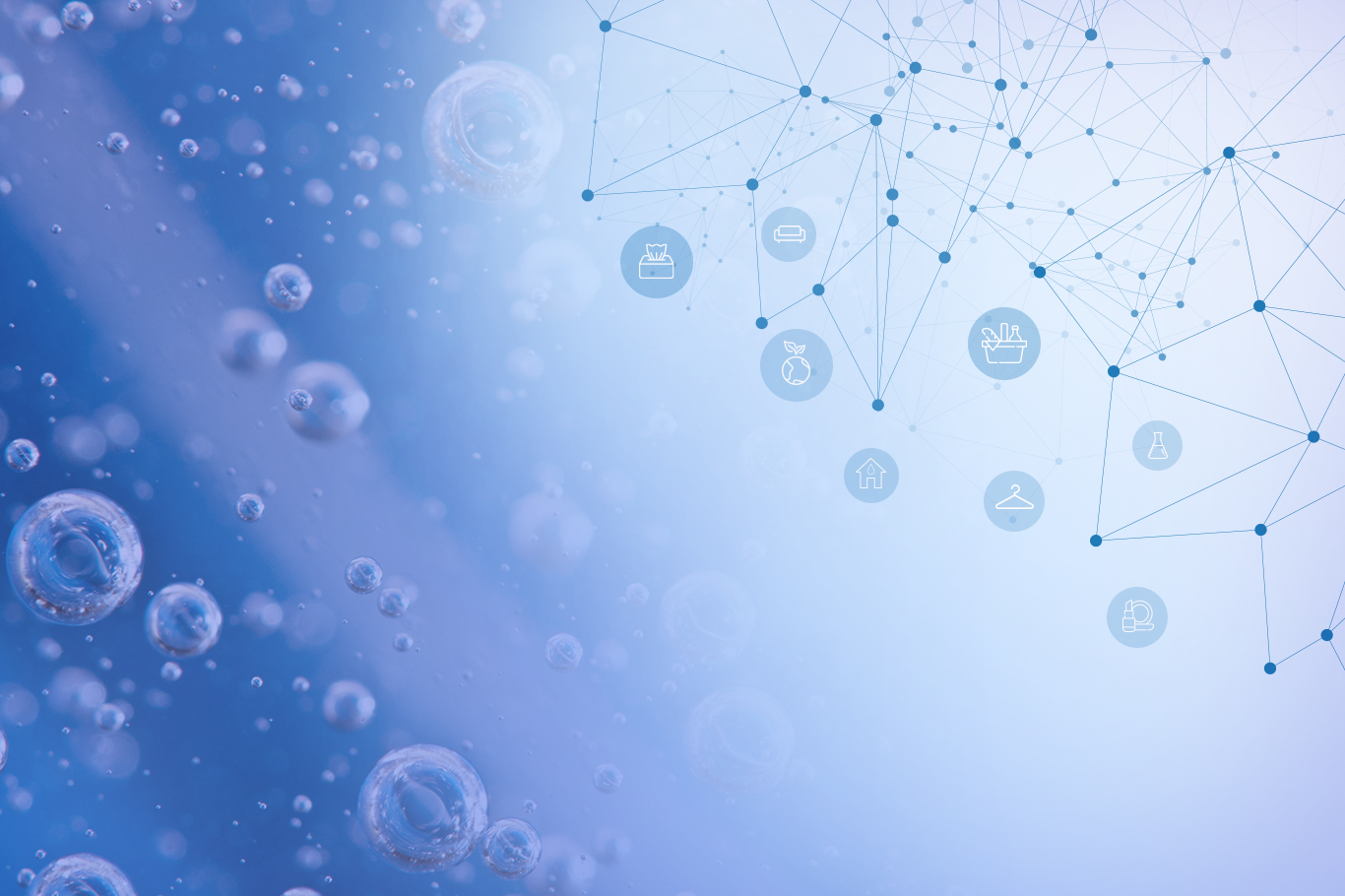 Peroxygens
Powerful products with a promising future
Support for Peroxides Disinfectant Solutions to combat COVID-19
Peroxygens in everyday life
Peroxygens have an invisible, yet substantial presence in our everyday lives ౼ from the food and water we consume, to the products we love, to the personal care items we buy for our families. Solvay, the industry leading peroxygens supplier, delivers on its promise of effective, clean products that meet the highest quality standards across several markets.
Solvay's impressive portfolio of Hydrogen Peroxide (H2O2) and Peracetic Acid (PAA) peroxygen solutions leads the industry in a wide variety of markets and applications:
Pulp & Paper: biodegradable bleaching agents for high quality paper and tissues
Chemical: sustainable oxidation routes towards safer and environmentally friendly materials
Wastewater Treatment: oxidise and disinfect wastewater to safely secure scarce resources
Personal Care: enhanced cleaning and brightening agents for new hygienic formulations in oral care
Mining: sustainable solutions to enhance mineral recovery that conserves planetary resources
Home Care: proprietary cleaning and disinfecting agents to meet all laundry needs
Propylene Oxide (PO): produce vital intermediates for insulation without by-products
Aseptic Packaging: highly effective packaging sterilizing agents for assured food safety
Cleaning in Place: powerful yet gentle machinery disinfectants for the safe consumption of processed food
Aquaculture: disease treatment and water conditioning solutions for healthy salmon and shrimp
Electronics: efficient cleaning to produce high-quality semiconductor wafers
Healthcare: Qualified biocides for isolator, restricted access barrier systems (RABS) and room decontamination. Good Manufacturing Practice (GMP) and Active Pharmaceutical Ingredient (API) approved products for wound disinfection and contact lens cleaning
Gas Scrubbing: agents to detoxify gases and recover valuable materials for cleaner air
Soil Remediation: Technology removes harmful pollutants to safely return land to nature
Textiles: gentle bleaching agents for whiter fibers
Market-leading peroxygen solutions
Our customers across these diverse markets face a common challenge: they need treatment solutions that are powerful enough to guarantee absolute product quality and can stand up to the growing environmental concerns of our day, which demand greener practices and often a substantial shift in processes. On top of that, these solutions must minimize health risks ౼ for employees and end-users alike.
Solvay Peroxygens offers the ideal solution. Our portfolio of Hydrogen Peroxide (H2O2) and Peracetic Acid (PAA) products provides powerful and effective solutions that act rapidly and break down into environmentally friendly, organic elements. 
A global partner with a local presence
Not only is Solvay a market and technology leader in Peroxygen chemicals, but our impressive global presence ౼ with 18 factories around the world ౼ makes us the industry leader in terms of production capacity as well. Moreover, we were the first to develop "megafactories," built together with our long-term partners. Today, we have three such factories that produce hydrogen peroxides for propylene oxide on different continents. Our worldwide reach provides clients with unquestionable security of supply and the peace of mind that comes with it.
But we're not stopping there. We continuously challenge the status quo and invest in innovations to satisfy even the most demanding customers. With our breakthrough myH2O2® program, we install small, safe and robust satellite hydrogen peroxide production units directly at customers' sites in remote areas. Tailored to their unique needs, this solution eliminates long supply chains and better supports our customers' businesses.
A commitment to excellence and innovation
In partnership with our customers, we lead the global peroxygen industry by delivering clean and innovative solutions for a more sustainable world. As a company we are committed to:
Listening to our customers and forging partnerships built around sustainable growth and value helps us design reliable, agile services.
Developing diverse and highly engaged teams sustains our global presence, propels our research and technology expertise and drives competitiveness.
Leveraging Solvay's expertise produces unique cutting-edge solutions that meet the needs of all of our stakeholders.
Engaging our people to strive for sustainable development leads to safer and cleaner operations with lower environmental impact.
Tert-Amylbenzene
Tert-Amylbenzene, or TAB (chemical name, tert-pentylbenzene, CAS number 2049-95-8), plays a key role in a very wide spectrum of chemical processes. It is a crucial intermediate in the production of hydrogen peroxide, it serves as a building block in the synthesis of amorolfine, a potent antifungal API, and when added into rechargeable lithium-ion batteries, it prevents overheating, fire and explosion. Solvay is the sole TAB producer in Europe, offering the highest purity and quality standards in the production of three TAB grades: industrial, special and ultrapure.
AQ (2-amylanthraquinone) and EQ (2-ethylanthraquinone)
AQ (2-amylanthraquinone) and EQ (2-ethylanthraquinone) are the two most commonly used carriers in the working solution of the anthraquinone process that produces Hydrogen Peroxide. Solvay, one of the leading global producers and suppliers of Hydrogen Peroxide solutions, has completed the REACH registration for the production of AQ and the REACH registration to import and sell EQ in Europe. 
Looking towards the future
Given its many uses, the demand for peroxygen solutions will only grow in the coming years. Solvay is hard at work innovating and partnering with customers in diverse global markets to develop new capacities to support market growth and inventive new applications.