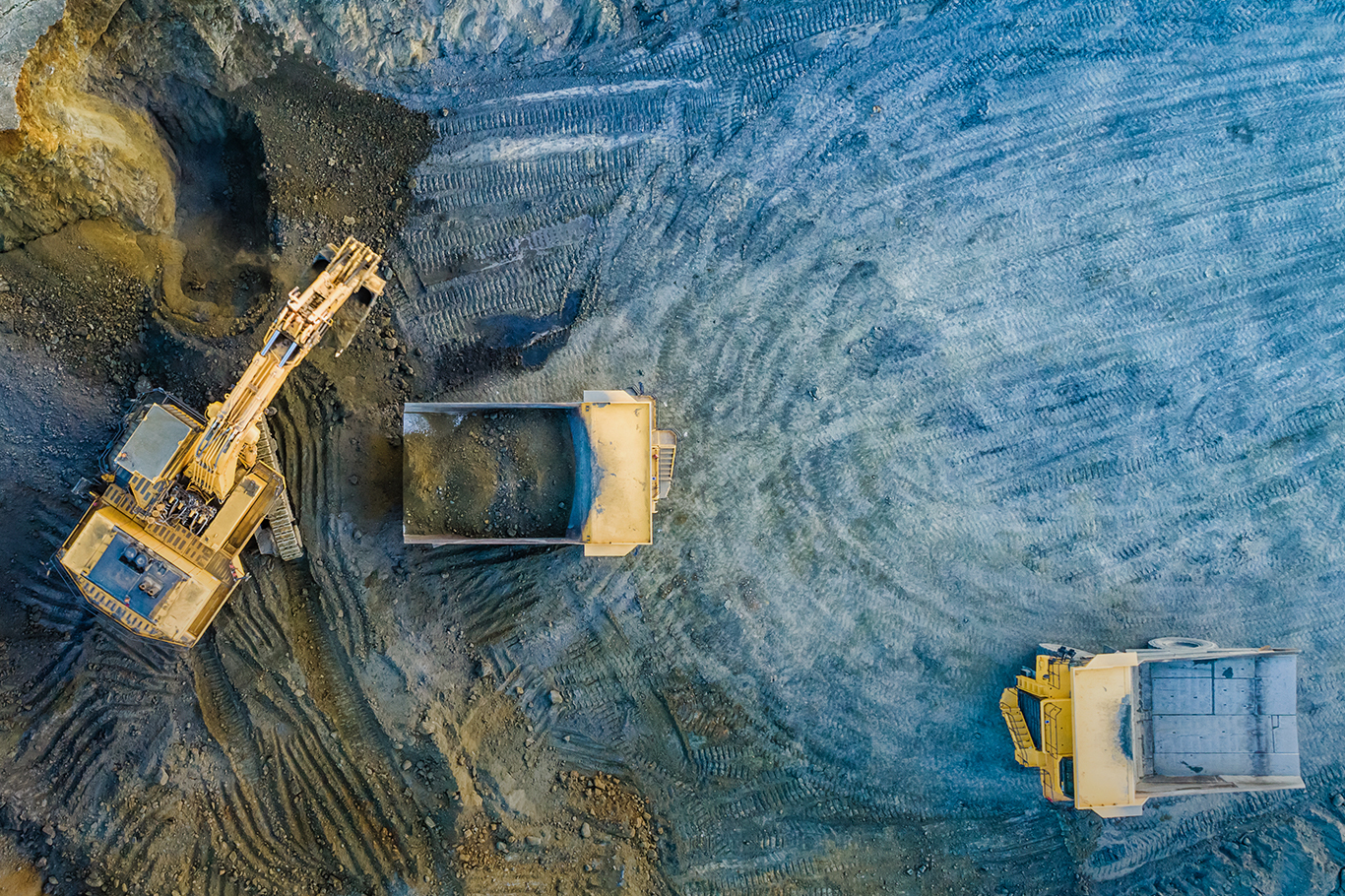 Peroxides Metals and Mining Solutions
Supplying the Mining industry with a wide range of Peroxide solutions
Solvay provides mine operators with our world-class Peroxygen technology in mining process applications. We provide our customers with technical and engineering support as they implement Peroxide based projects.
Market snapshot
We've come a long way from the Gold Rush of yesteryear. Everything that was easy to mine has long been exhausted, which means that successfully mining today requires engineers to dig deeper than ever before. Mining companies are not only experiencing a steep decline in ore grades, but the materials processed today are more complex and have a lower concentration of the most sought after metals. These challenges, paired with increasing industry demand, put intense pressure on mine operators to drive productivity and maximize throughput at the lowest cost possible. 

On top of everything, we're also seeing an evolution in environmental legislation across the globe. Given the direct and often very visible effect that mining has on the environment, pressure from regulators ౼ as well as a company's own sense of responsibility ౼ drives more sustainable solutions and stricter standards to minimize the impact on the environment and employees alike. This is particularly challenging as mining processes rely heavily on water. 
 
Our promise
Solvay's hydrogen peroxide based solutions address one of the biggest challenges in the mining industry: production efficiency. Over many decades, we have been building a solid foundation of knowledge in this sector. Our products enhance metal recovery, extraction performance, purification and separation ౼ improving yields, optimizing plant throughput, and creating added value and increased revenue for our clients.
Beyond supplying products that increase mine efficiency, we are committed to maintaining a sustainable approach and driving the industry towards greener process technologies and water treatment. This means striving to reduce water consumption, creating new processes that rely on reused water and, of course, ensuring the safety of the water that is released back into the environment. Our dedication here ensures that our carbon footprint is as small as possible and mines meet environmental commitments and maintain operating licenses. 
Our Mining Solutions
Gold and Silver Leaching
Solvay's hydrogen peroxide INTEROXⓇ Standard Grade is used in gold and silver leaching processes to enhance overall leach recovery and optimize cyanide consumption. The use of Peroxide technology increases the rate of leaching through enhancing the delivery of oxidant in solution and through partial oxidation of associated minerals. This allows more gold to be exposed and boosts gold recovery. By destroying certain components of the ore that consume cyanide, pre-oxidation of the ore with hydrogen peroxide INTEROXⓇ Standard Grade also reduces the consumption of cyanide.
 
The presence of sulphide minerals in the cyanidation of gold ores can cause significant consumption of oxygen supplied in the injected air. This may result in dissolved oxygen starvation for the oxidative leaching of the gold and will reduce the maximum recovery of the gold from the ore. The presence of sulphides also leads to extra consumption of the cyanide leaching agent due to the formation of thiocyanate, increasing cost. These types of sulphide based gold ores may be pre-treated with H2O2 prior to the addition of cyanide to the gold ore slurry, reducing the reactivity of the sulphides with cyanide.
 
This treatment leads to lower consumption of dissolved oxygen and of cyanide and to improved gold recovery. In the case where a slow release of oxygen in the leach circuit is required to maintain optimum leach rates, or where there are high concentrations of soluble copper ions, calcium peroxide can be applied.
Cyanide Management
Existing processes for the leaching of gold are mostly based on the use of sodium cyanide, a hazardous material that can only be used in strict compliance with the International Cyanide Code. Operations can minimize cyanide consumption by optimizing leach reagents and maximizing recovery in the process water. Managing the residual cyanide leaving the leaching process is also imperative. 
Solvay's hydrogen peroxide INTEROXⓇ Standard Grade and Calcium Peroxide technology can lower cyanide requirements in the leach process, which not only provides economic benefits but assists in minimizing the environmental risks associated with the procurement, transportation, storage and application of cyanide for the site. 
Solvay's hydrogen peroxide INTEROXⓇ Standard Grade is commonly used to treat process water returning to the plant, which usually has low levels of cyanide that must be removed to guarantee maximum operational performance. When a mine discharges effluent water into the environment, it is important to ensure that no additional dissolved solids load is present in the water.
Our Caro's acid technology provides a flexible approach for the almost instantaneous destruction of cyanide which is especially effective for the treatment of Tailings slurries. Caro's acid can also treat solutions and slurries to very low levels of residual cyanide ౼ an important benefit when discharging water into the external environment. In these cases, complying with regulatory limits is critical in maintaining the mine's license to operate in that community.
A full list of Solvay Peroxide applications in mining
H2O2 and Calcium Peroxide used to enhance gold recovery with ore-preconditioning or through addition to the leach circuit.
H2O2 and Caro's Acid used in destruction of cyanide in waste waters, Tailings treatment and purification of recycled process waters, especially for use in return water to flotation processes.
Use of H2O2 or Caro's acid as an oxidant in Uranium Leaching applications to give increased uranium recovery and improved efficiency of reagent consumptions (oxidant and sulphuric acid)
Use of H2O2 in the precipitation of Uranium Peroxide to give a high purity yellow cake product which is suitable for direct supply to the market
Caro's Acid Technology used for the selective precipitation of Cobalt and Manganese to purify acidic process streams containing Cobalt, Nickel, Manganese and Zinc.
Waste water containing high levels of arsenic can be detoxified using H2O2 and Ferric sulphate
H2O2 is used at Copper Smelters to treat excess SOx levels in waste gases and to convert this SOx into sulphuric acid which can be reused in mining processes 
H2O2 is used for the oxidation of Ferrous ion to Ferric either for efficient recycling of Ferric ion as an oxidant in acidic leach processes or to remove Ferric ion for product purification at alkaline pH.
H2O2 and Caro's acid can both be used to improve the dissolution of metals such as Copper, Nickel, Cobalt, Manganese and their alloys in sulphuric acid for extraction and purification. 
H2O2 is used in the refining of concentrated iodide solutions to produce a pure Iodine product.
Discover more Solvay Mining Solutions