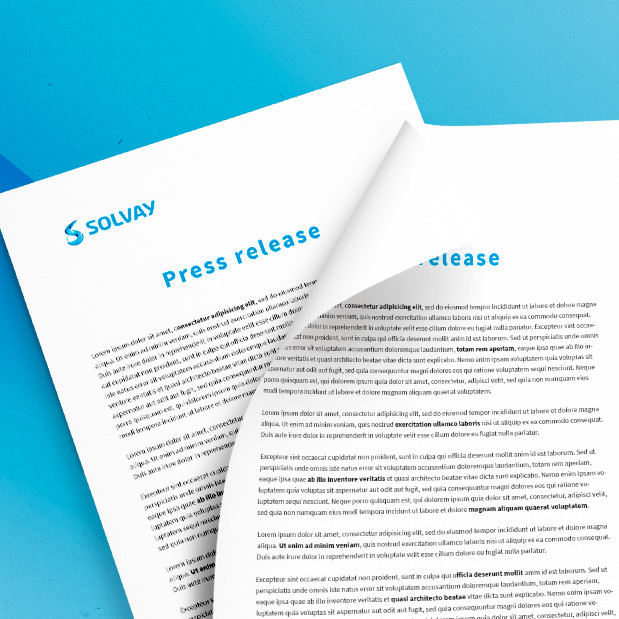 First Quarter 2014 Business review
| | | |
| --- | --- | --- |
| Net sales | REBITDA | Net income (Group share) |
| € 2,552 million | € 467 million | € 107 million |
| 1% | 11% | Adj. EPS (basic) € 1.28  |
YoY evolution (%) 
Forenote
All 2013 data are restated for comparison purposes for the Group's application of IFRS 11 effective January 1st 2014.   
Furthermore, Solvay presents Adjusted Income Statement performance indicators that exclude non-cash Purchase Price Allocation (PPA) accounting impacts related to the Rhodia acquisition. 
Q1 highlights
Group net sales at € 2,552 m, up 1% yoy, with volumes 3%, prices (1)%, forex (4)% and scope 4%.

REBITDA at € 467 m, up 11% yoy driven by volume growth (organic and external) and strong delivery on excellence measures, and despite unfavorable foreign exchange rates and one-offs. REBITDA margin widens to 18.3% of net sales, up 150 basis points yoy.

Advanced Formulations at € 102 m, down (9)% yoy, as Chemlogics' strong contribution was insufficient to offset one-off impacts from industrial issues and extreme weather conditions, and adverse forex; 
Advanced Materials at record € 175 m, up 13% yoy, underpinned by strong innovation-driven volume growth and operational efficiency;
Performance Chemicals at € 188 m, up 14% yoy, thanks to good pricing power and benefits from breakthrough excellence programs; 
Functional Polymers at € 40 m, up 19% yoy, supported by high manufacturing yields, broad excellence initiatives and pricing; 
Corporate and Business Services at € (39) m. Net costs down 16% yoy. CER sales phase-out in 2013 was mitigated by tight cost control and favorable currency impacts on costs. 
 

Adjusted EBIT at € 260 m, up 14% yoy;
Adjusted Net Income, Group share at € 107 m (€ 86 m in 2013); 
Adjusted EPS at € 1.28  (€ 1.03 in 2013);
Free Cash Flow at € (97) m; net debt increased by € 318 m to € 1,459 m from YE'13;
Improving balance sheet efficiency: gross debt repayment of € 1.3 bn equivalent to take place by May.  
Quote of the CEO
Solvay made a good start to the year thanks to improved demand and benefits from our excellence initiatives. The demand recovery was reflected in higher volumes in most of our businesses, while Chemlogics showed double-digit operational earnings growth. Results from Group-wide excellence initiatives helped to overcome headwinds from currency swings and one-off effects. As a result, Solvay delivered solid earnings growth and margin expansion in the first quarter. Throughout the year, the Group will continue its profound transformation to create a higher growth, less cyclical and more valuable company.
Outlook
The encouraging first quarter underpins our confidence that 2014 will show good operating performance. The Group expects high single-digit REBITDA growth at current perimeter and foreign exchange rates, and compared to the 2013 level as restated.
As an international chemical group, SOLVAY assists industries in finding and implementing ever more responsible and value-creating solutions. Solvay generates 90% of its net sales in activities where it is among the world's top three players. It serves many markets, varying from energy and the environment to automotive and aeronautics or electricity and electronics, with one goal: to raise the performance of its clients and improve society's quality of life. The group is headquartered in Brussels, employs about 29,400 people in 56 countries and generated 9.9 billion euros in net sales in 2013. Solvay SA is listed as SOLB.BE on NYSE Euronext in Brussels and Paris (Bloomberg: SOLB:BB - Reuters: SOLB.BR).