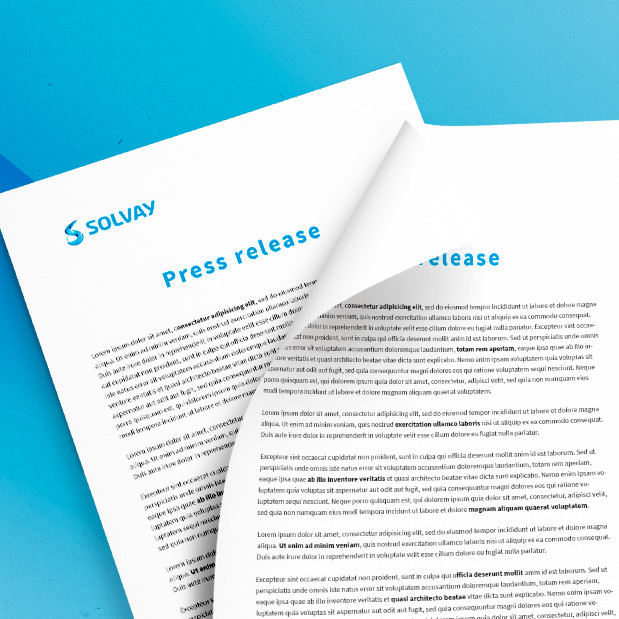 Solvay is awarded the worldwide FSSC 22000 accreditation for the manufacture of its natural vanillin, Rhovanil® Natural
Lyon, France – May 26, 2014---Solvay Aroma Performance acquires the best-in-class Food Safety System Certification (FSSC) 22000 for its Melle production site in France, manufacturing proudly its natural vanillin flagship range, Rhovanil® Natural.
"Six months after the doubling of Rhovanil®Natural industrial capacity, this award is highlighting our Food safety expertise in manufacturing natural vanillin. It enhances our historical know-how in vanillin and vanilla flavors and our ability to reply to the food market increasing demand for safe natural production"says Corinne DUFFY, Rhovanil® Natural Commercial Leader of Solvay Aroma Performance.
Obtained by bio conversion of ferulic acid with a strain naturally occurring in nature, Rhovanil®Natural meets indeed the strict requirements of natural status as defined by both European and US legislations and is the reference for natural needs in Food and Fragrance markets.
 "This new certification for Melle production site on natural vanillin allows Solvay Aroma Performance to be 100% FSSC 22000 certified on all its production units for its vanillin, ethyl-vanillin and vanilla flavors ranges" adds Vincent LAJOTTE, Aroma Ingredients Business Director.
Baton Rouge (Louisiana, USA) and Saint-Fons (France) sites are certified since 2011. They were the first vanillin and ethyl-vanillin facilities to receive this international food safety recognition. Saint-Fons industrial platform is also FSSC 22000 certified for the production of Solvay innovative Govanil™ vanilla flavors range.
-more- 
The FSSC (Food Safety System Certification) 22000 award is the world's leading certification of food safety management and has been managed by Det Norske Veritas (DNV), an independent certification body with broad expertise in food ingredient safety.
The FSSC 22000 certification scheme, for auditing and certification of food safety management systems within the production process and the supply chain, is independently managed by the Foundation for Food Safety Certification located in the Netherlands. The FSSC certification scheme specifically targets the food manufacturing sector, using the international and independent standards ISO 22000, ISO/TS 22003 (audit) and technical specifications for sector PRPs, like ISO 22002-1 (for food ingredients), which were developed through a wide and open consultation with a large number of related organizations. The FSSC 22000 certification scheme is supported by the European Food and Drink Association (CIAA) and the American Groceries Manufacturing Association (GMA).
FSSC 22000 is fully recognized by the Global Food Safety Initiative (GFSI) and Accreditation Bodies around the world (like DNV GL). For more information, visit http://www.fssc22000.com
***
More information on WWW.VANILLA-FLAVORS.COM

Follow us on twitter @SolvayGroup
Designing vanilla flavors since 1884,Solvay Aroma Performancewas the first to synthetize and produce the vanillin molecule on an industrial scale. Solvay is the only producer mastering  the whole manufacturing chain — from Catechol to its historic flagship brands Rhovanil® and Rhodiarome® - in each of its facilities in both Saint-Fons (France) and Baton Rouge (USA) and will be soon operating in in Zhenjiang (China). 
As an international chemical group, 
SOLVAY
 assists industries in finding and implementing ever more responsible and value-creating solutions. Solvay generates 90% of its net sales in activities where it is among the world's top three players. It serves many markets, varying from energy and the environment to automotive and aeronautics or electricity and electronics, with one goal: to raise the performance of its clients and improve society's quality of life. The group is headquartered in Brussels, employs about 29,400 people in 56 countries and generated 9.9 billion euros in net sales in 2013. Solvay SA is listed as 
SOLB.BE
 on 
NYSE Euronext
 in Brussels and Paris (Bloomberg: 
SOLB:BB
 - Reuters: 
SOLB.BR
).
Solvay vanillin ranges production is 100% FSSC 22000 certified on a worldwide basis