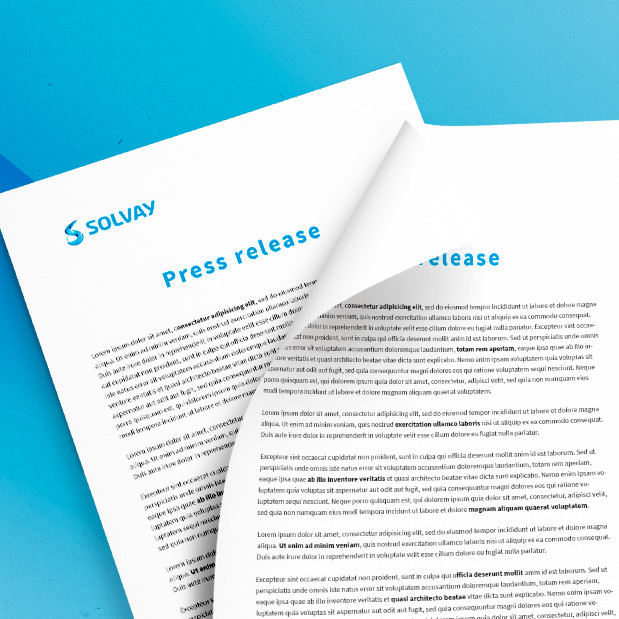 Solvay simplifies and realigns Executive Committee structure and responsibilities
Brussels, May 7 2019 --- Solvay announces the simplification and realignment of its Executive Committee structure and responsibilities to accelerate value creation for the Group as a whole.
The Executive Committee will be simplified and will comprise six members, once a new Chief Human Resource Officer is appointed. Members of the Executive Committee will be responsible for the execution of corporate strategy and the financial performance of the portfolio they lead, with a focus on driving return on investment and effective allocation of resources. They will also incubate and lead a number of new innovation platforms.
"Solvay's simplified and realigned leadership structure is designed to enhance strategic focus and collaboration, while enabling fast decision making. With direct financial supervision and increased accountability, members of the Executive Committee will have a closer line of sight into the businesses they oversee, allowing them to prioritize and allocate resources towards the most strategic and value enhancing areas for the Group. We are empowering each Business Unit head to deliver on their plans and accelerate innovation across the organization for the benefit of our customers," said Ilham Kadri, CEO of Solvay and Chair of the Executive Committee.
The responsibilities of the Executive Committee are as follows:
Augusto Di Donfrancesco will lead Specialty Polymers and Composite Materials as well as the newly launched Thermoplastic Composite Platform. This platform pools the know-how of the two GBUs to accelerate time to market.
Hua Du will lead Novecare, Technology Solutions, Special Chem, Silica and a new GBU combining Coatis and Fibras.
Vincent De Cuyper will lead Soda Ash, Peroxides and Aroma Performance as well as the functions Manufacturing, Supply Chain, Procurement and Global Business Services.
Karim Hajjar will keep his responsibilities as CFO of Solvay.
FOLLOW US ON TWITTER @SOLVAYGROUP
Solvay is an advanced materials and specialty chemicals company, committed to developing chemistry that addresses key societal challenges. Solvay innovates and partners with customers worldwide in many diverse end-markets. Its products are used in planes, cars, batteries, smart and medical devices, as well as in mineral and oil and gas extraction, enhancing efficiency and sustainability. Its lightweighting materials promote cleaner mobility, its formulations optimize the use of resources, and its performance chemicals improve air and water quality. Solvay is headquartered in Brussels with around 24,500 employees in 62 countries. Net sales were €10.3 billion in 2018, with 90% from activities where Solvay ranks among the world's top 3 leaders, resulting in an EBITDA margin of 22%. Solvay SA (SOLB.BE) is listed on Euronext Brussels and Paris Bloomberg: SOLB.BB - Reuters: SOLB.BR) and in the United States its shares (SOLVY), are traded through a level-1 ADR program. (Financial figures take into account the planned divestment of Polyamides).
Media Relations
Caroline Jacobs
Head of Corporate Media Relations
rue de Ransbeek 310 1120 Brussels, Belgium
Victoria Binoche
Media Relations Manager
Investor Relations
Jodi Allen
Head of Investor relations
Bisser Alexandrov
Investor relations