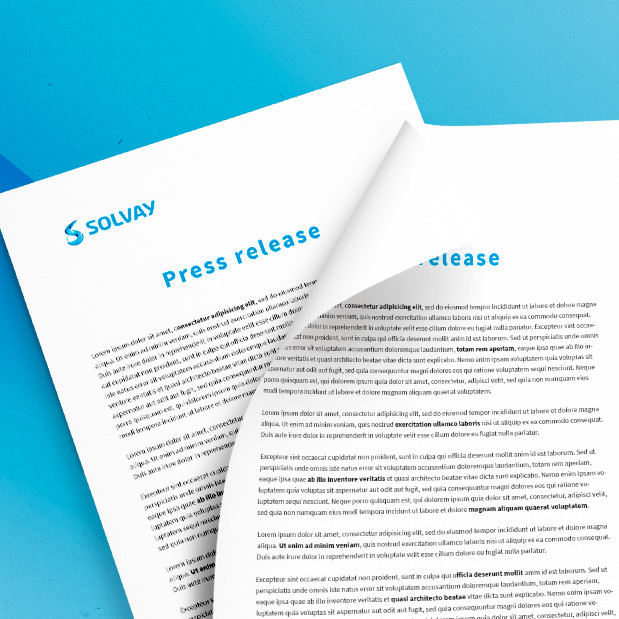 Solvay Launching Two New UV Stabilizers and Sharing Market Insights at the 2017 International Polyolefins Conference
Woodland Park, NJ February 21, 2017 --- Solvay will share its latest market insights and advances for building & construction and injection molding in its CYASORB CYNERGY SOLUTIONS® stabilizers at the International Polyolefins Conference forum at the Hilton Houston North in Houston, Texas. Solvay Additive Technologies is launching CYASORB CYNERGY SOLUTIONS® B878T for building & construction and CYASORB CYNERGY SOLUTIONS® M535 for injection and blow molding applications.

"The building & construction industry is looking for optimal, cost-effective and sustainable solutions that ensure durability in specific applicative conditions," said Dr. Andrea Landuzzi, Global Marketing Manager for Solvay's Additive Technologies business line. "Our new CYASORB CYNERGY SOLUTIONS® B878T UV stabilizer can meet or exceed industry specifications across the building & construction markets." 

CYASORB CYNERGY SOLUTIONS® B series delivers exceptional UV and long-term thermal protection to polyolefins used in outdoor construction applications. B series products can be used in TPO and PP, with or without filler, and can also be used in multi-layered membranes. With B series, parts can be painted without blooming and delamination concerns. Applications include TPO roofing membranes, roofing tiles, siding, shutters, decking, fencing and trim.

CYASORB CYNERGY SOLUTIONS® M Series stabilizers ensure a good long-term quality protection for general PE injection and blow molded articles at modest loading levels, satisfying the critical performance requirements for injection molded and blow molded durable PE products including crates, boxes, drums, storage and industrial containers, water tanks, trash, roll-out carts and toys.

"We continue to push the cutting edge of polymer stabilization technology with our newest CYASORB CYNERGY SOLUTIONS® M Series UV stabilizer product family,"added Dr, Landuzzi. "Our first product in this series, CYASORB CYNERGY SOLUTIONS® M535 stabilizer is specifically designed for general PE injection and blow molded articles, and can be used at lower loadings than traditional stabilizer chemistries, allowing for more formulation flexibility."

Solvay will present a paper titled New Solutions for Polyolefin Stabilization: Advanced UV Stabilizer for Molding Applications and a UV/Thermal Stabilizer for Building & Construction at the conference. The presentation will address trends and highlight innovations in stabilization technology to meet emerging requirements in building & construction and molding applications.

CYASORB CYNERGY SOLUTIONS® stabilizers protect the physical and appearance properties of plastics from UV light exposure and extend service life. While many stabilizers in the market today are capable of offering some levels of protection in plastics, Solvay stabilizers offer an optimal balance of processing and cost efficiencies with a high degree of performance durability.

Technology Solutions is a global business unit (GBU) of the Solvay Group and is comprised of the Mining Solutions, Phosphorus Specialties and Additive Technologies business lines. The GBU innovates, manufactures and delivers sustainable solutions to its customers in the mining, agriculture, agrochemicals, automotive, electronics and industrial markets, among others. To learn more about the Additive Technologies product portfolio, visit us at the International Polyolefins Conference, booth number 18/19.
An international chemical and advanced materials company, Solvay assists its customers in innovating, developing and delivering high-value, sustainable products and solutions which consume less energy and reduce CO2 emissions, optimize the use of resources and improve the quality of life. Solvay serves diversified global end markets, including automotive and aerospace, consumer goods and healthcare, energy and environment, electricity and electronics, building and construction as well as industrial applications. Solvay is headquartered in Brussels with about 30,900 employees spread across 53 countries. It generated pro forma net sales of € 12.4 bn in 2015, with 90% made from activities where it ranks among the world's top 3 players. Solvay SA (SOLB.BE) is listed on Euronext in Brussels and Paris (Bloomberg: SOLB:BB - Reuters: SOLB.BR).