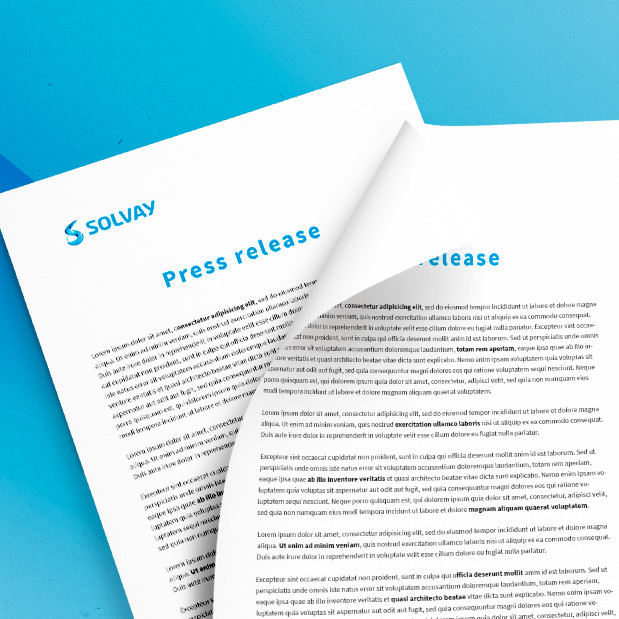 Solvay provides additional 2012 quarterly restated financial information
Solvay provides additional 2012 quarterly restated financial information
Brussels, March 25th 2013 --- Solvay today published quarterly unaudited restated results for 2012 taking into account the Group's new organization structure and Solvay Indupa discontinued operations.
The Group announced at the beginning of this year a redesigned organization, comprising five Operating Segments as opposed to the formerly prevailing three Sectors. The newly set Operating Segments, effective since January 1st 2013 reflect the different business models most adequate to the diverse business drivers and competitive dynamics across the Group's portfolio, ensuring focus on the critical levers for success.
In this context, the company provided quarterly restated Net Sales and Adjusted REBITDA segment information for 2012 comparable to its new segment reporting. Under the current segment reporting, there are changes in the allocation criteria of formerly non-allocated elements and other structure costs between the corporate functions and operating segments.
On the other hand, Solvay has classified its affiliate Solvay Indupa as an "asset held for sale" and has booked it retrospectively as a discontinued operation as of January 1st 2012.
Solvay considers that this set of restated quarterly Profit and Loss financial statements data provides the most meaningful year-over-year economic performance comparison base going forward. 
Adjusted figures exclude non cash Purchase Price Allocation accounting impacts related to Rhodia acquisition
The first-quarter 2013 earnings will be released on May 13th, 2013 (6 pm CET). 
As an international chemical group, SOLVAY assists industries in finding and implementing ever more responsible and value-creating solutions. The Group is firmly committed to sustainable development and focused on innovation and operational excellence. Solvay serves diversified markets, generating 90% of its turnover in activities where it is one of the top three worldwide. The Group is headquartered in Brussels, employs about 29,000 people in 55 countries and generated 12.4 billion euros in net sales in 2012. Solvay SA (SOLB.BE) is listed on NYSE Euronext in Brussels and Paris (Bloomberg: SOLB.BB - Reuters: SOLBt.BR).