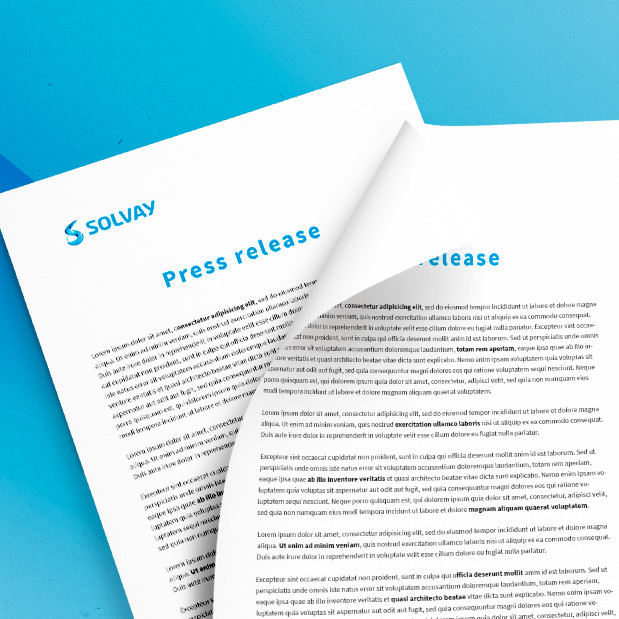 Solvay receives Chemical Safety Award from European Responsible Care jury for its worldwide Product Stewardship Management System
Brussels, October 25, 2019 --- Solvay received the Chemical Safety Award from the European Responsible Care Awards jury for its worldwide Product Stewardship Management System. This annual award is granted by the European Chemical Industry Council (CEFIC) to recognize excellence in improving health, safety and environmental standards in the chemical industry.
"Our 2019 awards showcase our industry's commitment to ensuring safe products and workplaces, efficient processes and circular models, as well as overall performance excellence," said Marco Mensink, CEFIC Director General.
"Solvay is thrilled to receive this recognition for our Product Stewardship Management System which ensures safety and compliance for our 12,000 customers and our 16,500 marketed products in all countries worldwide and simultaneously," said Marco Martinelli, Solvay Group General Manager Industrial. "Solvay's businesses use this tool to ensure that product information, especially safety considerations, are consistently shared with all stakeholders throughout the value chain."
Solvay's Product Stewardship Management System not only ensures that products comply with the many diverse and complex national and regional regulatory environments worldwide, but also that management teams can track all applications as well as identify and anticipate risks and sustainability issues in their product portfolio.
FOLLOW US ON TWITTER @SOLVAYGROUP
Solvay is an advanced materials and specialty chemicals company, committed to developing chemistry that addresses key societal challenges. Solvay innovates and partners with customers worldwide in many diverse end-markets. Its products are used in planes, cars, batteries, smart and medical devices, as well as in mineral and oil and gas extraction, enhancing efficiency and sustainability. Its lightweighting materials promote cleaner mobility, its formulations optimize the use of resources, and its performance chemicals improve air and water quality. Solvay is headquartered in Brussels with around 24,500 employees in 61 countries. Net sales were €10.3 billion in 2018, with 90% from activities where Solvay ranks among the world's top 3 leaders, resulting in an EBITDA margin of 22%. Solvay SA (SOLB.BE) is listed on Euronext Brussels and Paris Bloomberg: SOLB.BB - Reuters: SOLB.BR), and in the United States its shares (SOLVY) are traded through a level-1 ADR program. (Figures take into account the planned divestment of Polyamides).
Media Relations
Caroline Jacobs
Head of Corporate Media Relations
rue de Ransbeek 310 1120 Brussels, Belgium
Amandine Grison
Media Relations Manager
25 rue de Clichy, 75009 Paris, France
Investor Relations
Jodi Allen
Head of Investor relations
Bisser Alexandrov
Investor relations
Geoffroy d'Oultremont
Investor relations