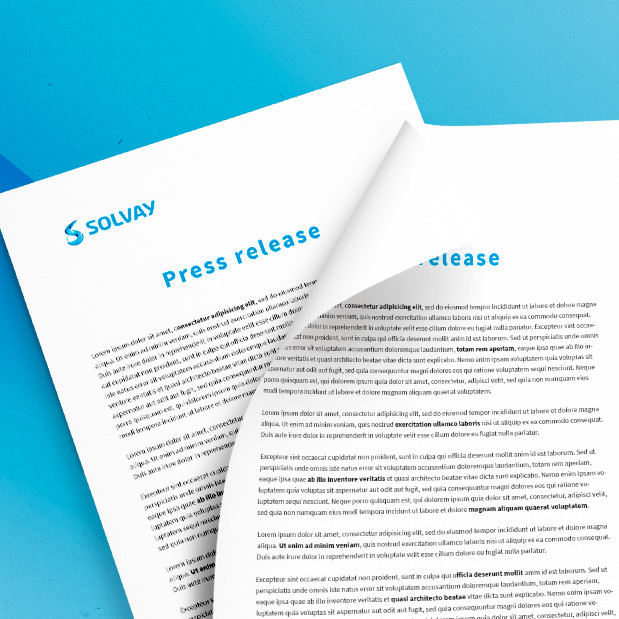 Solvay successfully launches 1.2 billion € perpetual hybrid bond issue
NOT FOR RELEASE, PUBLICATION OR DISTRIBUTION, DIRECTLY OR INDIRECTLY, IN OR INTO THE UNITED STATES, AUSTRALIA, CANADA OR JAPAN
Brussels, November 4 2013 --- Solvay announces today that it has successfully launched a hybrid bond issue worth 1.2 billion €, to further strengthen the Groups balance sheet.
The hybrid bond issue is split across two perpetual tranches: 
A first tranche of 700 million € with a first call date on May 12, 2019 and a coupon of 4.199% until this date, with a reset every 5 years thereafter.
A second tranche of 500 million € with a first call date on November 12, 2023 and a coupon of 5.425% until this date, with a reset every 5 years thereafter. 
The Notes will rank junior to all senior debt and will be recorded as equity (and coupons will be recorded as dividends) pursuant to IFRS. They will also receive an intermediate equity content from S&P and Moody's (50% of the Notes will be treated as equity).

"We are very pleased with the outcome of this transaction, which is a testimony of the market's wide recognition of the Group's successful execution of its in-depth transformation," said Karim Hajjar, Solvay's Chief Financial Officer. "This issue further strengthens Solvay's capital structure following the acquisition of Chemlogics, and maintains liquidity at cautious levels ahead of upcoming large debt maturities".

This announcement does not contain or constitute an offer of, or the solicitation of an offer to buy or subscribe for, securities to any person in Australia, Canada, Japan, or the United States or in any jurisdiction to whom or in which such offer or solicitation is unlawful. The securities referred to herein may not be offered or sold in the United States or to any U.S. person absent registration under the U.S. Securities Act of 1933, as amended (the Securities Act) or another exemption from, or in a transaction not subject to, the registration requirements of the Securities Act. Subject to certain exceptions, the securities referred to herein may not be offered or sold in Australia, Canada or Japan or to, or for the account or benefit of, any national, resident or citizen of Australia, Canada or Japan. The offer and sale of the securities referred to herein has not been and will not be registered under the Securities Act or under the applicable securities laws of Australia, Canada or Japan. There will be no public offer of the securities in the United States.

As an international chemical group, 
SOLVAY
 assists industries in finding and implementing ever more responsible and value-creating solutions. The Group is firmly committed to sustainable development and focused on innovation and operational excellence. Solvay serves diversified markets, generating 90% of its turnover in activities where it is one of the top three worldwide. The group is headquartered in Brussels, employs about 29,000 people in 55 countries and generated 12.4 billion euros in net sales in 2012. Solvay SA 
SOLB.BE
) is listed on 
NYSE Euronext
 in Brussels and Paris (Bloomberg: 
SOLB.BB
- Reuters: 
SOLBt.BR
).