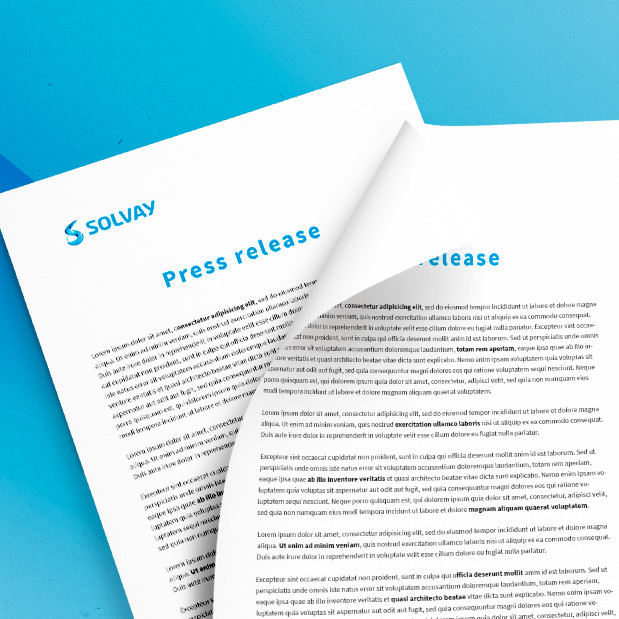 Solvay's new Ixef® 3012 PARA carbon fiber and glass fiber hybrid material offers superior strength, stiffness and surface appearance in lightweight applications
Solvay at FAKUMA 2017: Hall B4, Booth 4213, October 17-21
Bollate, Italy, Oct. 17, 2017– Solvay, a leading global supplier of specialty polymers, introduces Ixef® 3012, a 55 percent carbon fiber and glass fiber hybrid reinforced grade of polyarylamide (PARA). The new material has been developed to provide extremely high strength and stiffness at lower density as well as an exceptional surface finish.
"Ixef® 3012 PARA is targeted at long and thin light-weighting components that require no painting and are capable of meeting demanding mechanical functions in automotive, aerospace as well as consumer applications,"said Thomas Kohnert, Global Product Manager Ixef®/Kalix®/Omnix® high-performance polyamides for Solvay's Specialty Polymers Global Business Unit. "The carbon fiber and glass fiber hybrid loading provides outstanding flexural modulus and opens a wide potential for weight-saving metal replacement and system integration, while its high flowability enables cost-efficient injection molding of delicate parts with long flow paths."
In addition to high stiffness and impact strength, Ixef® 3012 PARA exhibits excellent creep resistance and is electrically conductive. Its property profile has an ideal market fit in intricate applications from automotive air vent lamellas and throttle body levers to drone components, action camera fixation parts and cantilever snaps. 
Ixef® 3012 PARA complements Solvay's existing 30 percent carbon fiber reinforced Ixef® 3008 PARA and is commercially available, worldwide, in black.
® Registered trademarks of Solvay
Follow us on twitter @SolvayGroup    
Solvay Specialty Polymers manufactures over 1500 products across 35 brands of high-performance polymers – fluoropolymers, fluoroelastomers, fluorinated fluids, semi-aromatic polyamides, sulfone polymers, aromatic ultra-high performance polymers, and high barrier polymers – for use in Aerospace, Alternative Energy, Automotive, Healthcare, Membranes, Oil and Gas, Packaging, Plumbing, Semiconductors, Wire & Cable, and other industries. Learn more at www.solvayspecialtypolymers.com.
Solvay is a multi-specialty chemical company, committed to developing chemistry that addresses key societal challenges. Solvay innovates and partners with customers in diverse global end markets. Its products and solutions are used in planes, cars, smart and medical devices, batteries, in mineral and oil extraction, among many other applications promoting sustainability. Its lightweighting materials enhance cleaner mobility, its formulations optimize the use of resources and its performance chemicals improve air and water quality. Solvay is headquartered in Brussels with around 27,000 employees in 58 countries. Net sales were € 10.9 billion in 2016, with 90% from activities where Solvay ranks among the world's top 3 leaders. Solvay SA (SOLB.BE) is listed on Euronext Brussels and Paris (Bloomberg: SOLB.BB - Reuters: SOLB.BR) and in the United States its shares (SOLVY) are traded through a level-1 ADR program.
Contact us
Marla Witbrod
Solvay Specialty Polymers
Dan McCarthy
AH&M Marketing Communications
Alan Flower
Industrial Media Relations