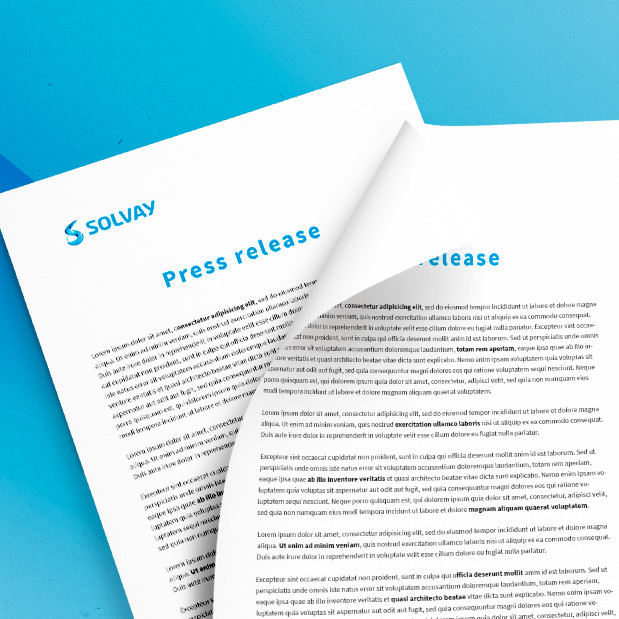 Solvay Aroma Performance to exhibit its global food offer among which the 1Kg Rhovanil pack & WeChat news sales channel
Lyon, France - Shanghai, China - March 21, 2017 -  Solvay Aroma Performance will display its global vanillin, ethylvanillin, functional & natural solutions at the 2017 Food Ingredients China (FIC) in Shanghai. A specific focus will be done on the brand-new WeChat application to buy in a click the 1KG Rhovanil.
Rhovanil vanillin is the market reference for vanillin-based applications. Produced in 3 sites (Zhenjiang- China, Saint Fons- France & Baton Rouge- USA), Rhovanil vanillin ensures the highest Food quality standards and a unique security of supply and proximity. Its production sites are indeed ¬FSSC 22¬000 ¬certified, in addition to ISO 9001 and ISO 14001 Quality and Food Safety management system certifications.  The stringent requirements are also applied to the full Solvay food offer, stressing the enterprise commitments to its customers' benefits: Food safety, leading quality & performance at the right price and through unique service excellence.
To better serve the Chinese domestic food professionals & adapt Aroma Performance channel to market, Solvay designed a one-kilo-pack of its Rhovanil vanillin, produced in Zhenjiang, China's Jiangsu Province. This pack is mainly available through the WeChat online store.
Launched in February 2017, this digital platform targets to support mid & small vanillin Food users, located in wide China. For bigger players, the 25kg box remains the reference. "This digital store illustrates Solvay deep innovation spirit and our orientation to propose to our customers such services to gain time and energy while ordering small quantities." says Jacques Guglielmi, Asia Pacific business Director at Solvay Aroma Performance. 
Solvay wide food offer is designed to support continuous & emerging food Consumer's trends in various markets, like bakery, chocolate or nutrition among others. Solvay functional solutions also bring specific answers in key food challenges like masking the off-notes brought by some proteins or sweeteners while the natural ingredients range ensures both performance & clean label/natural labeling. All these products & set of services will be showcased at coming FiC. 
The 2017 edition will be held from March 24th to 26th at National Exhibition & Convention Center of Shanghai (NECCS). Solvay Aroma Performance is exhibiting in booth 51A20/51B21. 
® Rhovanil and Rhodiarome are registered trademarks of Solvay
Designing vanilla flavors since 1884, Solvay Aroma Performance was the first to synthetize and produce the vanillin molecule on an industrial scale. Solvay is the only producer mastering in a single site the whole manufacturing chain — from Catechol and Guaiacol to its historic flagship brands Rhovanil® and Rhodiarome®. The Aroma Performance business unit operates facilities in Saint-Fons (France), Baton Rouge (USA) and Zhenjiang (China).
Solvay is a multi-specialty chemical company, committed to developing chemistry that addresses key societal challenges. Solvay innovates and partners with customers in diverse global end markets. Its products and solutions are used in planes, cars, smart and medical devices, batteries, in mineral and oil extraction, among many other applications promoting sustainability. Its lightweighting materials enhance cleaner mobility, its formulations optimize the use of resources and its performance chemicals improve air and water quality. Solvay is headquartered in Brussels with around 27,000 employees in 58 countries. Pro forma net sales were € 10.9 billion in 2016, with 90% from activities where Solvay ranks among the world's top 3 leaders. Solvay SA (SOLB.BE) is listed on Euronext Brussels and Paris (Bloomberg: SOLB.BB - Reuters: SOLB.BR) and in the United States its shares (SOLVY) are traded through a level-1 ADR program.
Contact us
Vincent ROLLIER
Head of Communications Aroma Performance
190 avenue Thiers, 69006 Lyon - France
Maud JOASSARD
Business Media Relations Aroma Performance
190 avenue Thiers, 69006 Lyon - France