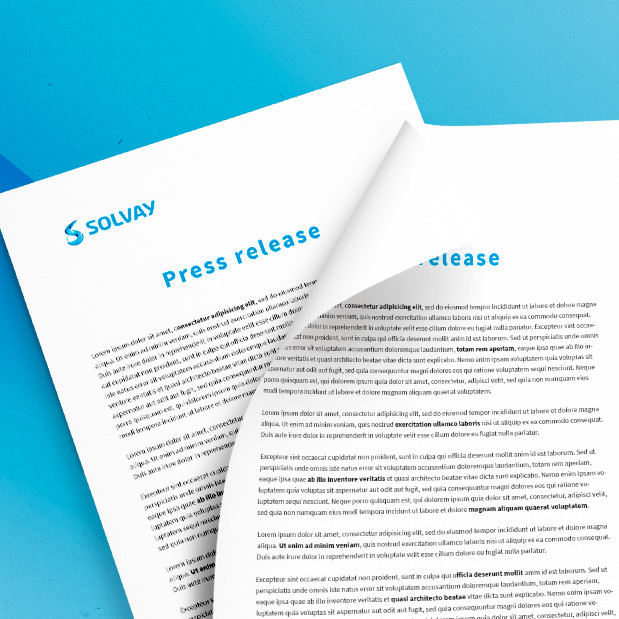 Solvay bolsters competitiveness of Peroxides activities in Povoa and opens site to partners
Brussels, September 25, 2015– Solvay has created new opportunities at its Portuguese site in Povoa by upgrading its peroxide activities and by opening the strategically located premises to other companies.
Over the past 19 months, and following the ending of Solvay's on-site soda ash activities, Solvay's Peroxides Global Business Unit has taken a range of measures to improve the long-term competitiveness of the site, which has a long tradition in serving Portugal's leading pulp & paper industry and provides solutions to the textile, mining, industrial and hospital disinfection, for the treatment of effluents.
"Our recent investments on site reinforce our long-term commitment to our customers to whom we will continue to deliver top quality products. The optimization of the site makes it a strong industrial platform with plenty of potential thanks to the sharing of facilities, services and expert workforce with internal or external companies" said Alain Jeanmart, General Manager Peroxides for EMEA.
The hydrogen peroxide unit is now integrated with the sodium chlorate plant. Thanks to its highly skilled personnel, it runs continuously industrial-level trials that support the Research and Innovation for Solvay's hydrogen peroxide plants worldwide. 
Excellence measures to increase energy efficiency and reduce CO2 emission were implemented through an innovative project by burning an excess of hydrogen to produce energy as steam, thereby reducing production costs.
The site's lay-out was reshaped with new facility networks now fully operational and around 30 hectares of land are now available for the development of new activities. The site's location close to the capital city, the international airport and commercial ports, positions it ideally to meet local and regional customers' and industrial partner's needs. 
SOLVAY PEROXIDES Global Business Unit is a worldwide market and technology leader in Hydrogen Peroxide. Providing functional qualities such as bleaching, oxidation or disinfection, it delivers innovative products and tailored services to the pulp, chemicals, aquaculture, food, mining, waste water treatment, home care and textile industries. SOLVAY PEROXIDES operates 17 plants in North and South America, Europe & Middle East, Asia and Australia. It runs the world's biggest Hydrogen Peroxide plant in Map-Ta-Phut (Thailand). With is JV partner Peróxidos do Brasil, Solvay Peroxides is developing a new small satellite plant concept, myH2O2®, especially designed for installation at customer sites in remote locations. Innovation capacity and agility are two of GBU Peroxides' strengths. 
As an international chemical group, SOLVAY assists industries in finding and implementing ever more responsible and value-creating solutions. Solvay generates 90% of its net sales in activities where it is among the world's top three players. It serves many markets, varying from energy and the environment to automotive and aeronautics or electricity and electronics, with one goal: to raise the performance of its clients and improve society's quality of life. The group is headquartered in Brussels, employs about 26,000 people in 52 countries and generated 10.2 billion euros in net sales in 2014. Solvay SA (SOLB.BE) is listed on EURONEXT Brussels and EURONEXT Paris (Bloomberg: SOLB:BB - Reuters: SOLB.BR).