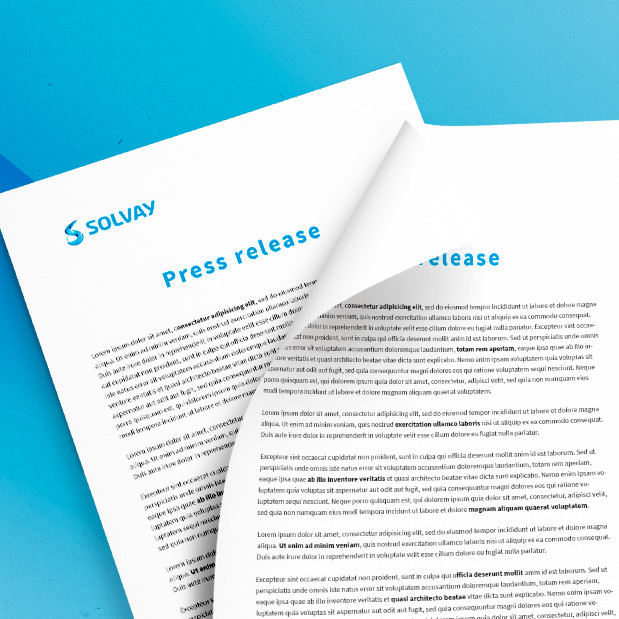 Solvay introduces specialty polymers portfolio for single-use biopharmaceutical processing systems
Alpharetta, Ga., Oct. 13, 2017 ---Solvay has unveiled a broad portfolio of medical-grade specialty polymers for single-use biopharmaceutical manufacturing applications. Encompassing select grades from five of its most recognized product families, Solvay's portfolio aims to support the industry's shift toward single-use peripherals, filtration, bioreactors and containment. In more practical terms, it will help biopharmaceutical manufacturers achieve greater flexibility, faster product development, reduced capital costs and increased speed to market.
The five product families from which Solvay assembled its new biopharmaceutical manufacturing portfolio include: 
 
In qualifying materials for single-use applications, Solvay evaluated the effect of gamma irradiation up to 50 kGy on each polymer to ensure it would retain excellent mechanical performance and other application-critical properties. Results confirmed each material's compatibility with gamma irradiation, the preferred sterilization method for single-use systems. 
All materials are certified under United States Pharmacopeia (USP) Class VI test standards – before and after gamma irradiation – to ensure they meet stringent industry requirements. Solvay is also following industry guidelines to evaluate leachables and extractables for its biopharma portfolio.
A leading supplier of specialty polymers, Solvay brings over 25 years of healthcare industry experience, reliability and innovation to the biopharmaceutical industry. In addition to the five product families covered here, the company offers a broad selection of other high-performance polymers ideally suited for single-use peripherals, filtration, bioreactors and containment.
® Radel, Udel, AvaSpire, KetaSpire and Ixef are registered trademarks of Solvay.
Follow us on twitter @SolvayGroup
Solvay Specialty Polymers manufactures over 1500 products across 35 brands of high-performance polymers – fluoropolymers, fluoroelastomers, fluorinated fluids, semi-aromatic polyamides, sulfone polymers, aromatic ultra-high performance polymers, and high barrier polymers – for use in Aerospace, Alternative Energy, Automotive, Healthcare, Membranes, Oil and Gas, Packaging, Plumbing, Semiconductors, Wire & Cable, and other industries. Learn more at www.solvayspecialtypolymers.com.
Solvay is a multi-specialty chemical company, committed to developing chemistry that addresses key societal challenges. Solvay innovates and partners with customers in diverse global end markets. Its products and solutions are used in planes, cars, smart and medical devices, batteries, in mineral and oil extraction, among many other applications promoting sustainability. Its lightweighting materials enhance cleaner mobility, its formulations optimize the use of resources and its performance chemicals improve air and water quality. Solvay is headquartered in Brussels with around 27,000 employees in 58 countries. Net sales were € 10.9 billion in 2016, with 90% from activities where Solvay ranks among the world's top 3 leaders. Solvay SA (SOLB.BE) is listed on Euronext Brussels and Paris (Bloomberg: SOLB.BB - Reuters: SOLB.BR) and in the United States its shares (SOLVY) are traded through a level-1 ADR program.
Contact us
Marla Witbrod
Solvay Specialty Polymers
Dan McCarthy
AH&M Marketing Communications
Alan Flower
Industrial Media Relations