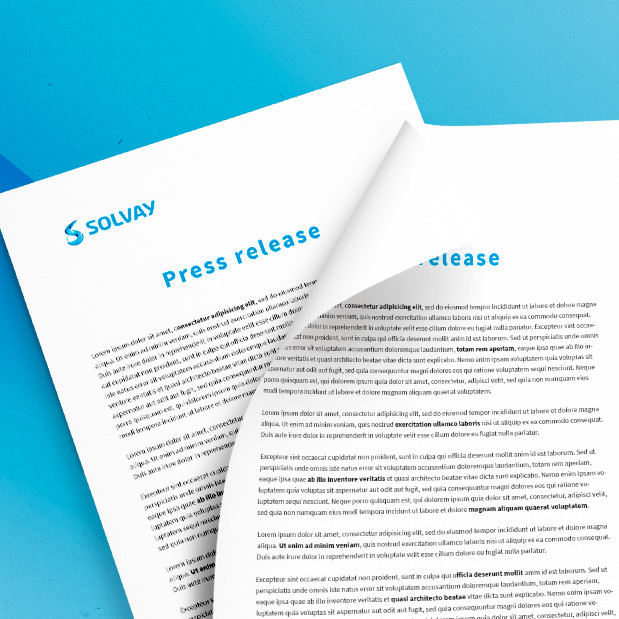 Solvay SA announces Ordinary General Shareholder Meeting on Tuesday May 10, 2016 in Brussels
Brussels, April 8, 2016, 10:00 ---All the documents relating to the Ordinary General Shareholders' Meeting to be held on Tuesday May 10, 2016 are available at www.solvay.com, Investors section.
To read the documents, click here.
Only those shareholders of Solvay SA as of the record date April 26th, 2016, at midnight CEST, will have the right to participate and vote in the Shareholders' meeting irrespective of the number of shares held by the shareholders on the day of the meeting.
Shareholders wishing to participate in the Meeting should declare their intentions not later than May 4th, 2016.  These shareholders should follow the instructions indicated in the Notice of Meeting available in our website.
The meeting will take place at 10:30 CEST, at the Square, Brussels Meeting Center, Mont des Arts, 1000 Brussels.
Any questions relating to this Meeting should be sent to ag.solvay@solvay.com.
An international chemical and advanced materials company, Solvay assists its customers in innovating, developing and delivering high-value, sustainable products and solutions which consume less energy and reduce CO2 emissions, optimize the use of resources and improve the quality of life. Solvay serves diversified global end markets, including automotive and aerospace, consumer goods and healthcare, energy and environment, electricity and electronics, building and construction as well as industrial applications. Solvay is headquartered in Brussels with about 30,000 employees spread across 53 countries. It generated pro forma net sales of € 12.4 bn in 2015, with 90% made from activities where it ranks among the world's top 3 players. Solvay SA (SOLB.BE) is listed on Euronext in Brussels and Paris (Bloomberg: SOLB:BB - Reuters: SOLB.BR).