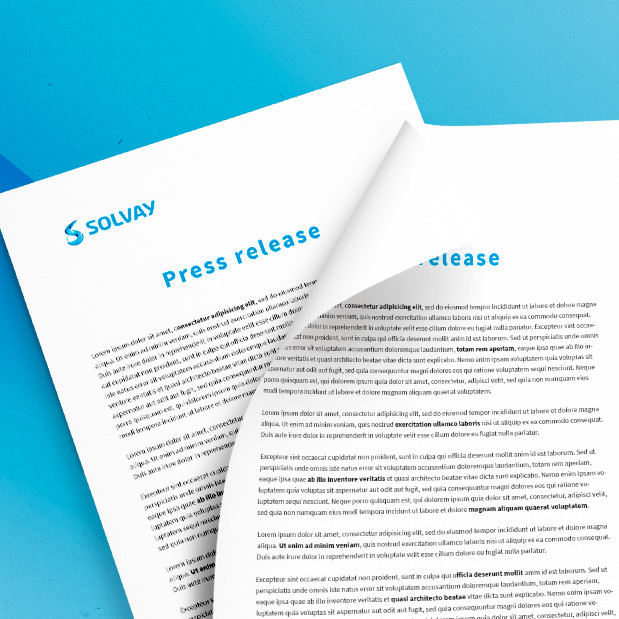 Outcome of Solvay's General Shareholders Meeting
Brussels, May 9, 2017 --- Solvay today held its General Shareholders Meeting at its Corporate Headquarters in Brussels.

Shareholders voted in favor of all the resolutions proposed. More specifically, they approved the payment of a gross dividend of € 3.45 per share for the fiscal year 2016, a rise of 4.5 percent compared to the previous year. After deduction of the prepayment made on January 18, 2017 of € 1.32 gross per share, the balance of the gross dividend amounts to € 2.13 gross per share, payable as of May 16, 2017.
During the General Shareholders Meeting, shareholders also approved the re-election and nomination of board members including the re-election of Mr. Nicolas Boël and Mr. Jean-Pierre Clamadieu for a four-year term until May 2021. Mrs. Agnès Lemarchand was nominated as an independent member on the Board of Directors for four years, raising the number of women on Solvay's Board of Directors to six out of 16 members in total.
Details of the resolutions and voting results as well as a replay of the shareholder meeting are available on Solvay's website, Investors section.
Follow us on twitter @SolvayGroup    

Solvay is a multi-specialty chemical company, committed to developing chemistry that addresses key societal challenges. Solvay innovates and partners with customers in diverse global end markets. Its products and solutions are used in planes, cars, smart and medical devices, batteries, in mineral and oil extraction, among many other applications promoting sustainability. Its lightweighting materials enhance cleaner mobility, its formulations optimize the use of resources and its performance chemicals improve air and water quality. Solvay is headquartered in Brussels with around 27,000 employees in 58 countries. Net sales were € 10.9 billion in 2016, with 90% from activities where Solvay ranks among the world's top 3 leaders. Solvay SA (SOLB.BE) is listed on Euronext Brussels and Paris (Bloomberg: SOLB.BB - Reuters: SOLB.BR) and in the United States its shares (SOLVY) are traded through a level-1 ADR program.
Contact us
Caroline Jacobs
Head of Corporate Media Relations
rue de Ransbeek 310 1120 Brussels, Belgium
Jodi Allen
Investor relations
Bisser Alexandrov
Investor relations