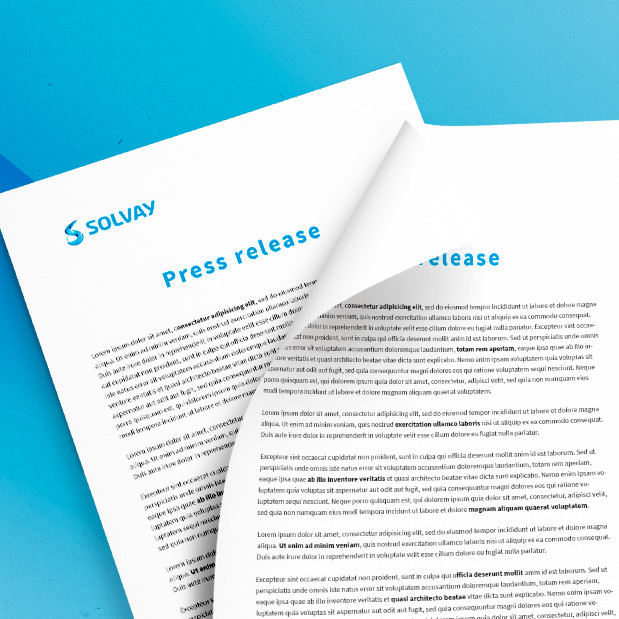 Solvay to showcase enhanced array of high-performance polymers for water contact handling systems at ISH 2017
BRUSSELS, Belgium Feb. 22, 2017 – Solvay will display one of the broadest selections of high-performance polymers for metal substitution applications in water contact handling systems for plumbing, heating and sanitary at ISH 2017 (Frankfurt-am-Main, March 14-18) in Hall 6.1 Booth C80.
Solvay will introduce new drinking water (DW) approved grades of Ryton® polyphenylene sulfide (PPS) to complement its extensive portfolio of products for water contact handling systems which include Radel® PPSU (polyphenylsulfone); Acudel® modified PPSU; Udel® PSU (polysulfone); Veradel® polyethersulfone (PESU); Solef® PVDF (polyvinylidene fluoride); Amodel® PPA (polyphthalamide); Ixef® PARA (polyarylamide); Omnix® high-performance polyamide (HPPA); and KetaSpire® polyetheretherketone (PEEK). In addition to these amorphous and semi-crystalline polymers, Solvay has Polidan® PEX, a family of cross-linkable polyethylene compounds. 
Solvay is one of the few material suppliers worldwide to offer European and USA certifications such as NSF International, WRAS and KTW for its polymer products that come into contact with drinking water. The company voluntarily certifies its polymers on a global basis to help OEMs expedite the approval process required for components used in hot potable water systems. This uniquely positions Solvay to globally support customers seeking specific local regulatory clearances for polymer plumbing parts in contact with potable water.
Solvay's metal replacement materials eliminate the risk of galvanic corrosion and scale build-up, and help reduce cost and facilitate compliance with tighter regulations on permissible levels of lead in drinking water. They offer greater thermal insulation, more design freedom and find a fit in sanitary and heating water applications from cold to hot water or steam, in high-purity drinking water or chemically aggressive water for heating systems, and in low or high pressure piping systems for medium-term to very long-term applications – up to fifty years.
® Registered trademarks of Solvay
Solvay Specialty Polymers manufactures over 1500 products across 35 brands of high-performance polymers – fluoropolymers, fluoroelastomers, fluorinated fluids, semi-aromatic polyamides, sulfone polymers, aromatic ultra-high performance polymers, high barrier polymers and cross-linked high-performance compounds – for use in Aerospace, Alternative Energy, Automotive, Healthcare, Membranes, Oil and Gas, Packaging, Plumbing, Semiconductors, Wire & Cable, and other industries. Learn more at www.solvayspecialtypolymers.com.
An international chemical and advanced materials company, Solvay assists its customers in innovating, developing and delivering high-value, sustainable products and solutions which consume less energy and reduce CO2 emissions, optimize the use of resources and improve the quality of life. Solvay serves diversified global end markets, including automotive and aerospace, consumer goods and healthcare, energy and environment, electricity and electronics, building and construction as well as industrial applications. Solvay is headquartered in Brussels with about 30,900 employees spread across 53 countries. It generated pro forma net sales of € 12.4 bn in 2015, with 90% made from activities where it ranks among the world's top 3 players. Solvay SA (SOLB.BE) is listed on Euronext in Brussels and Paris (Bloomberg: SOLB:BB - Reuters: SOLB.BR).