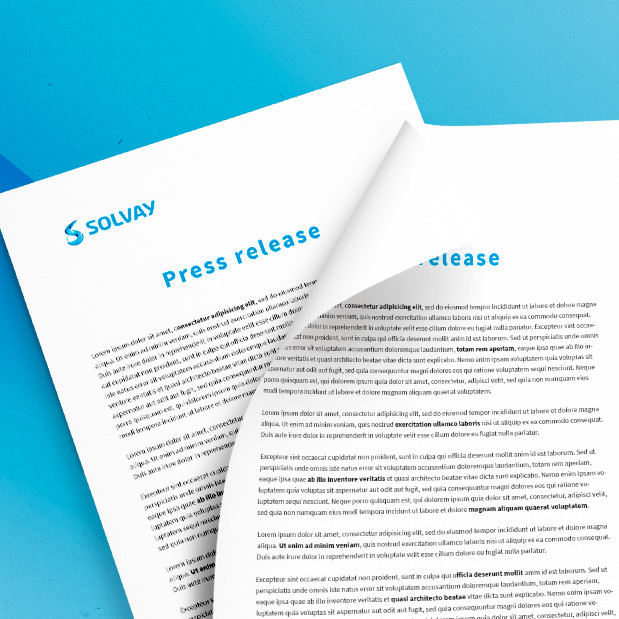 Solvay to showcase lightweighting composite solutions and additive manufacturing technology for challenging aerospace and automotive applications at JEC World 2017
Co-winner of JEC Innovation Award in Software Category. Delivers presentations at JEC World Conference and SAMPE Summit.
BRUSSELS, Belgium Feb. 14, 2017– During JEC World 2017 to be held in Paris (March 14-16), Solvay will present its technologically advanced lightweighting material solutions for the manufacture of cost-efficient and high-performance structures for aerospace, automotive, mass transportation, oil & gas, and other demanding industrial end-use applications. 
In Hall 5A, Booth L42, Solvay will exhibit an integrated offering including thermoset and thermoplastic composites, structural foams, adhesives and surfacing, composite matrix films, impact modifiers, tooling, and vacuum bagging consumables.  
New advances in Solvay's polymer and composites chemistry are the driving force affording incredible opportunities to accelerate the development of cost-effective lightweight solutions, especially in aerospace and automotive industries. The aim of these materials, designed to replace metal and solid plastic structures, is to increase manufacturing efficiencies and reduce fuel consumption, thereby CO2 emissions and include:
Flexible and efficient CFRP blanks for high volume automotive body panel closures such as bonnets, wings and doors. 

TegraCore™ PPSU foams used as a structural foam core for lightweight sandwich assemblies in insulative and structural components for aircraft cabin and cargo interiors that require superior resistance to damage, fire and liquids including Skydrol® and water, and for use in structural parts manufactured using RTM processes. 

Game-changing liquid resin infusion technology for aerospace primary structure applications such as wing boxes.

Ajedium™ high-performance films and laminates manufactured from a variety of engineering, aromatic and fluorine-based polymers. These lightweight and durable films may be mono- or multi-layer structures and meet stringent dustry requirements regarding low permeability to water, as well as fire and burn-through resistance.
Solvay has reinforced its leadership position through the alignment of its world-class materials to the fast-rising trend of additive manufacturing (i.e. 3D printing) and proof of the company's capabilities have been acknowledged by a JEC Innovation Award in the Software category. e-Xstream engineering, an MSC Software Company, and co-winner Solvay launched Digimat™ Additive Manufacturing which has been recognised for its innovation and high market potential.  Solvay's expanding 3D printing materials competencies are part of the company's global leadership in advanced lightweighting solutions utilized mostly in transport at present to replace metals. These advanced solutions help reduce the weight of cars and planes and therefore CO2 emissions, and allow for more design flexibility thereby lowering waste.
During the JEC World conference program, further insights into Solvay's recent developments in thermoplastic composites will be shared by Marc Doyle, Senior Vice President Research & Innovation for Solvay Composite Materials. On Tuesday, March 14 at 10:00am, Doyle opens the morning session dedicated to "Thermoplastics – Multimaterial Solutions" and will highlight how thermoplastic composites can address current and future needs in material selection and processing. 
Doyle will also speak at the SAMPE Summit 17 Paris on Monday, March 13 during the session Block C - Advanced Materials held from 14h00 (2pm) to 15h30 (3:30pm). Titled "Advanced Materials for Aerospace Solutions," Solvay's presentation will discuss the contribution of advanced materials in aerospace applications from the onset of composite technology to recent uses, and the future challenges composites need to meet to sustain the ever-expanding technology needs and opportunities for flight vehicles. Summit 17 Paris will take place in the roof-top restaurant of the Pullman Hotel Paris Tour Eiffel, just aside the Eiffel Tower.
Follow this link to watch the 'Solvay at JEC World' video teaser.
™ Ajedium and TegraCore are trademarks of Solvay
™ Digimat is a trademark of e-Xstream engineering, an MSC Software Company
Solvay Specialty Polymers manufactures over 1500 products across 35 brands of high-performance polymers – fluoropolymers, fluoroelastomers, fluorinated fluids, semi-aromatic polyamides, sulfone polymers, aromatic ultra-high performance polymers, high barrier polymers and cross-linked high-performance compounds – for use in Aerospace, Alternative Energy, Automotive, Healthcare, Membranes, Oil and Gas, Packaging, Plumbing, Semiconductors, Wire & Cable, and other industries. Learn more at www.solvayspecialtypolymers.com.
An international chemical and advanced materials company, Solvay assists its customers in innovating, developing and delivering high-value, sustainable products and solutions which consume less energy and reduce CO2 emissions, optimize the use of resources and improve the quality of life. Solvay serves diversified global end markets, including automotive and aerospace, consumer goods and healthcare, energy and environment, electricity and electronics, building and construction as well as industrial applications. Solvay is headquartered in Brussels with about 30,900 employees spread across 53 countries. It generated pro forma net sales of € 12.4 bn in 2015, with 90% made from activities where it ranks among the world's top 3 players. Solvay SA (SOLB.BE) is listed on Euronext in Brussels and Paris (Bloomberg: SOLB:BB - Reuters: SOLB.BR).