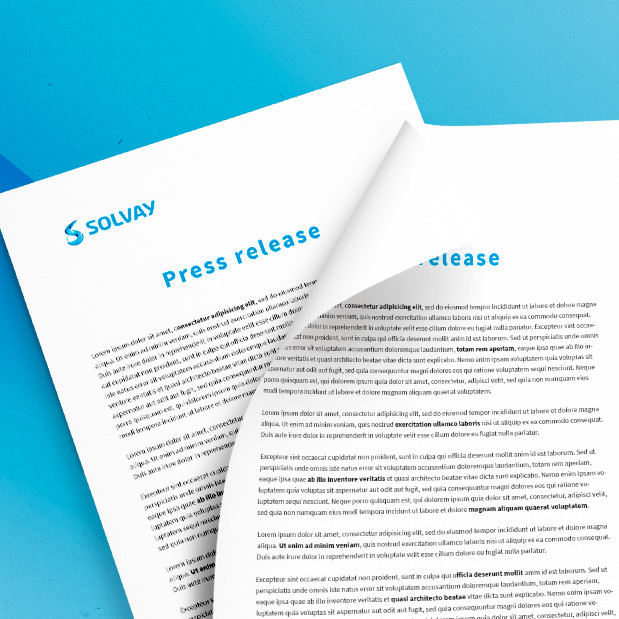 Solvay to Showcase Unique Functional Benefits of Fomblin® HC for Skin Care and Make-up Formulations at in-cosmetics 2016
PARIS, France April 12, 2016– At in-cosmetics 2016 (Booth F30), Solvay, a leading global supplier of high-performance polymer solutions, will feature Fomblin® HC transformative specialty ingredients designed to provide skin care and make-up formulations with superior functional benefits at unmatched efficiency. Fomblin® HC is a family of advanced polymeric fluids based on Solvay's proprietary perfluoropolyether (PFPE) technology and they are commercially available, globally.
"Fomblin® HC is an odorless, colorless, transparent and non-greasy film-forming polymer that can transform even the most basic formulations into multi-functional cosmetic products at concentrations as low as 0.1 percent," says Anna Maria Bertasa, Global Market Manager - Fluids Business Line for Solvay Specialty Polymers. "This is notably less than what is required to achieve the same combination of nurturing effects with any other commercially available cosmetic ingredient."
Benefits derived from Fomblin® HC include the formation of a long-lasting barrier that may help to protect against pollution, thermal exposure, extreme humidity and irritant agents without compromising its breathability. Combining durable oil and water repellency with high oxygen permeability, the fluids lend themselves to the creation of smooth and airy formulations.
Furthermore, Solvay's PFPE-based specialty ingredients technology adds premium attributes including long-lasting water and transfer resistance to lipsticks, eye make-up and facial make-up.  It also enriches the oil and water repellency of pigments and other sensitive color cosmetics, and prevents them from cracking. 
As part of its dedicated research and development programs, Solvay has demonstrated the high performance and safety of Fomblin® HC in comprehensive clinical studies, including the fluids' protective effects against facial irritation caused by medical treatments with vapors containing hydrogen sulfide as well as against hand dermatitis caused by metal powders, paints, detergents, industrial oils and other allergenic or irritant agents. The results have been audited and are shared with customers to facilitate regulatory approvals and speed the time to market of new personal care and cosmetic products. 
Solvay also provides full toxicity test reports, and special attention has been given to the detection of any potentially sensitizing or photo-sensitizing activities. In addition, the environmental safety and sustainability of Fomblin® HC has been certified by important regulatory bodies, such as the Commission for the Evaluation of Water Endangering Substances (KBwS) of the Federal German Ministry of the Environment.
® Registered trademark of Solvay

Follow us on twitter @SolvayGroup    
About Solvay
Solvay Specialty Polymers manufactures over 1500 products across 35 brands of high-performance polymers – fluoropolymers, fluoroelastomers, fluorinated fluids, semi-aromatic polyamides, sulfone polymers, aromatic ultra-high performance polymers, high barrier polymers and cross-linked high-performance compounds – for use in Aerospace, Alternative Energy, Automotive, Healthcare, Membranes, Oil and Gas, Packaging, Plumbing, Semiconductors, Wire & Cable, and other industries. Learn more at www.solvayspecialtypolymers.com.
An international chemical and advanced materials company, Solvay assists its customers in innovating, developing and delivering high-value, sustainable products and solutions which consume less energy and reduce CO2 emissions, optimize the use of resources and improve the quality of life. Solvay serves diversified global end markets, including automotive and aerospace, consumer goods and healthcare, energy and environment, electricity and electronics, building and construction as well as industrial applications. Solvay is headquartered in Brussels with about 30,900 employees spread across 53 countries. It generated pro forma net sales of € 12.4 bn in 2015, with 90% made from activities where it ranks among the world's top 3 players. Solvay SA (SOLB.BE) is listed on Euronext in Brussels and Paris (Bloomberg: SOLB:BB - Reuters: SOLB.BR).