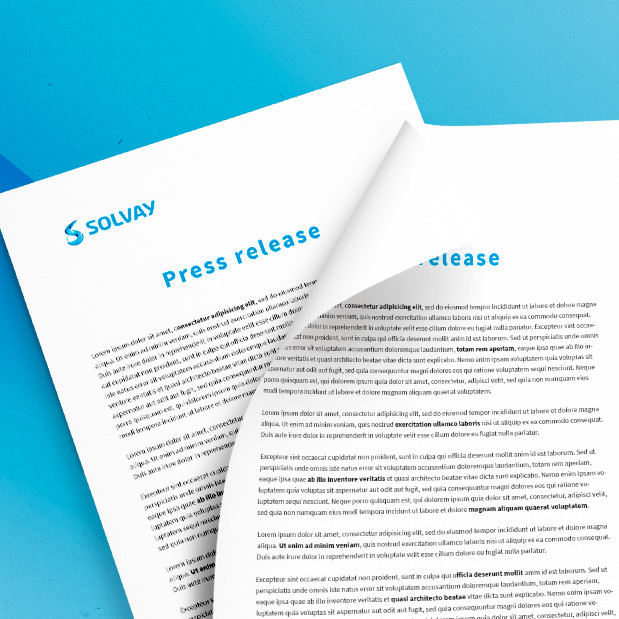 Solvay signs an exclusive process materials distribution agreement with Bang & Bonsomer Group for the Baltic States and Finland
Brussels, January 12th 2016 --- Solvay has signed an exclusive distribution agreement between its Composite Materials Global Business Unit and Bang & Bonsomer Group. The agreement covers Lithuania, Estonia, Latvia and Finland for all Process Materials products, starting January 1st, 2016. 
The Process Materials product portfolio supports the end-to-end manufacturing of composite parts and includes an extensive portfolio of vacuum bagging consumables, pre-manufactured kitting solutions and tooling products. It provides advanced composites process materials for aerospace, automotive, wind energy, motorsport, marine, mass transportation and other demanding applications.
"We are excited to further expand our cooperation with Solvay. Our strength is in technical sales distribution for the composites industry in the geographical territory including Finland, the CIS countries, Scandinavia and the Baltic countries. We see Solvay as one of a key partner for Bang & Bonsomer Group," said Mikko Teittinen, CEO for Bang & Bonsomer Group.
Solvay Composite Materials is committed to expanding its presence in aerospace, wind energy and industrial markets as part of its global Process Materials strategy. This exclusive distribution agreement with Bang & Bonsomer will enhance Solvay's business development in Lithuania, Estonia, Latvia and Finland, working with locally based partners in the composites industry, while offering them the consistent high level of customer service that they associate with Solvay worldwide.
"This agreement is a great achievement in expanding our market coverage and supports our commitment to the Lithuania, Estonia, Latvia and Finland markets," said Tony Steels, Business Director for Solvay Composite Materials - Process Materials.
Solvay Composite Materials 
Solvay's new Global Business Unit Composite Materials is a global provider of technologically advanced light-weighting material solutions that enable our customers in the aerospace, automotive and other demanding industries to design, develop and efficiently manufacture high-quality, high-performance and complex composite structures.  Composite Materials has the most extensive product portfolio, including prepregs, resin systems, adhesives and surfacing films, carbon fiber, textiles, tooling and vacuum bagging consumables, thanks to its leadership in advanced materials science, chemistry and application engineering. Solvay Composite Materials combines the former Cytec Aerospace Materials and Industrial Materials businesses.
Bang & Bonsomer Group
Bang & Bonsomer is a leading distributor for a wide range of industrial raw materials and additives in Finland, Scandinavia, CIS-countries and The Baltic States. Company has eight industry oriented business units being specialized in sales and services for industry focused applications. Bang & Bonsomer has sales offices and warehouses in eleven countries and the number of employees working in the whole group is over 250 people. In 2014 the Group sales amounted to 163 M€.
Contacts:
Claire Michel
Communications Manager
Cytec Solvay Group
Claire.michel@cytec.com 

Tonu Saar
Bang & Bonsomer Group
tonu.saar@bangbonsomer.com
Follow us on twitter @SolvayGroup     
An international chemical and advanced materials company, Solvay assists its customers in innovating, developing and delivering high-value, sustainable products and solutions which consume less energy and reduce CO2 emissions, optimize the use of resources and improve the quality of life. Solvay serves diversified global end markets, including automotive and aerospace, consumer goods and healthcare, energy and environment, electricity and electronics, building and construction as well as industrial applications. Solvay is headquartered in Brussels with about 30,000 employees spread across 53 countries. Following its recent acquisition of Cytec, the company posted pro forma net sales of close to € 12 billion in 2014, 90% of which were generated from activities where it ranks among the world's top 3 players. Solvay SA (SOLB.BE) is listed on EURONEXT in Brussels and Paris (Bloomberg: SOLB:BB - Reuters: SOLB.BR).