Our composite materials solutions
The partner of choice for advanced materials development
As a top tier supplier to the aerospace engineered materials market known for our technology leadership and the value Solvay brings to our customers: scale and technical capability, profitability in the top quartile of peers, double-digit earnings growth in previous business cycles.
Combining 50 years of technology heritage, a comprehensive product portfolio and expertise in design materials and process engineering to deliver innovative customer solutions that maximize technology capability and simplify manufacturing.  
We also provide advanced composite and adhesive materials for extreme-demand environments, radical temperature changes, aircraft material expansion and contraction and other external conditions. 
Solvay's Composite Materials Application Engineering expertise is key to the business leadership. Our teams are dedicated to developing new composite products, technologies and processes to meet the affordability and higher-rate needs of our customer's industries. 
We work collaboratively with our partners and customers to develop solutions that meet the market expectations in terms of lightweighting, design freedom, part and system integration. We put a strong focus on automated systems that will be key to the industrialization of composites. Our Application Center in Heanor, UK, is fully equipped with robotic equipment and is the test bed for many of our new technologies.
Hot Compression Molding
Hot compression molding is a method of molding in which the composite is first placed in an open, heated tool. The tool is closed and pressure is applied to force the material into contact with all tool areas, while the heat and pressure are maintained until the material has cured.

Key Benefits:
Single step molding process.
Fast cure times and short takt times (Sub 5 minute takt times for automotive application materials)
Reduced tooling investment (vs metal forming processes).
Highly automatable.
Potential to redeploy existing pressing infrastructure

Typical Applications:
High rate manufacture of structural and non structural components for serial automotive and high volume (and typically smaller size) aerospace parts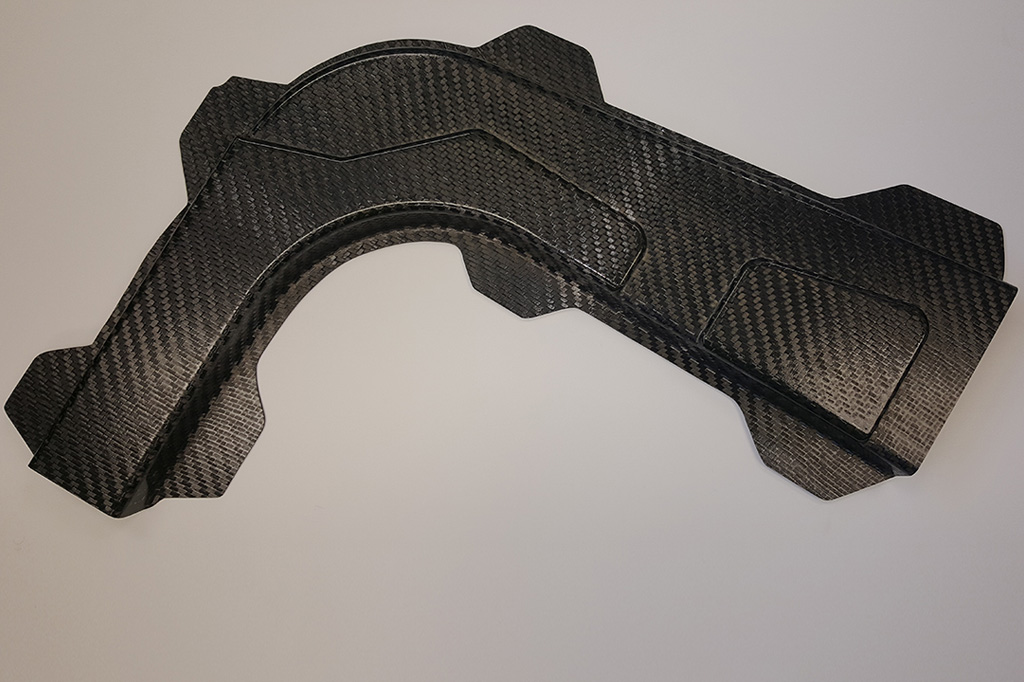 Resin Infusion

Resin infusion technology is used to manufacture composite parts for aerospace primary and secondary structures such as engine fan blades, composite wing boxes and spoiler components. This technology allows parts to be efficiently integrated and cured in a single process resulting in fewer drilled holes and a lighter weight structure through eliminating the need for fasteners and adhesives. 

Basic Procedure:
Preform Layup
Hot Drape Forming
Final Part Assembly & Sealing
Infusion & Cure 
Part Removal
Part Finishing

Key Benefits:
Highly consolidated stable preform
Structural integration
Structure performance
Lower recurring manufacturing costs (lower capex, lower energy costs, fewer processes)
Manufacturing flexibility: compatible with in/out of autoclave curing

Technologies and Products Offered by Solvay for Resin Infusion Processes:
Resin systems including PRISM® EP2400, CYCOM® PR520,  CYCOM® 890 and CYCOM® 823 RTM. 
Dry engineered textiles including PRISM® TX1100 which has been developed for automated processing.
Process materials designed for the infusion process.
Cavity filler technology

Typical Applications:
Aerospace primary structure applications such as engine fan blades and composite wing boxes.
HP-RTM Process
HP-RTM combines hot compression molding with resin injection. A dry pre-consolidated preform is inserted into the mould mounted in the press. Once the press is closed and at the right temperature, the specifically developed HP-RTM resin is injected at pressures up to to 200 bar, filling the tool and flowing all throughout the preform.

Key Benefits:
Sub 3 minute cure.
Total takt time of sub 5 minutes depending on part size.
Highly automatable processing (preforms through to post mold processing).
Structural integrity on hot demolding with Solvalite™ 750.
Excellent structural performance.
Internal release agent compatible.
Particularly suited to complex geometries.

Typical Applications:
Serial manufacture of automotive body structure components such as floor pans, sidewall panels, crush cans, bulkheads.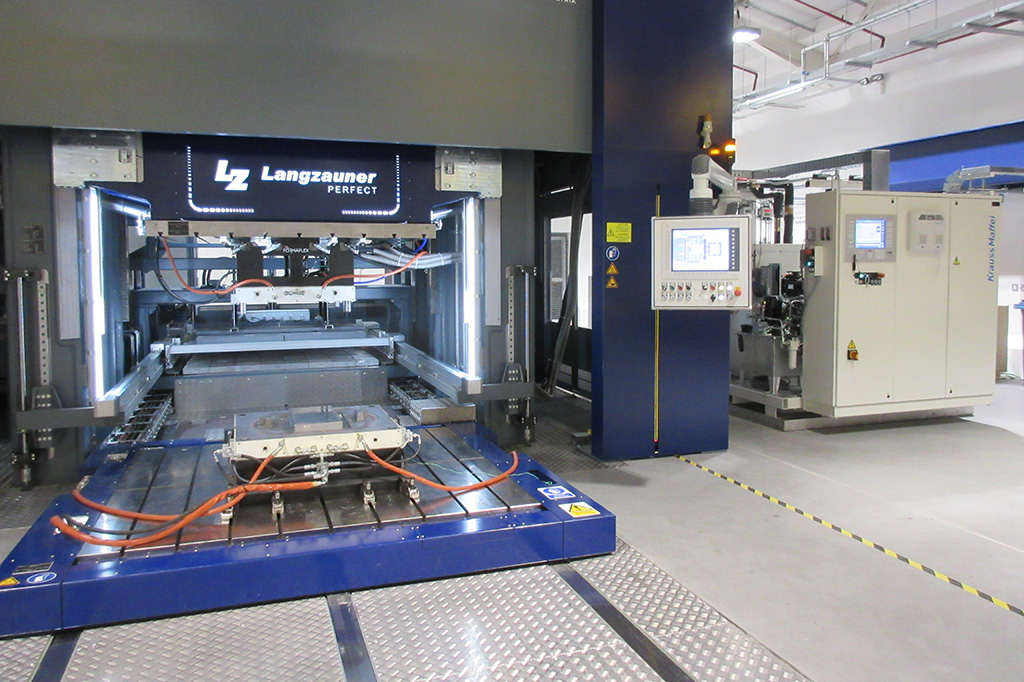 Part manufacture automation
Solvay has developed automation technology for the creation of tailored composite blanks for single step molding.

Key Benefits:
Developed for serial automotive production volumes
Enables single minute Takt times from a single production line
Highly automatable
Suitable for a variety of manufacturing processes; including preforming for RTM/HP-RTM as well as for the manufacture of prepreg composite components.
Flexible cell equipment can support multiple components with a tool and program change.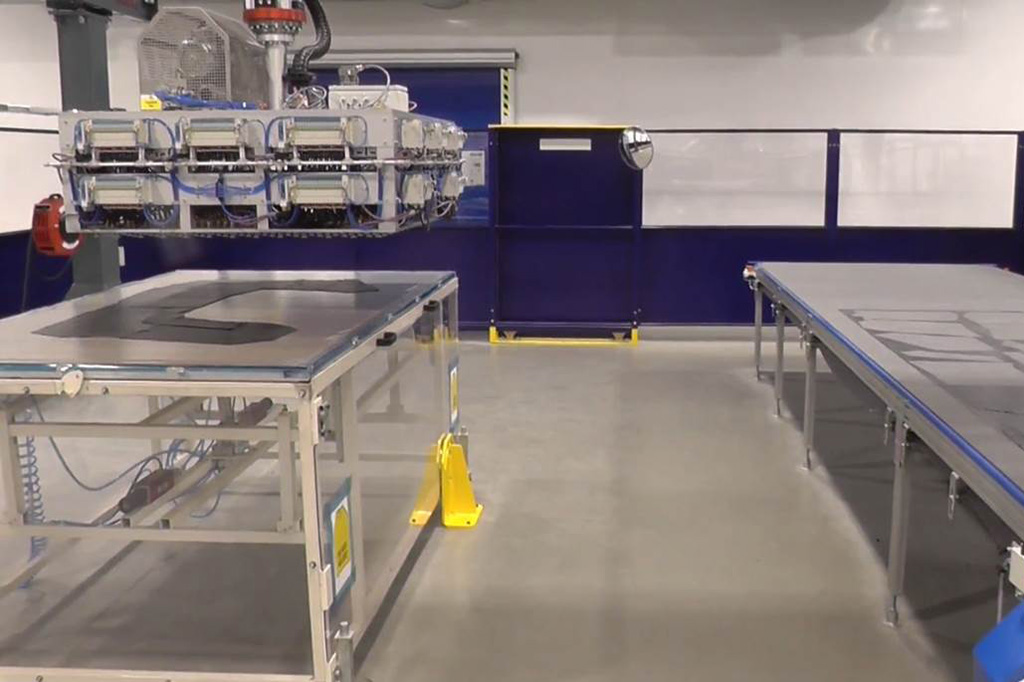 Double Diaphragm Forming (DDF) Technology
Solvay has developed a novel forming technology called Double Diaphragm Forming (DDF). This method automates dry fiber pre-forming, prepreg pre-forming or press molding into a single-step process speeding up the takt time involved in part making. The DDF technology also cuts down on labor cost and processing time due to the two diaphragm layers preventing the need for tool preparation and cool down between moldings. The diaphragm itself can act as a protective layer for painting and bonding operations.

This new technology is easy to implement because it can be tailored to your current press infrastructures. The DDF technology has already proven its capabilities in terms of part quality, process accuracy and repeatability. Solvay is now working to scale up the process towards industrialization readiness by developing an automated pilot production line, enabling a sub 5 minute takt time and a highly automated process.

Key Benefits:
Single-step molding process reducing takt and cycle times

Accurately form complex 3D shapes while minimizing chances of defects

Fully automated process compatible with hot compression molding

Eliminates the need for tool cleaning or releasing and less prone to contamination

Highly versatile for various high-volume applications

Chemically inert parts until removal of Solvay films

Typical Applications:
Serial production of structural components, up to 50,000 per year from a single manufacturing line. Successfully demonstrated on:
Regular and low tack prepregs

Fast and slow cure prepregs

Wet-wound blanks

Woven and NCF reinforcements with binder for RTM/HP-RTM preforms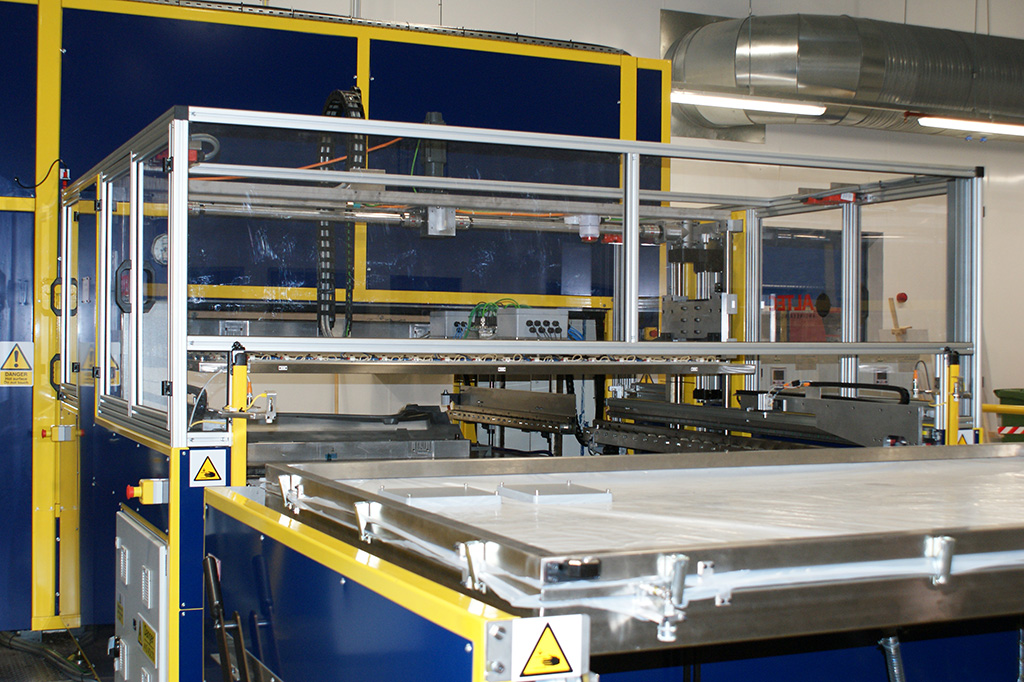 Recycled Materials and Recycling
When looking at serial production of CFRP parts, recycling becomes a key part of the equation. The opportunity in recycling prepregs is how to strip away the resin from the fibers while preserving the properties of the fibers and therefore enabling these to be reused to manufacture parts. The focus when recycling dry fibers is to recover the fiber with minimal impact to the fiber length to preserve mechanical performance.

Key Benefits:
Targeting elimination of prepreg offcuts.
100% utilization of the composite materials; this is typically achieved when pressing sheet metal.
Eliminate disposal of valuable carbon fiber products.
Eliminate expensive landfill costs for fiber and resin waste streams

Prepregs:
Solvay's recycling technology enables the production of a Recyclate Molding Compound.
Resultant RMC can be co-molded with conventional prepreg
Allows for the addition of localised features and overmolding bosses, ribs, inserts etc. 
Can enable 100% material utilization.
 
Typical Applications:
Non structural components such as brackets, ribs, bosses, etc.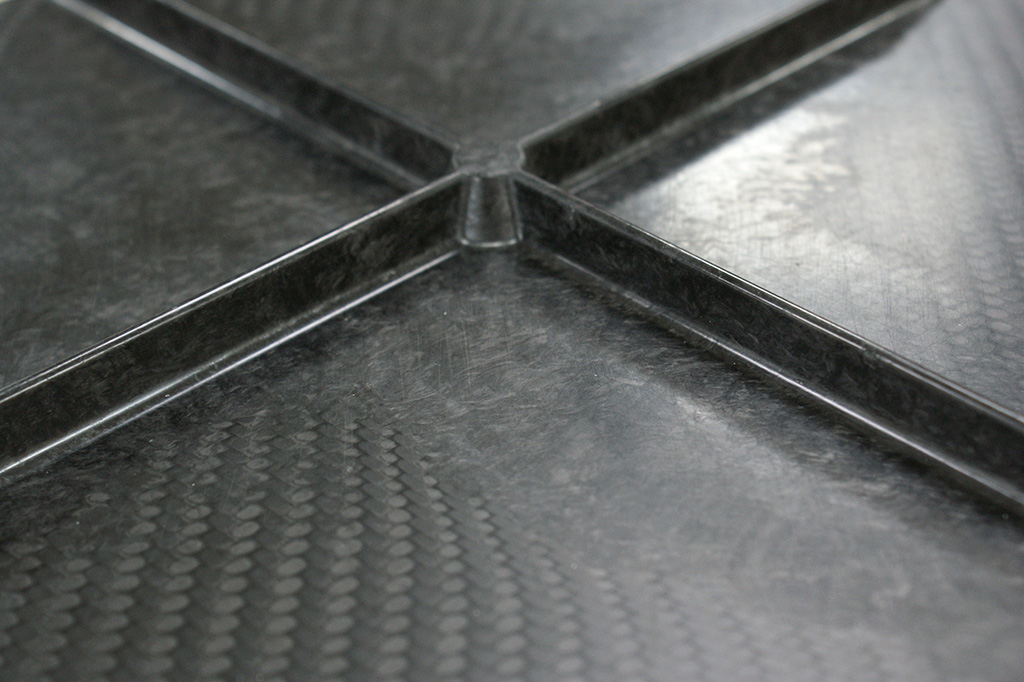 Cutting and Trimming
Composite materials may require cutting at different stages during the manufacturing process of a component. Firstly, the dry fiber or prepreg will be cut to an approximate shape and size prior to laying-up in the mold as a preform. Net-edge trimming of the preform may then be performed to reduce post-curing machining operations, or the component may be machined after curing to achieve the finished part geometry.

Cutting of Raw Material

A variety of different methods can be used to cut uncured composite materials. The most well established is the use of an automated ply cutting table. This consists of a 'moving bed' with a cutting gantry that runs above the bed. The gantry houses either an ultrasonic cutter or a 'powered wheel' cut. The ply shapes are pre-programed into the ply cutting table and when needed, the roll of material advances along the table to the cutting zone, where a drag knife, or ultrasonic cutter are present and able to perform the cut.
 
Trimming of Preform Laminates
 
"Net-edge trimming" of shaped preform laminates (parts that have been laid-up and contoured to shape, but not yet cured) is a new technique that has been developed to reduce the amount of scrap trimmed from a part after the part has been cured. The final geometry of the part is cut-out by ultrasonic blade.
 
Advantages

Reduces the amount of post-curing machining operations required, in some cases the part can be used as-is. The waste fiber can potentially be recycled without the need to extract the fiber from cured resin.

Trimming of Cured Parts

Trimming of cured parts is a standard step in composite part manufacture to achieve final-part geometry and for any hole drilling/cut-outs required. Various cutting techniques are available: rotary cutter (machining) and waterjet are the most common, whilst laser trimming is currently in developmental stages for composite materials. The techniques can be used either on standard robotic arms or multi-axis CNC machines.
 
 
Rotary Cutter
Waterjet
    Laser
Advantages
Similar process and equipment to traditional metal trimming

No direct tool wear

Reduced heating due to water acting as coolant

Speed of operation

Very high degree of accuracy

Other machining operations possible, e.g. etching

Disadvantages

Tool damage requires repairing regularly

Heat generated can cause damage to laminate (delamination is typical)

The process is relatively slow for complex parts, due to the need for the cutting head to be reorientated as the cut progresses

May have to trim twice to achieve desired tolerance

Complex geometries not possible

Requires pilot hole to be drilled if not starting from edge of part

Machinery consumables (such as nozzles)

Can cause delamination and damage during cutting

Developmental technique - no large-scale industrial experience

The composite material experiences a '#heat affected zone', which is difficult to characterize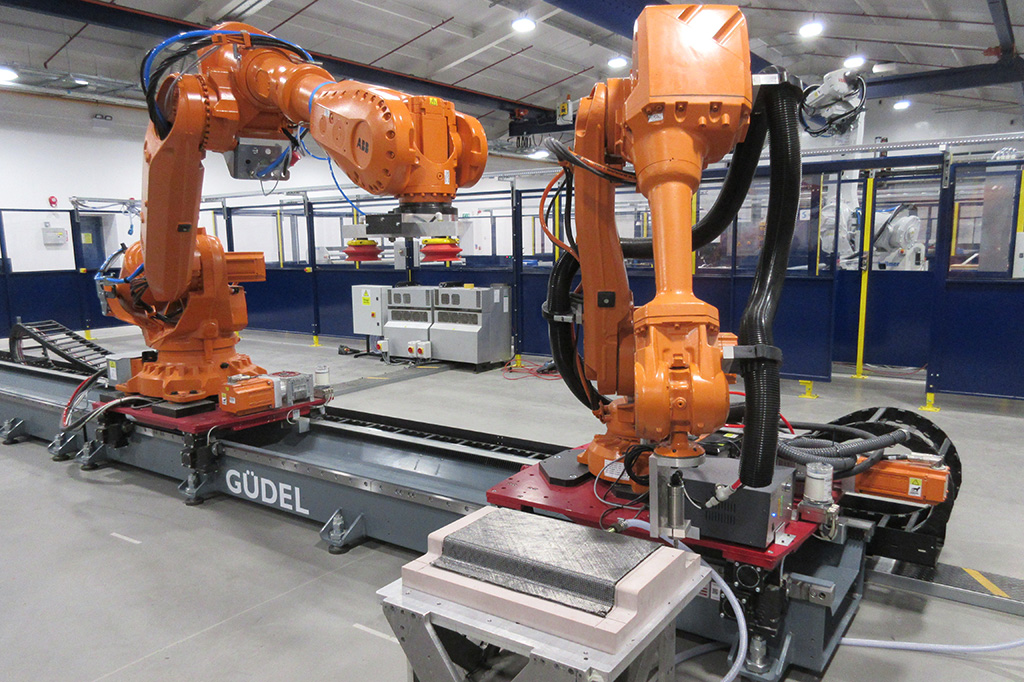 Joining Technologies
Adhesive Bonding – Benefits:
Well distributed load transfer when compared to point fasteners
Durability – fatigue resistance
'Sealed' joints
Secondary benefits such as acoustic damping

Joint Design – Key issues:
Load transfer – in both typical and 'abuse' loadcases
Thermal expansion – particularly when mating dissimilar composite and metallic substrates
Disassembly requirements – for crash repair and end-of-life
Design for Manufacture – avoiding wipe-off, ensuring consistent gaps, etc.

Bonding Solution – Selection:
Manufacturing ready – appropriate takt-time for handling strength
Structural strength within operating conditions
Environmental resistance – matches or exceeds the substrates
Hybrid fastener/bonding solutions – can accelerate assembly and affect joint performance

Key Manufacturing Technologies for Production:
Automated surface preparation – cleanliness and activated bond surfaces
Repeatable adhesive deposition
Robust jigging for geometry control, joint creation and accelerated curing
Non-destructive evaluation of bonds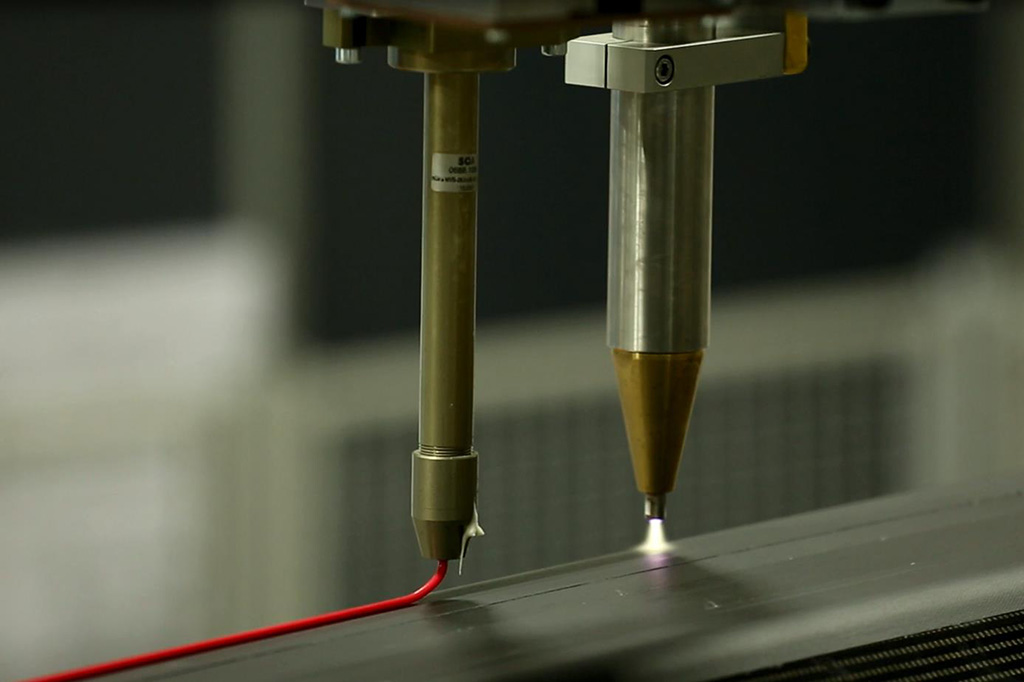 Contact the Composites Experts
Solvay's global team of composites experts are ready to respond to your inquiry. Please email our team of sales experts at custinfo@solvay.com, and they will connect you with the right person to provide the answers you need. Because of our broad portfolio and the varieties of markets we serve, we ask you to include a detailed description of your anticipated needs. The more details you are able to provide, the faster we can locate the right specialist.