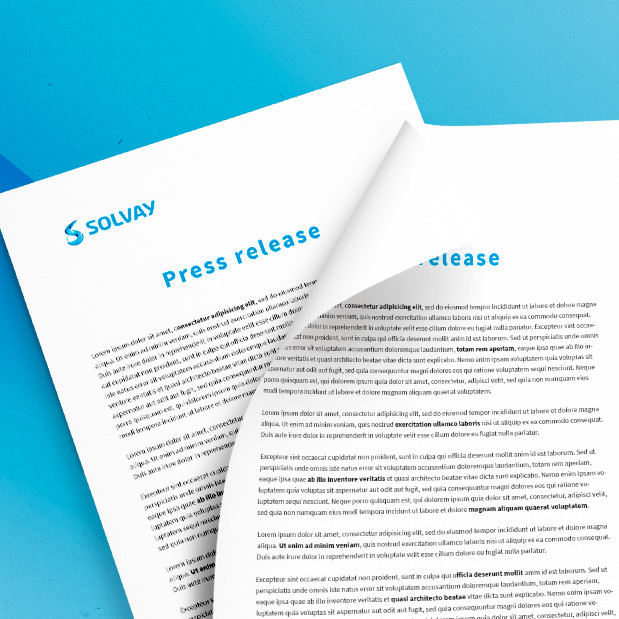 Cytec Solvay Group Presents Mining Chemical Innovations at SME 2016
Woodland Park, NJ February 18, 2016 ---Cytec Industries, a member of the Solvay Group will present and exhibit at the SME annual meeting in Phoenix, AZ taking place February 21 - 24.
Cytec Solvay Group will have experts leading discussions in Chemical Separation: SX-IX-EW, Industrial Minerals Flotation, and Flotation Equipment sessions with the following technical presentations:
Improving Flotation Recovery of Oxide Cu Minerals – T. Bhambhani and D.R. Nagaraj – Tuesday, Feb.23 9:25am
Reduction of NaSH usage in Kennecott Molybdenum Plan using AERO

®

7260HFP Depressant

– J. Mortensen, G. Castillo and A. Lawrence;Mineral Processing, Cytec Solvay Group, West Jordan, UT and Mineral Processing, Kennecott Utah Copper Corp., Bignham Canyon, UT

– Tuesday, Feb.23 10:25am

A Critical Overview of

Interactions of Dithiophosphinates with Base Metal Sulfides and Precious Metals – N. Tercero,

R. Farinato and D.R. Nagaraj

  - Tuesday, Feb.23 11:05am

Copper Solvent Extraction: Status, Operating Practices and Challenges in the African Copper Belt – O.Tinkler – Tuesday, Feb.23 2:05pm
SX Impurity Transfer and Wash Stage Consideration -   A. McCallum, T. Bednarski, C. and T. McCallum -  Tuesday, Feb.23 4:25pm 
"We always look forward to participating at SME " says Matthew Davis, Regional Sales Director Mineral Processing.  "It is a great forum for us to share our technologies through our various papers and presentations.  Now part of the Solvay Group, we continue to support the mining industry and provide solutions to current challenges."
Come visit our booth #1603 and learn how Cytec Solvay Group continues to lead the way with innovative chemistries and formulation expertise that enhances the recovery of valuable metals, lowers processing costs and delivers sustainable solutions to mine operations.
For more information please visit our
WEBSITE
TRADEMARK NOTICE: The ® indicates a Registered Trademark in the United States and the ™ indicates a trademark in the United States. The mark may also be registered, subject of an application for registration, or a trademark in other countries.Media Contacts
Tara Tepp

In Process Separation Marketing Communications
Tel: 1.973.357.3347
tara.tepp@cytec.com
Katherine Vaiente
Global Marketing Communications Manager
Tel: 1.480.730.2310
Katherine.Vaiente@cytec.com