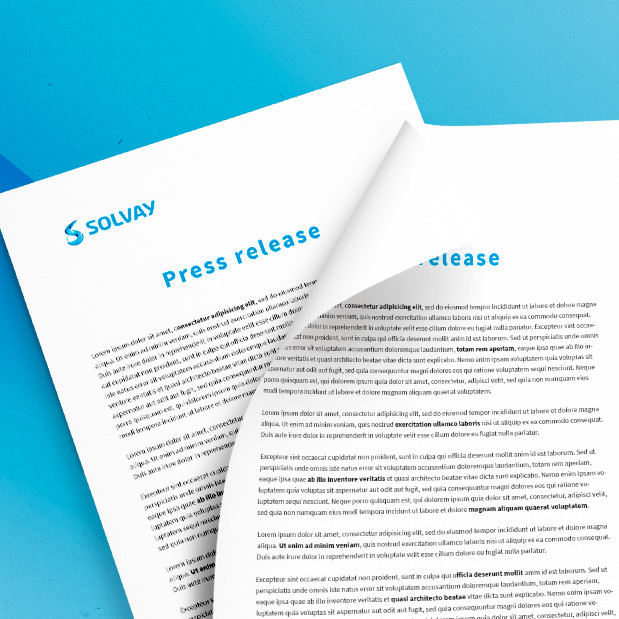 First quarter 2015 - Financial report
| Net sales | REBITDA | Net income (Group share) |
| --- | --- | --- |
| € 2,646 million | € 502 million  | € 158 million  |
| 6.4% | 12% | Adj. EPS (basic) € 1.90 |
YoY evolution (%)
Forenote
Besides IFRS accounts, Solvay also presents Adjusted Income Statement performance indicators that exclude non-cash Purchase Price Allocation (PPA) accounting impacts related to the Rhodia acquisition.
Q1 2015 Highlights
Group net sales at € 2,646 m, up 6.4% yoy, with volumes (1.7)%, forex 8.5%, scope (0.5)% and prices stable. 
REBITDA at € 502 m, up 12% yoy, mainly supported by forex which benefited all business segments. Margins widened to 19% of net sales, up 100 basis points, reflecting sustained pricing power of € 34 m.  

Advanced Formulations at € 95 m was down (2.5)% yoy, mainly due to the substantial decline in oil prices impacting Novecare's Oil & Gas markets and causing one-off inventories devaluation; 
Advanced Materials at € 203 m was up 19% yoy, supported by robust volume growth;
Performance Chemicals at € 195 m was up 14% yoy, underpinned by strong pricing which largely offset a significant volume decline at Acetow following ongoing destocking in the industry;
Functional Polymers at € 30 m was down (24)% yoy, primarly linked to the divestment of Benvic;
Corporate and Business Services' net cost fell to € (21) m, from € (29) m last year. It included a favorable one-off impact related to changes in the U.S. post retirement Medicare insurance policy;

IFRS Net income Solvay share at € 140 m versus € 88 m in 2014. Adjusted Net Income Solvay share at € 158 m versus € 106 m in Q1 2014.
Free Cash Flow at € (344) m; net debt up at € 1,417 m from € 778 m at year end 2014.
Quote of the CEO
Solvay's earnings performance in the first quarter reflects foreign exchange tailwinds. Headwinds in Oil & Gas and in Acetate tow markets were overcome by sustained demand for our innovation-driven solutions and pricing power underpinned by continued delivery of our excellence programs. Recent acquisitions are being integrated successfully while the creation of the planned European PVC joint venture is progressing well.
Outlook
Looking ahead, based on current conditions, Solvay is confident of its capacity to generate solid REBITDA growth in 2015.
As an international chemical group, SOLVAY assists industries in finding and implementing ever more responsible and value-creating solutions. Solvay generates 90% of its net sales in activities where it is among the world's top three players. It serves many markets, varying from energy and the environment to automotive and aeronautics or electricity and electronics, with one goal: to raise the performance of its clients and improve society's quality of life. The group is headquartered in Brussels, employs about 26,000 people in 52 countries and generated 10.2 billion euros in net sales in 2014. Solvay SA (SOLB.BE) is listed on EURONEXT Brussels and EURONEXT Paris (Bloomberg: SOLB:BB - Reuters: SOLB.BR).