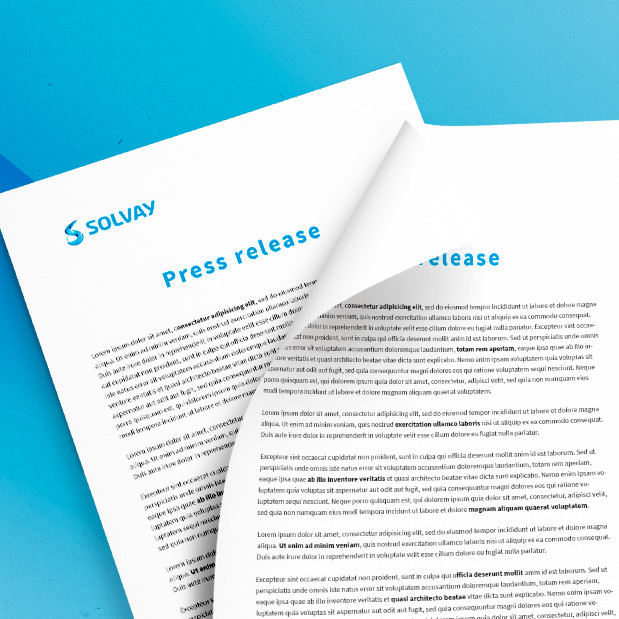 4th Quarter & Full Year 2015 Financial Report
| Net sales | REBITDA | Adj. Net income (Group share) |
| --- | --- | --- |
| € 10.6 bn | € 1,955 m | € 477 |
| 4% | 10% | Adj. EPS (basic) € 5.70 |
YoY evolution (%)
Forenote
Cytec has not contributed to the Group's Income or cash flow statements in 2015, as its results and cash flows for the period between December 9 (acquisition date) and December 31 are not material. However, in order to provide a framework reference going forward, this report includes unaudited pro forma financial data including Cytec, as if the acquisition had taken place on January 1, 2015 (pages 4 and 5). 
Besides IFRS accounts, Solvay also presents Adjusted Income Statement performance indicators that exclude non-cash Purchase Price Allocation (PPA) accounting impacts related to the Rhodia acquisition.
From the first quarter 2016, the Group's results will be presented on an IFRS and Underlying basis only (cf. glossary in page 35). The current definition of REBITDA will equate to Underlying EBITDA going forward.
Q4 2015 Highlights
Net sales were € 2.5 bn, down 1% yoy.The impact on conversion of foreign exchange rate fluctuations contributed 3% and scope effects 1%. These were offset by (4)% lower volumes, mainly from the downturn in the oil and gas industry, and slightly lower prices for (1)%.  
REBITDA totalled € 429 m, up 4% yoy. Solvay's excellence programs continued to support strong pricing power which contributed 9%, mitigating the (14)% impact of lower volumes. The fixed cost base remained stable, while forex developments were supportive. The REBITDA margin widened to 17% of net sales, up 0.8 pp, representing the 8th consecutive quarter of year-on-year margin increase. 

Advanced Formulations at € 84 m, down (23)% yoy, as the demand decline in the oil & gas industry accelerated;  
Advanced Materials at € 186 m, up 8% yoy, underpinned by volume growth and pricing power; 
Performance Chemicals at € 197 m, up 4% yoy, thanks to pricing power offsetting lower volumes in Acetow; 
Functional Polymers, at € 22 m, up 47% yoy, driven by volume growth in PA6.6 in Europe and RusVinyl's contribution; 
Corporate and Business Services' net costs were € (60) m, € 12 m better than last year.

IFRS net income Solvay share was € 37 m versus € 190 m in 2014. Adjusted net income Solvay share was € 55 m, down from € 208 m in Q4 2014, mainly due to the € (105) m result of discontinued operations, which includes an impairment on Indupa, versus € 183 m in 2014, when a capital gain on the Eco Services divestment was booked. Non-recurring costs and net financial charges came in lower yoy, and tax adjustments related to prior years led to a tax income of € 97 m. 
Free Cash Flow amounted to € 376 m versus € 542 m in 2014, mainly due to a lower inflow from working capital. IFRS net debt rose from € (1.5) bn to € (4.4) bn, following the Cytec acquisition and the related financing. Including hybrid perpetual bonds, the underlying net debt rose from € (2.7) bn to € (6.6) bn. During the last quarter of 2015, Solvay raised funds totaling € 6.2 bn, comprising € 1.5 bn of equity, € 1.0 bn of hybrid debt (accounted for as equity under IFRS) and the balance being senior debentures issued in EUR and USD. Of this, circa € 1.0 bn will be used to refinance upcoming debt maturities.
FY 2015 Highlights
Net sales were € 10.6 bn, up 4% yoy. Foreign exchange rate effects on conversion contributed 6%, while volumes were (3)% lower.    
REBITDA totaled € 1,955 m, up 10% yoy.Strong pricing power of 11% across all operating segments offset the impact of negative volumes of (8)% and an increased fixed cost base effect of (3)%, related to new capacity from 8 sites commissioned in the year. The conversion effect of foreign exchange fluctuations was 9%. Excellence initiatives delivered more than € 300 m in the year, supporting the REBITDA margin increase, which widened by 1.0 pp to 19% of net sales.    
IFRS Net income Solvay share was € 406 m versus € 80 m in 2014.Adjusted Net Income Solvay share was € 477 m versus € 156 m in 2014. The increase in REBITDA and lower financial charges more than offset higher taxes, while the contribution from discontinued operations was negative at € (55) m, primarily due to impairments in the chlorovinyls businesses. 
Free Cash Flow amounted to € 387 m versus € 656 m in 2014,chiefly reflecting higher capital investments for growth in the year, while 2014 reported high seasonal working capital swings and significant cash inflows from discontinued operations. IFRS Net debt rose from € (0.8) bn to € (4.4) bn. Including hybrid perpetual bonds, the underlying net debt rose from € (2.0) bn to € (6.6) bn, following the Cytec acquisition and the related funding.
CFROI of 6.9% (prior to Cytec integration), stable versus 2014, with improvements in Functional Polymers, supported by excellence programs, offsetting adverse market developments in Advanced Formulations.

Dividend recommendation of € 3.30 gross per share, a rise of 3.3%[1].
[1] Compared to a 2014 historical dividend of € 3.40 gross per share or € 3.20 after adjusting for a factor of 0.9398 following Solvay's Rights Issue completed on December 21, 2015 (cf. information by Solvay in its respective press releases "3rd quarter & 1st 9 months 2015 financial report", dated October 29, 2015  and "Solvay finalizes financing of Cytec acquisition with 100% subscription of its rights issue", dated December 17, 2015.
Quote of the CEO
Solvay delivered solid REBITDA growth for 2015, while seasonality was more pronounced than usual in the fourth quarter due to intensified headwinds in oil and gas and steep inventory adjustments in smart devices at the end of the year. Excellence programs, which continued to contribute strongly, combined with the benefit from foreign exchange movements more than offset lower volumes. Investments to support growth peaked during the year; nevertheless cash generation was sound. 
Our portfolio transformation accelerated with the acquisition of Cytec to boost our growth engines and with the creation of the INOVYN joint venture to prepare for the exit from European chlorovinyls. 
The high quality of our portfolio and our strong fundamentals give us firm confidence for the future, and lead us to recommend a dividend increase of 3.3% for 2015.
Priorities & Outlook 2016
Priorities

In 2016 Solvay will focus on executing the Group strategy, continuing to deploy the main levers of its transformation through its portfolio upgrade and delivery on excellence, including innovation. The integration of Cytec is running ahead of schedule and a top priority is to ensure full success and delivery of synergies. In parallel, Solvay will intensify its focus on delivering a markedly improved sustainable free cash flow and deleveraging over time. 

Outlook 

Since the end of 2015, the Group has observed increased volatility in commodity markets and inventory adjustments for smart devices applications that are expected to continue in the first quarter of the year. In this environment, and assuming no further deterioration in market conditions, Solvay expects its REBITDA in 2016 to grow by high-single digits compared to the 2015 pro forma REBITDA [1] of € 2,336 m (including Cytec).

Growth this year will likely be back-ended, reflecting the relatively strong comparables in the first half of 2015, destocking in smart devices, the phasing of our innovations and the benefits from Cytec synergies. More specifically, growth will be driven by volumes and continued evidence of pricing power as a result of the excellence programs, which are on course to exceed € 800 m cumulative benefits to REBITDA by the end of 2016.

With € 20 m of annual cost savings already achieved by January 1, Solvay is confident that Cytec integration cost synergies alone will exceed € 100 m p.a. by 2018. Revenue synergies will be additional to that  delivery. 

Solvay anticipates pro forma REBITDA growth across all its four operating segments [2]: 

Advanced Materials: Growth from its diversified end-markets will overcome the impact of first-quarter destocking in smart devices. In aerospace, continued growth is expected from the ramp-up of aircraft platforms containing more composites,   
Advanced Formulations: Growth in health and personal care, agro and Technology Solutions' businesses is expected to offset continuing weakness in oil and gas markets;
Performance Chemicals: Continued delivery in excellence programs is to be complemented by a gradual recovery in acetate tow filter demand;
Functional Polymers: Profit restoration is expected to continue.

REBITDA growth combined with disciplined capital expenditure should lead to free cash flow in excess of € 650 m, more than 30% higher than the prior year pro forma level.

The Group is committed to maintaining its investment grade credit rating. This 2016 outlook is based on a number of assumptions, inter alia, anticipated world GDP growth of ~3%, an oil price of 30 US$/barrel and no recovery in the U.S. oil and gas exploration activities, and on a 1.10 US$/€ exchange rate. 
[1] The current definition of REBITDA equates to Underlying EBITDA going forward.
[2] Following the acquisition of Cytec, Solvay has re-organized its segment reporting structure to enhance strategic coherence and improve alignment. The segment reorganization is effective as from January 1, 2016 and is presented in the unaudited Solvay segment information pro forma 2015 on page 5.
An international chemical and advanced materials company, Solvay assists its customers in innovating, developing and delivering high-value, sustainable products and solutions which consume less energy and reduce CO2 emissions, optimize the use of resources and improve the quality of life. Solvay serves diversified global end markets, including automotive and aerospace, consumer goods and healthcare, energy and environment, electricity and electronics, building and construction as well as industrial applications. Solvay is headquartered in Brussels with about 30,000 employees spread across 53 countries. It generated pro forma net sales of € 12.4 bn in 2015, with 90% made from activities where it ranks among the world's top 3 players. Solvay SA (SOLB.BE) is listed on EURONEXT in Brussels and Paris (Bloomberg: SOLB:BB - Reuters: SOLB.BR).