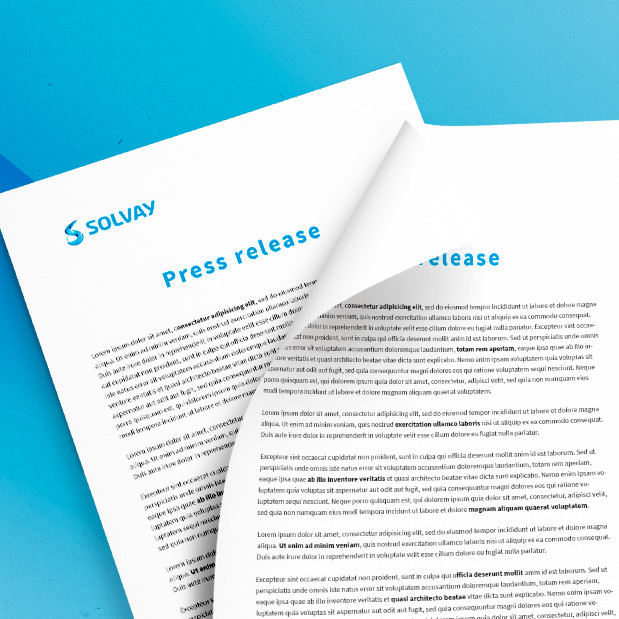 4th Quarter & Full Year 2016 Financial Report
Net sales    
Underlying EBITDA    
Underlying Net income (Group share)
10.9 billion €
2,284 million €
846 million €
(4.7)%
7.5%

Underlying basic EPS

€ 8.19
YoY evolution (%)
Forenote
Following the announcements at the end of 2016 of the intended divestments of the Acetow and Vinythai businesses, these businesses are reclassified as discontinued operations and as assets held for sale. For comparative purposes, the 2015 income statement has been restated. These figures were published on January 17.
The results of former Cytec are consolidated in the Group's income and cash flow statements since January 1, 2016. Comparative information for the fourth quarter and full year 2015 is presented on an unaudited pro forma basis as if the acquisition of Cytec had taken place on January 1, 2015. 
Besides IFRS accounts, Solvay also presents underlying Income Statement performance indicators to provide a more consistent and comparable indication of the Group's financial performance. The underlying performance indicators adjust IFRS figures for the non-cash Purchase Price Allocation (PPA) accounting impacts related to acquisitions, for the coupons of perpetual hybrid bonds, classified as equity under IFRS but treated as debt in the underlying statements, and for other elements that would distort the analysis of the Group's underlying performance. The comments on the results made on pages 2 to 9 are on an underlying basis, unless otherwise stated.
Highlights
16% EBITDA increase in the fourth quarter with growth in all segments  
Solid full-year performance with 7.5% EBITDA increase, leading to 21% record margin and free cash flow of € 876 million
Full-year dividend* raised 4.5% to € 3.45 gross per share
Fourth quarter 2016 results**
Net sales totaled € 2.8 billion, up 1.6%, mainly due to the 3.9% increase in volume, partially offset by the (2.2)% reduction of sales prices. 

Underlying EBITDA grew 16% to € 527 million. Volumes contributed 9.1%, across the operating segments, supported by less pronounced seasonality. Pricing power contributed 9.7%, benefiting from operational excellence delivery. The EBITDA margin reached 19% in the quarter, up 2.4 percentage points year on year.   

Advanced Materials rose 6.1% to € 259 million year on year with good volume growth in automotive, industrial, consumer goods and healthcare which more than offset lower volumes in smart devices and aerospace;  
Advanced Formulations increased 5.6% to € 124 million year on year with a pick-up in volume growth, as strong performance in agro more than offset a drop in oil & gas, which improved sequentially on the back of a higher rig count; 
Performance Chemicals were 17% higher at € 168 million year on year as a result of solid volume growth, benefits from lower energy costs and excellence initiatives across the segment; 
Functional Polymers grew 131% to € 51 million year on year, primarily driven by robust polyamide performance; 
Corporate & Business Services was at € (75) million, equal to the fourth quarter of 2015.

Profit for the period attributable to Solvay share, on an IFRS basis was € 245 million versus € 112 million in 2015. On an underlying basis it was € 183 million versus € 136 million in 2015, reflecting a rise in operating profit with higher net financial charges partially offset by lower income taxes.
Free cash flow was € 412 million, stable versus the fourth quarter of 2015.
Net debt on an IFRS basis was € (4.4) billion. Underlying net debt*** increased slightly to € (6.6) billion from € (6.5) billion at end-September. 
*     Recommended dividend pending General Shareholders meeting.
**   The underlying and IFRS data compare to unaudited pro forma figures of the same period in 2015, as if the Cytec acquisition had occurred on January 1, 2015. 
*** Underlying net debt includes the perpetual hybrid bonds, accounted for as equity under IFRS.
Full year 2016 results*
Net sales fell (4.7)% to € 10.9 billion, as lower sales prices in a deflationary raw material price environment weighed (2.3)%. Foreign exchange fluctuations dented sales by (1.5)%. Volumes were stable overall. 

Underlying EBITDA grew 7.5% to € 2,284 million, driven by pricing power of 5.9% and fixed cost reduction benefits of 2.9%. Operational excellence exceeded € 200 million, while completion of the Cytec integration delivered € 70 million of synergies, well ahead of the initial plan. There were no significant effects from volume/mix changes. Foreign exchange fluctuations had a (1.9)% conversion effect. The EBITDA margin reached a record 21%, a notable increase from 19% in 2015.  
Profit for the period attributable to Solvay share, on an IFRS basis was € 621 million vs € 406 million in 2015. On an underlying basis it grew to € 846 million versus € 768 million in 2015. 
Free cash flow was € 876 million, up € 384 million year on year. Continuing operations accounted for € 736 million, an increase of € 342 million, driven by higher EBITDA, reduced capital expenditure and efficient working capital management. 
CFROI increased to 6.3%, up 0.2 percentage point from 6.1% pro forma in 2015 on non-restated basis.
Dividend increase proposed of 4.5% to € 3.45 gross per share for 2016, payable on May 16, 2017.  
Quote of the CEO, Jean-Pierre Clamadieu
Solvay delivered solid full-year EBITDA growth supported by our transformation and subsequent improvement of our customer profile. Our pursuit of operational excellence, swift delivery of synergies and continued pricing momentum have contributed strongly to our performance. The upgrade of our portfolio has also enabled us to significantly lower our greenhouse gas intensity. Overall, these elements combine to enhance our sustainable value creation for both customers and shareholders.
2017 Outlook**
Solvay remains well on track to achieve its mid-term objectives. For 2017, Solvay expects underlying EBITDA to grow by mid-single digit, mainly driven by Advanced Materials and Advanced Formulations, and to generate more than € 800 million of free cash flow from continuing operations.
*   The underlying and IFRS data compare to unaudited pro forma figures of the same period in 2015, as if the Cytec acquisition had occurred on January 1, 2015.  
** A more detailed outlook may be found on page 8 of this report.
Solvay is a multi-specialty chemical company, committed to developing chemistry that addresses key societal challenges. Solvay innovates and partners with customers in diverse global end markets. Its products and solutions are used in planes, cars, smart and medical devices, batteries, in mineral and oil extraction, among many other applications promoting sustainability. Its lightweighting materials enhance cleaner mobility, its formulations optimize the use of resources and its performance chemicals improve air and water quality. Solvay is headquartered in Brussels with around 27,000 employees in 58 countries. Pro forma net sales were € 10.9 billion in 2016, with 90% from activities where Solvay ranks among the world's top 3 leaders. Solvay SA (SOLB.BE) is listed on Euronext Brussels and Paris (Bloomberg: SOLB:BB- Reuters: SOLB.BR) and in the United States its shares (SOLVY) are traded through a level-1 ADR program.