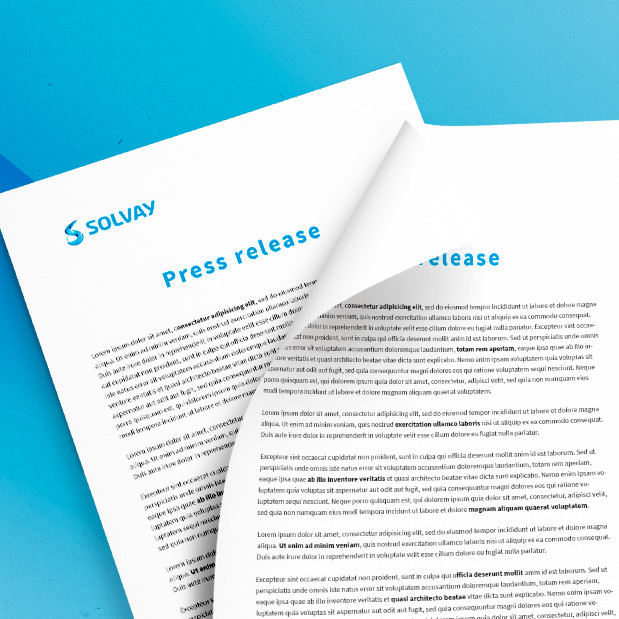 Solvay provides additional 2012 and 2013 quarterly restated financial information
Brussels, December 4th, 2013  ---  Solvay today published quarterly unaudited restated financial information for the first nine months of 2013 and the full year 2012 taking into account European Chlorovinyls' discontinued operations. 
On May 7th, 2013 Solvay and Ineos signed a non-binding letter of intent for the combination of their respective European Chlorovinyls activities into a 50/50 Joint Venture. The proposed transaction is subject to the applicable information/consultation procedures with employee representatives in the countries involved and to anti-trust approval from the relevant authorities. On September 17th, 2013, Ineos and Solvay submitted their application for competition clearance to the European Commission. Given the advanced stage of the negotiations, Solvay management took the decision to classify those activities to be contributed to the Joint Venture as "Assets held for sale" and "Discontinued operations" as from the third quarter of 2013.
Solvay considers that this set of restated quarterly Profit and Loss financial statements data provides the most meaningful year-over-year economic performance comparison base going forward.
All data are restated for the Group's new business organization effective as from January 1st, 2013, for the reporting of Solvay Indupa and the European Chlorovinyls activities as discontinued operations and for the application of IAS 19 revised. Adjusted figures exclude non cash Purchase Price Allocation accounting impacts related to Rhodia acquisition.

The fourth quarter and full year 2013 earnings will be released on February 26th, 2014.
As an international chemical group, 
SOLVAY
 assists industries in finding and implementing ever more responsible and value-creating solutions. The Group is firmly committed to sustainable development and focused on innovation and operational excellence. Solvay serves diversified markets, generating 90% of its turnover in activities where it is one of the top three worldwide. The group is headquartered in Brussels, employs about 29,000 people in 55 countries and generated 12.4 billion euros in net sales in 2012. Solvay SA is listed as 
SOLB.BE
 on 
NYSE Euronext
 in Brussels and Paris (Bloomberg: 
SOLB:BB
 - Reuters: 
SOLB.BR
).