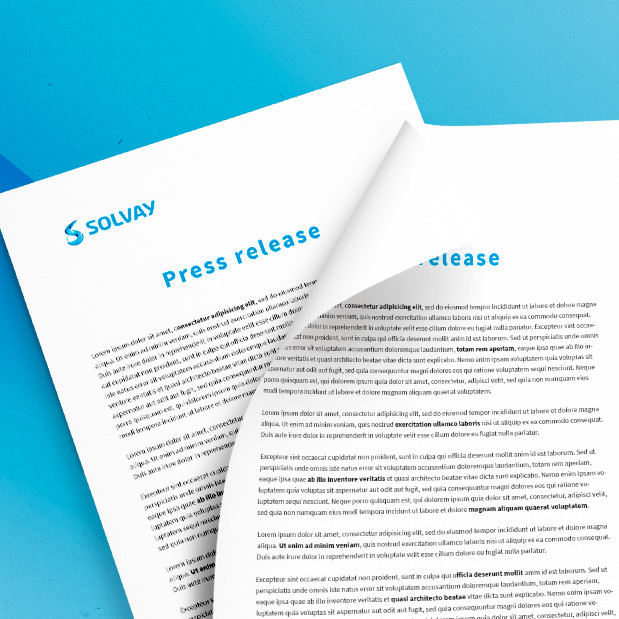 Solvay Specialty Polymers Extends Biesterfeld Plastic Pan-European Distribution Agreement to Include Ryton® PPS Grades
BOLLATE, Italy, May 17, 2016– Effective May 1, Solvay has enhanced the distribution channel for its Ryton® polyphenylene sulfide (PPS) product line through a strategic partnership with Biesterfeld Plastic GmbH thereby extending its current distribution to a pan–European level, excluding Italy.
This broadened collaboration considerably strengthens Biesterfeld Plastic's product portfolio. Both existing and new Ryton® PPS customers will benefit from high quality service and efficient supply chain solutions.
"We are excited to have achieved this distribution agreement with Biesterfeld Plastic for our Ryton® PPS product line," comments Vincent P. Meunier, EMEA channel partners manager, Solvay Specialty Polymers. "We require highly experienced and reliable distribution partners, such as Biesterfeld Plastic and its numerous local subsidiaries, to secure and provide our customers with world-class commercial, logistic and technical service levels."
Dietmar Zinkand, Business Manager of Biesterfeld Plastic GmbH adds, "We are delighted that Solvay Specialty Polymers has awarded the pan-European distribution of its Ryton® PPS product line to Biesterfeld Plastic, which strengthens our offering in high performance polymers from renowned market leaders. This new agreement broadens our longstanding partnership with Solvay stretching over 15 years, reinforcing our stable relationship to provide customers with combined supply and supporting technical capabilities."
Biesterfeld Plastic began distributing Ryton® PPS grades in Germany, France and the Benelux in 1991 and added Solvay's sulfone polymers, including Radel® polyphenylsulfone (PPSU), Udel® polysulfone (PSU) and Veradel® polyethersulfone (PESU), in Germany in 1998.

Follow us on twitter @SolvayGroup
About Biesterfeld Plastic
Biesterfeld Plastic GmbH is a leading distributor in the European plastics and rubber industry with long-standing sales partnerships in more than 42 countries. Prominent plastic producers such as DuPont, ExxonMobil Chemical, INEOS Olefins & Polymers Europe, BASF Polyurethanes, Solvay, Chevron Phillips, Styrolution, Chi Mei and LG Chem trust in the efficient services offered by Biesterfeld Plastic and have remained partners throughout many years of growth. Biesterfeld Plastic is part of the Biesterfeld Group, in business over 100 years as a trading and service company. The group is one of the leading companies in the distribution of chemicals and polymers with over 50 locations in Europe, North and South America, Asia as well as Africa. The family-owned group of companies aims at steady profitable future growth in its three business areas, namely Biesterfeld Plastic, Biesterfeld Spezialchemie and Biesterfeld International.
About Solvay
Solvay Specialty Polymers manufactures over 1500 products across 35 brands of high-performance polymers – fluoropolymers, fluoroelastomers, fluorinated fluids, semi-aromatic polyamides, sulfone polymers, aromatic ultra-high performance polymers, high barrier polymers and cross-linked high-performance compounds – for use in Aerospace, Alternative Energy, Automotive, Healthcare, Membranes, Oil and Gas, Packaging, Plumbing, Semiconductors, Wire & Cable, and other industries. Learn more at www.solvayspecialtypolymers.com.
An international chemical and advanced materials company, Solvay assists its customers in innovating, developing and delivering high-value, sustainable products and solutions which consume less energy and reduce CO2 emissions, optimize the use of resources and improve the quality of life. Solvay serves diversified global end markets, including automotive and aerospace, consumer goods and healthcare, energy and environment, electricity and electronics, building and construction as well as industrial applications. Solvay is headquartered in Brussels with about 30,900 employees spread across 53 countries. It generated pro forma net sales of € 12.4 bn in 2015, with 90% made from activities where it ranks among the world's top 3 players. Solvay SA (SOLB.BE) is listed on Euronext in Brussels and Paris (Bloomberg: SOLB:BB - Reuters: SOLB.BR).