The Laboratory of the Future, Bordeaux, France
Solvay's center of excellence for high-throughput research and development methodologies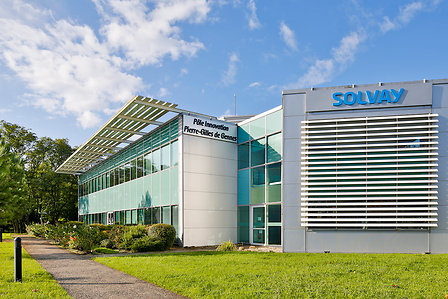 Solvay's Laboratory of the Future was established in 2004. Its core competences include robotics, micro-fluidics, image analysis, and data management.
Our researchers have developed strong competencies in the field of physical chemistry, in particular soft matter, complex fluids, solubility and solvent behavior, liquid dispersion, crystallization, and drying phenomena. They study chemical systems at the small scale (for example, the characterization of homogeneous and heterogeneous catalytic systems) and develop on-line analytical systems.
The laboratory supports Solvay's R&I teams worldwide with its cutting-edge knowledge, and helps them to shorten the time to market for their innovations.
At the Laboratory of the Future, scientists from academia (CNRS, University of Bordeaux) work hand-in-hand with Solvay's researchers to develop solutions which respond to society's needs. Recently the laboratory developed methods and tools to evaluate electrolyte solutions for batteries and conducted high-throughput research into formulations for sustainable home and personal care applications.
Oumou and Sean met researchers in our Laboratory in Bordeaux (France)