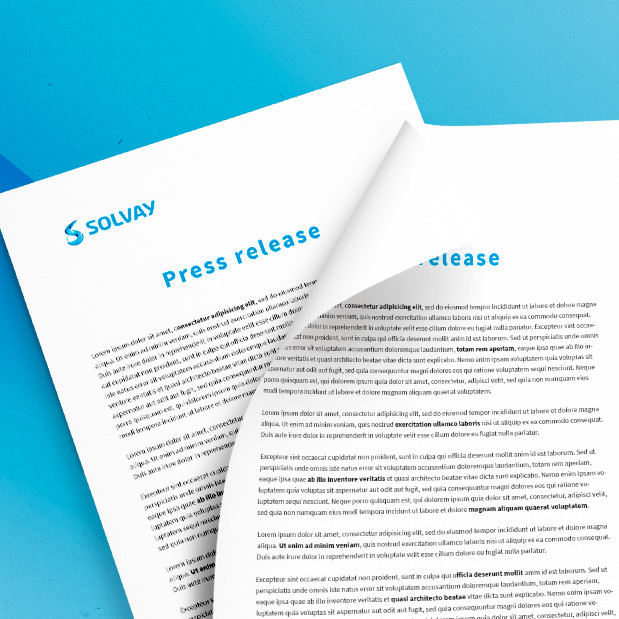 3rd Quarter & 1st 9 months 2016 Financial Report
| Net sales | Underlying EBITDA | Underlying Net income (Group share) |
| --- | --- | --- |
| € 2,9 bn | € 664 million | € 247 million  |
| (8)% | 6% | Underlying basic EPS € 2.40 |
YoY evolution (%)
Forenote
The results of former Cytec are consolidated in the Group's income and cash flow statements since January 1, 2016. Comparative information for the third quarter and 1st nine months of 2015 is presented on an unaudited pro forma basis as if the acquisition of Cytec had taken place on January 1, 2015.
Besides IFRS accounts, Solvay also presents underlying Income Statement performance indicators to provide a more consistent and comparable indication of the Group's financial performance. The underlying performance indicators adjust IFRS figures for the non-cash Purchase Price Allocation (PPA) accounting impacts related to acquisitions, for the coupons of perpetual hybrid bonds, classified as equity under IFRS but treated as debt in the underlying statements, and for other elements that would distort the analysis of the Group's underlying performance. 
Q3 2016 results*
Net sales totaled € 2.9 bn, down (8)%, mainly due to a (3)% decline in both prices and volumes. Foreign exchange fluctuations and changes in portfolio scope together led to a (2)% decrease.
Underlying EBITDA grew 6% to € 664 m. Pricing power contributed 4%, reflecting the quality of the portfolio and ongoing focus by the business teams. Excellence programs combined with synergy deliveries reduced fixed costs, leading to a further 6% EBITDA increase. Negative volume evolution and foreign exchange had a (4)% and (2)% impact, respectively. The EBITDA margin reached a new consecutive record of 23% in the quarter.

Advanced Materials at € 292 m, down (2)% yoy, with broad-based growth and operational excellence mostly offsetting the slower ramp-up in smart devices compared to the peak quarter a year ago;
Advanced Formulations at € 114 m, down (12)% due to the year-on-year decline in oil & gas.
Performance Chemicals at € 217 m, up 4% yoy, thanks to resilient volumes and operational excellence;
Functional Polymers at € 76 m, up 25% yoy, mainly driven by strong performance in polyamides; 
Corporate & Business Services at € (34) m, versus € (71) m, reflecting phasing effects, excellence and synergies delivery.

Net income, Solvay share, on an IFRS basis was € 176 m vs € 163 m in 2015. On an underlying basis it was € 247 m, up 16%, reflecting higher operating profit, with higher net financial charges offset by lower income taxes. 
Interim gross dividend of € 1.32 per share,payable on January 18, 2017.
Free cash flow was € 280 m, up € 35 m yoy, fully attributable to continuing operations, which grew from higher EBITDA, lower capital expenditure and improved working capital.
Net debt on an IFRS basis was € (4.3) bn. Underlying net debt** decreased to € (6.5) bn from € (7.0) bn end June, as a result of the higher free cash flow and the proceeds from the sale of the Inovyn participation.
* The underlying and IFRS data presented in the highlights compare to the unaudited pro forma figures of the same period in 2015, as if the Cytec acquisition had taken place on January 1, 2015. 
** Underlying net debt includes the perpetual hybrid bonds, accounted for as equity under IFRS.
9M 2016 results*
Net sales totaled € 8.8 bn, down (6)%, chiefly as a result of lower prices and foreign exchange fluctuations for (2)% each. Slightly lower volumes and changes in the business scope led to an additional (2)% decrease. 

Underlying EBITDA grew 5% to € 1,918 m, driven mainly by pricing power for 6% and fixed cost reduction for 3%. Both were supported by delivery of operational excellence and synergies, more than offsetting the effect of lower volumes and foreign exchange effects of (2)% each. Significant growth in Performance Chemicals, Functional Polymers and Advanced Materials, combined with a lower cost level in Corporate & Business Services, more than offset the oil & gas headwinds in Advanced Formulations.

Net income, Solvay share, on an IFRS basis was € 376 m vs € 288 m in 2015. On an underlying basis it was € 663 m, up 5%, reflecting EBITDA growth, as well as lower non-controlling interests and income taxes. These more than compensated for the absence of contribution from discontinued operations, following scope change, and higher net financial charges.
Free cash flow was € 464 m, up € 385 m yoy, as free cash flow from continuing operations grew thanks to higher EBITDA, less capital expenditure and lower working capital outflow.
* The underlying and IFRS data presented in the highlights compare to the unaudited pro forma figures of the same period in 2015, as if the Cytec acquisition had taken place on January 1, 2015. 
Quote of the CEO, Jean-Pierre Clamadieu
Solvay had a solid third quarter, with 6% growth in EBITDA, a record margin and continued strong cash generation. The strength of our broad portfolio and the continued focus of our business teams resulted yet again in strong pricing power. Operational excellence programs led to lower variable costs and, combined with accelerated Cytec synergy delivery, to reduced fixed costs. These efforts allowed us to overcome softer demand in some of our markets compared to last year. Solvay's performance illustrates the transformation of the Group towards a more resilient multi-specialty chemical company.
2016 Outlook
Based on the year-to-date performance and current market conditions, Solvay expects double-digit underlying EBITDA growth in the fourth quarter. In line with previous guidance, full year underlying EBITDA is thereby anticipated to increase by approximately 7% to 8%, and free cash flow to exceed €700 m.
An international chemical and advanced materials company, Solvay assists its customers in innovating, developing and delivering high-value, sustainable products and solutions which consume less energy and reduce CO2 emissions, optimize the use of resources and improve the quality of life. Solvay serves diversified global end markets, including automotive and aerospace, consumer goods and healthcare, energy and environment, electricity and electronics, building and construction as well as industrial applications. Solvay is headquartered in Brussels with about 30,900 employees spread across 53 countries. It generated pro forma net sales of € 12.4 bn in 2015, with 90% made from activities where it ranks among the world's top 3 players. Solvay SA (SOLB.BE) is listed on Euronext in Brussels and Paris (Bloomberg: SOLB:BB - Reuters: SOLB.BR).