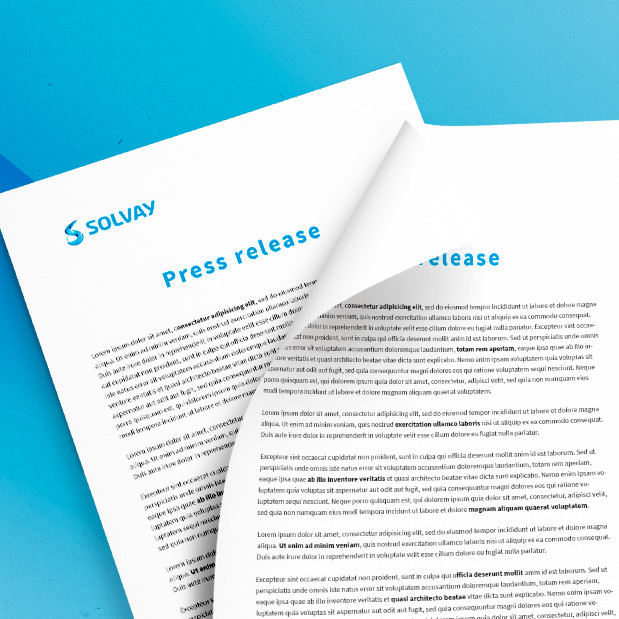 3rd quarter and 1st 9 months 2015 Business Review
| Net sales | REBITDA | Net income (Group share) |
| --- | --- | --- |
| 2,714 million € | 524 million € | 103 million € |
| 5% | 14% | Adj. EPS (basic) 1.46€ |
YoY evolution (%)
Forenote
For comparison purposes and unless otherwise indicated, all historic data are restated for perimeter changes. 
Besides IFRS accounts, Solvay also presents Adjusted Income Statement performance indicators that exclude non-cash Purchase Price Allocation (PPA) accounting impacts related to the Rhodia acquisition.
Q3 highlights
Group net sales were € 2,714 m, up 5% yoy. This was fully attributable to the conversion impact of foreign exchange rate fluctuations which contributed 5%. Scope effects of 1% were offset by lower volumes for (1)%. Overall prices remained stable year on year.  
REBITDA totaled € 524 m, up 14% yoy. Strong pricing power of € 58 m across all operating segments, more than offset the small negative volume impact and the increased fixed cost base for € (14) m and € (17) m respectively. The effect of conversion forex was € 37 m. The REBITDA margin widened to 19% of net sales, up 157 basis points. 

Advanced Formulations at € 98 m, down (8)% yoy, as the substantial demand decline in the oil & gas industry persisted, partly compensated by higher sales volumes at Aroma Performance; 
Advanced Materials at € 236m, up 26% yoy, another consecutive record quarter, driven by volume growth in all GBUs especially in Specialty Polymers, underpinned by strong demand for smart devices; 
Performance Chemicals at € 211 m, up 9% yoy, supported by strong net pricing across the operating segment and a sequential improvement in Acetow's volumes; 
Functional Polymers, at € 44 m, more than doubled yoy, mainly as a result of higher net pricing and volumes in Polyamide, while RusVinyl's contribution continued to grow; 
Corporate and Business Services' net costs were € (66) m, € (16) m more than last year, largely as a result of adverse currency effects, and a one-off impairment of € (7) m on carbon emission rights.

IFRS Net income Solvay share was € 103 m versus € 115 m in 2014. Adjusted Net Income Solvay share was € 121 m versus € 133 m in Q3 2014, as the increase in REBITDA as well as lower financial charges and taxes were outweighed by foreign exchange impacts at RusVinyl, higher non-recurring costs linked to the Cytec acquisition and a lower contribution from discontinued operations. 
Free Cash Flow amounted to € 188 m versus € 122 m in 2014. Net debt consequently decreased to € 1,473 m from € 1,608 m at the end of the second quarter. 
Interim gross dividend of € 1.36 per share, payable on January 21, 2016. The total dividend, to be announced in February 2016, will be adjusted to reflect the distribution of rights during the contemplated capital increase, as is customary for transactions of this type.
Quote of the CEO
Solvay delivered a strong performance in the third quarter, evidencing the impact of the Group's transformation. Good organic growth was a result of our broad and global portfolio, our consistent focus on innovation, excellence and in particular sustained pricing power across our businesses, despite continuing weakness in some of the markets we serve. The results also benefited from favorable exchange rates. Our transformation will continue with the acquisition of Cytec, which we expect to conclude by year end 2015. We are mobilizing for a rapid and effective integration process and synergy realization. We are confident and enthusiastic about the value creation from this combination, which will drive the next phase of our growth.
Outlook
Results in the fourth quarter are expected to moderate compared to the third quarter due to seasonal factors. Solvay reconfirms its expectation of solid REBITDA growth in full year 2015.
As an international chemical group, SOLVAY assists industries in finding and implementing ever more responsible and value-creating solutions. Solvay generates 90% of its net sales in activities where it is among the world's top three players. It serves many markets, varying from energy and the environment to automotive and aeronautics or electricity and electronics, with one goal: to raise the performance of its clients and improve society's quality of life. The group is headquartered in Brussels, employs about 26,000 people in 52 countries and generated 10.2 billion euros in net sales in 2014. Solvay SA (SOLB.BE) is listed on EURONEXT Brussels and EURONEXT Paris (Bloomberg: SOLB:BB - Reuters: SOLB.BR).