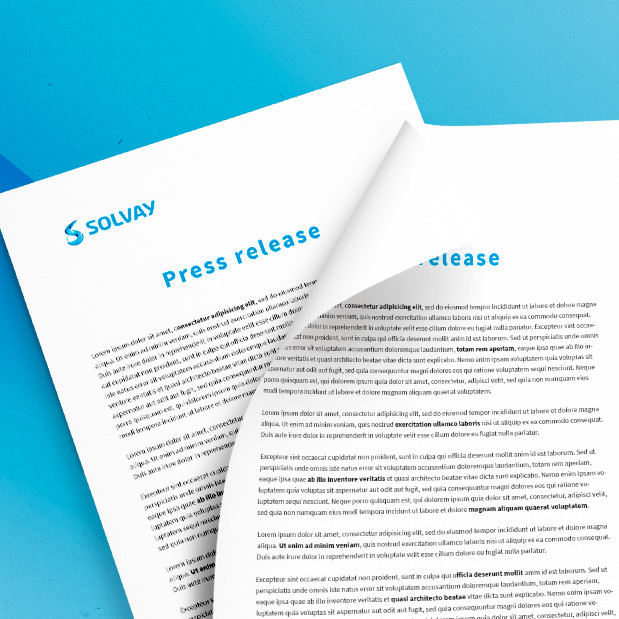 Second Quarter 2014 Business review
| | | |
| --- | --- | --- |
| Net sales | REBITDA | Adj. Net income (Group share) |
| € 2,640 m | € 485 m | € (292) m |
| 2% | 10% | Adj. EPS (basic) (3.50) € |
YoY evolution (%)
Forenote
All 2013 data are restated for comparison purposes for the Group's application of IFRS 11 effective January 1st2014. 
Furthermore, Solvay presents Adjusted Income Statement performance indicators that exclude non-cash Purchase Price Allocation (PPA) accounting impacts related to the Rhodia acquisition.
Following signature on July 30thof binding agreement to sell Eco Services, Solvay will report Eco Services businesses under Assets Held for Sale and discontinued operations as from Q3 2014. Consequently, Solvay will restate its 2013 Income and Cash Flow Statements, and 2014 Financial Statements, to reflect the discontinuation of the business no later than at the occasion of the Group's Q3 2014 earnings publication. 
This announcement represents a "non-adjusting event" for the Q2 2014 financial statements.
Q2 Highlights
On July 30th, Solvay signed a binding agreement to sell its U.S-based Eco Services
Group net sales at € 2,640 m, up 2% yoy, with volumes 3%, forex (4)%, scope 3% and stable prices. 

REBITDA at € 485 m, up 10% yoy driven by volume growth, both organic and external, and sustained strong delivery on excellence measures. Unfavorable foreign exchange rates and CER phase-out continued to weigh, € (60) m. REBITDA margins widened to 18.4% of net sales, up 140 basis points yoy.

Advanced Formulations at € 119 m was up 29% yoy, driven by strong volumes and very healthy contribution of Chemlogics; 
Advanced Materials reported a new record at € 187 m and was up 16% yoy, underpinned by strong innovation-driven volume growth and operational efficiency;
Performance Chemicals at € 189 m was down 1% yoy, with operational efficiency progress offset by temporary logistic and maintenance issues and forex headwinds; 
Functional Polymers at € 38 m was up 40% yoy, supported by high manufacturing yields, broad excellence initiatives delivery and pricing; 
Corporate and Business Services was € (47) m. CER sales phase-out impact mitigated by sustained cost savings and favorable phasing in corporate programs 

Adjusted EBIT at € 291 m, up 56% yoy; Adjusted Result from continuing operations at € 150 m, up 31% yoy;
Impairment charge, mainly non-cash, of € (477) m reported in discontinued operations  in relation to the planned creation of INOVYNTM, the European chlorovinyls JV with Ineos;
Adjusted Net Income, Group share at € (292) m (including INOVYNTM impairment of € (422) m after non-controlling interests' share) versus € 148 m in 2013; 
Free Cash Flow at € 89 m; net debt increased € 185 m from Q1'14  to € 1,644 m
H1 Highlights
Group net sales at € 5,192 m, up 2% yoy, with volumes 3%, forex (4)%, scope 3% and stable prices. 
REBITDA at € 953 m, up 11% yoydriven by volume growth and excellence initiatives. Unfavorable foreign exchange rates and CER phase out weighed € (89) m;
Adjusted EBIT at € 551 m, up 33% yoy; Adjusted Result from continuing operations at € 260 m, up 27% yoy
Adjusted Net Income, Group share at € (186) m included INOVYNTM impairment versus € 235 m in 2013; 
Free Cash Flow at € (8) m; net debt increased by € 503 m from YE'13 to € 1,644 m
Quote of the CEO
Solvay reported another set of solid results in the second quarter with double-digit operating profit growth and an encouraging underlying dynamic. Innovation-driven demand bolstered volumes at our growth engines Advanced Formulations and Advanced Materials, while Chemlogics beat our expectations. In addition, Group-wide excellence measures amply offset unfavorable foreign exchange rates and contributed to a significant margin expansion. This strong quarterly performance confirms that Solvay's transformation is delivering on all fronts. For the remainder of the year, the Group will focus on completing its current portfolio projects as demonstrated with Eco Services divestment announced today, and build on its growth and excellence momentum.
Outlook
Solvay reiterates its confidence that 2014 should show good operating performance. The Group confirms its guidance and expects high single-digit year-on-year REBITDA growth in 2014 at prevailing foreign exchange rates. This expectation reflects the eventual restatement in 2013 and 2014 reference periods for the discontinuation of Eco Service business.
As an international chemical group, SOLVAY assists industries in finding and implementing ever more responsible and value-creating solutions. Solvay generates 90% of its net sales in activities where it is among the world's top three players. It serves many markets, varying from energy and the environment to automotive and aeronautics or electricity and electronics, with one goal: to raise the performance of its clients and improve society's quality of life. The group is headquartered in Brussels, employs about 29,400 people in 56 countries and generated 9.9 billion euros in net sales in 2013. Solvay SA is listed as SOLB.BE on NYSE Euronext in Brussels and Paris (Bloomberg: SOLB:BB - Reuters: SOLB.BR).