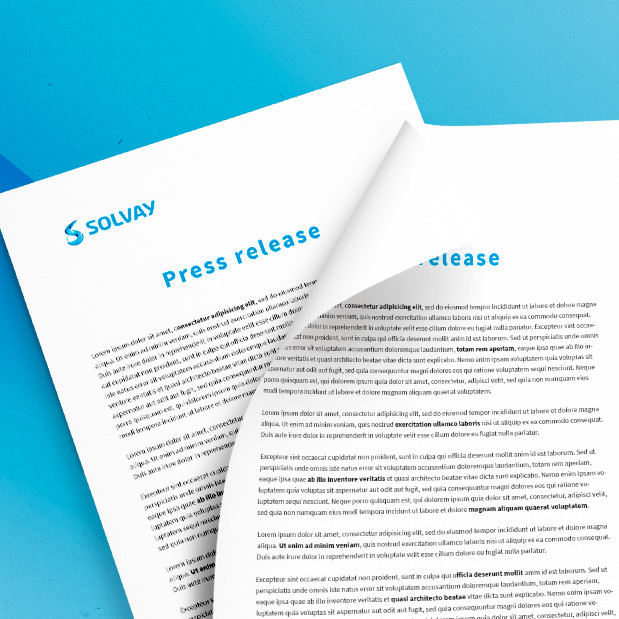 3rd quarter and 9 months 2013 Financial Report
Q3'13 Net sales
Q3'13 REBITDA
Q3'13 Net income (Group share)
 2,458 million €
439 million €
118 million  €
-8%
-13%

Adj. EPS (basic)

1.43 €

YoY evolution (%)
Forenote
All references to 2012 P&L data are to be deemed restated for the Group's new business organization effective as from January 1st 2013, the reporting of Solvay Indupa as discontinued operations and for the application of IAS 19 revised. 
Furthermore, as from September 30th 2013, following the filing of its chlorovinyls joint venture plan for EU clearance, Solvay is presenting these activities as "Assets Held For Sale" on the balance sheet and in "discontinued operations"     in the income statement (on one single line). As a consequence, 2012  P&L data have also been restated to reflect a comparable perimeter (cf. page 23 in the section "Note to the IFRS accounts").
Q3 Highlights
Following the filing of Chlorovinyls joint venture plan for EU clearance, Solvay is presenting the associated activities in discontinued operations as from Q3 2013. Accordingly all financials have been restated.
Group net sales down (8)% yoy at € 2,458 m, with stable volumes, prices (4)%, forex (5)%, scope 1% 
REBITDA at € 439 m, down (13)% yoy against last year's demanding comparables, up 2% when excluding guar (€ 47m) and CER (€ 30 m) exceptional impacts. All operating segments exceeded last year except for Consumer Chemicals  


Consumer Chemicals stood at € 77 m, down (52)%, impacted by reductions from last year's unsustainable guar peak prices   (€ 47 m) and from guar derivatives margins squeeze (€ 28m). Other activities delivered satisfactory performance 
Advanced Materials at € 170 m remained strong near last year highs, overcoming continued weakness at Rare Earths

Performance Chemicals posted record results at € 202 m, up 3%, with growth across all businesses other than Emerging Biochemicals

Functional Polymers at € 19 m, with Polyamide results stable versus last year



Previous scope REBITDA (before discontinuing chlorovinyls operations) at € 478 m



Adjusted EBIT at € 253 m against € 313 m in Q3'12 

Adjusted Net Income Group share at € 118 m against € 143 m in Q3'12; Adjusted EPS at € 1.43 against € 1.73 last year

Strong free cash flow at € 224 m; net debt down € 97 m at € 1,475 m

Announced Interim dividend of € 1.33 gross per share (€ 1.0 net per share)

Quote of the CEO
During the quarter, excellent results in Advanced Materials and record levels at Performance Chemicals, supported by strong operational excellence delivery, did not fully compensate for the ongoing guar-related impacts. With the acquisition of Chemlogics and the progress made in the set-up of its chlorovinyls joint venture plan, Solvay is accelerating its transformation. 
OutlookEurope is slowly coming out of recession, and this is expected to lead to a gradual recovery in demand. In this context we anticipate a relatively more benign seasonal effect in the fourth quarter. Solvay is restating its outlook for the year to take into consideration the discontinuation of the chlorovinyls activity and now expects 2013 REBITDA of around €1.65 billion, broadly in line with its former guidance on previous scope.
As an international chemical group, 
SOLVAY
 assists industries in finding and implementing ever more responsible and value-creating solutions. The Group is firmly committed to sustainable development and focused on innovation and operational excellence. Solvay serves diversified markets, generating 90% of its turnover in activities where it is one of the top three worldwide. The group is headquartered in Brussels, employs about 29,000 people in 55 countries and generated 12.4 billion euros in net sales in 2012. Solvay SA 
SOLB.BE
) is listed on 
NYSE Euronext
 in Brussels and Paris (Bloomberg: 
SOLB.BB
- Reuters: 
SOLBt.BR
).