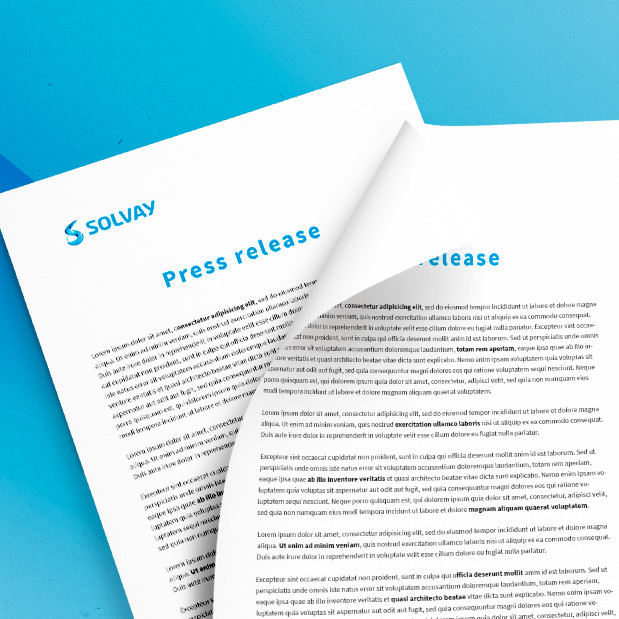 Second quarter and first half year 2013 Financial Report
Net sales
REBITDA
Net income (Group share)
3,062 million €
487 million €
148 million  €
-4%
-14%

Adj. EPS (basic)

1.79 €

YoY evolution (%)
Forenote
All references to 2012 P&L data are to be deemed restated for the new business organization effective as from January 1st 2013, the reporting of Solvay Indupa as discontinued operations and for the application of IAS 19 revised. All P&L indicators referred to this document are to be deemed adjusted, unless otherwise stated as IFRS accounts. Adjusted indicators exclude non-cash PPA accounting impacts related to the Rhodia acquisition.

Highlights 2013
Group net sales down (4)% YoY at € 3,062 m, with volumes (1)%, prices (2)% and forex (1)% 
REBITDA at € 487 m, down (14)% YoY against last year's demanding comparables

Consumer Chemicals at € 92 m, (40)% YoY, no longer benefiting from last year's exceptional peak guar prices, and suffering from strong temporary destocking in derivatized guar (€ (60)m combined impact); (19)% QoQ
Advanced Materials at € 160 m, (7)% YoY, but up 3% QoQ, with continued strength at Specialty Polymers and Silica but lower performance at Rare Earths
Performance Chemicals at € 180 m, (4)% YoY, but marked QoQ improvement of 16%, both evolutions driven primarily by Essential Chemicals
Functional Polymers at € 79 m, (9)% YoY, due to margin erosion and large maintenance turnaround at Polyamide; 10% QoQ

All remaining 3.5 mt CER hedged for 2013 sold
Important non-recurring items of € (97) m, mainly restructuring charges for integration and Soda Ash
EBIT at € 223 m against € 474 m in Q2'12 (IFRS EBIT at € 173 m vs € 441 m in Q2'12)
Net income Group share at € 148 m against € 239 m in Q2'12; IFRS Net income Group share at € 109 m vs € 217 m in Q2'12; EPS at € 1.79 against € 2.88 last year  
Free Cash Flow € 71 m; Net Debt € 1,572 m, up € 259 m from Q1'13 level
Quote of the CEOSolvay continued to face challenging trading conditions during the second quarter. Moreover, temporary destocking in the derivatized guar business and decisions by some of our customers to delay investments, have weighed on several of our "growth engines" businesses. In this context, the Group has forged ahead with its efficiency programs to improve its competitive position, particularly in its soda ash and polyamide activities. We are making good progress in the planned creation of our chlorovinyls joint venture with Ineos and, pending anti-trust clearance, we aim at closing the deal by the end of this year. These developments will significantly contribute to the reshaping of our portfolio and represent a major step towards our 2016 goals.OutlookWhile we see some weak signs of improvement, this has yet to be confirmed in our order book. In a more challenging economic context, Solvay is confident in its ability to generate a REBITDA in 2013 comparable to last year's, excluding the impacts of the exceptional pricing of guar and the sale of carbon credits (combined totaling € 190 m in 2012). Our relentless execution of the operational excellence programs and accelerated transformation of the company will put us on a strong footing for when demand recovers.