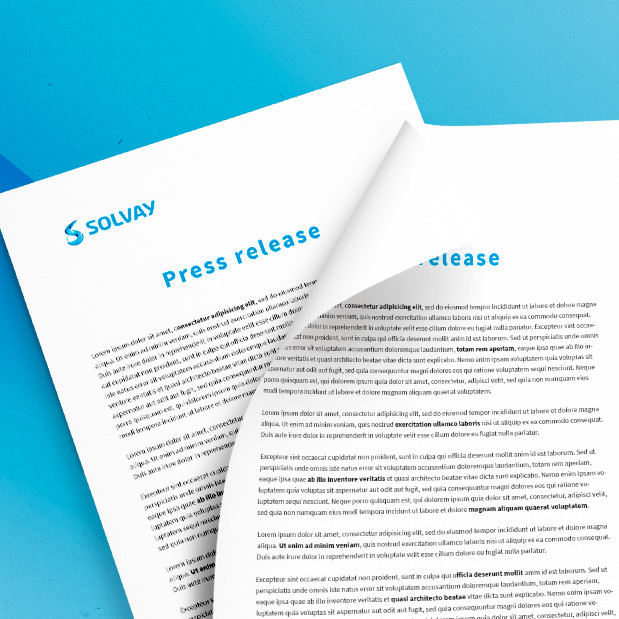 JEC World 2018 - Solvay to showcase world's largest portfolio of composite and specialty polymers innovative technologies
BRUSSELS, Belgium Feb. 23rd, 2018 – During JEC World 2018 to be held in Paris (March 6-8), Solvay will  showcase its composite and specialty polymers material technologies through leading-edge applications (Stand L42, Hall 5).
Solvay prides itself on its advanced chemistry and application engineering knowhow which, coupled with its unique ability to collaborate with strategic customers, enable the development of game changing products and processing technologies such as resin infusion for aerospace primary structures, DDF (Double Diaphragm Forming) rapid part manufacture, automation-ready rapid-cure prepregs and RMC material (Recyclate Molding Compound).  
At JEC, Solvay will showcase a range of innovative applications that have been developed following a close collaboration with our customers:
Aerospace primary structures including an out-of-autoclave infused wing skin as well as a section of a Boeing 777 floor beam,

Aircraft interior applications such as a thermoplastic composite luggage bin rail, a thermoset and foam core cabin side panel, protective and decorative high performance films, as well as high strength and flame resistant seating and overhead components,

High-volume automotive components comprising a modular platform floor demonstrator and interior trim parts made from recycled materials,

Class-A body panels such as the front bumper from the Dallara Stradale car,

Industrial applications such as a bridgeplate used by Amtrak to span the gap and unevenness between train cars and the platforms, enabling disabled users to get on board easily.
With in-house carbon fiber and weaving capabilities, thermoset and thermoplastic resins, polymer formulation, composite manufacture, core and process materials supply, Solvay is able to fully support customer needs in expanding markets including aerospace, automotive, wind and other industrial applications.
Thermoplastics are a key element of our growth strategy. Combining the technical expertise of its Specialty Polymers and Composite Materials businesses,  Solvay is uniquely positioned to meet the most demanding industry challenges.
Solvay is a multi-specialty chemical company, committed to developing chemistry that addresses key societal challenges. Solvay innovates and partners with customers in diverse global end markets. Its products and solutions are used in planes, cars, smart and medical devices, batteries, in mineral and oil extraction, among many other applications promoting sustainability. Its lightweighting materials enhance cleaner mobility, its formulations optimize the use of resources and its performance chemicals improve air and water quality. Solvay is headquartered in Brussels with around 27,000 employees in 58 countries. Net sales were € 10.9 billion in 2016, with 90% from activities where Solvay ranks among the world's top 3 leaders. Solvay SA (SOLB.BE) is listed on Euronext Brussels and Paris (Bloomberg: SOLB.BB - Reuters: SOLB.BR) and in the United States its shares (SOLVY) are traded through a level-1 ADR program.
Contact us
Claire Michel
Solvay Composite Materials Communications Manager