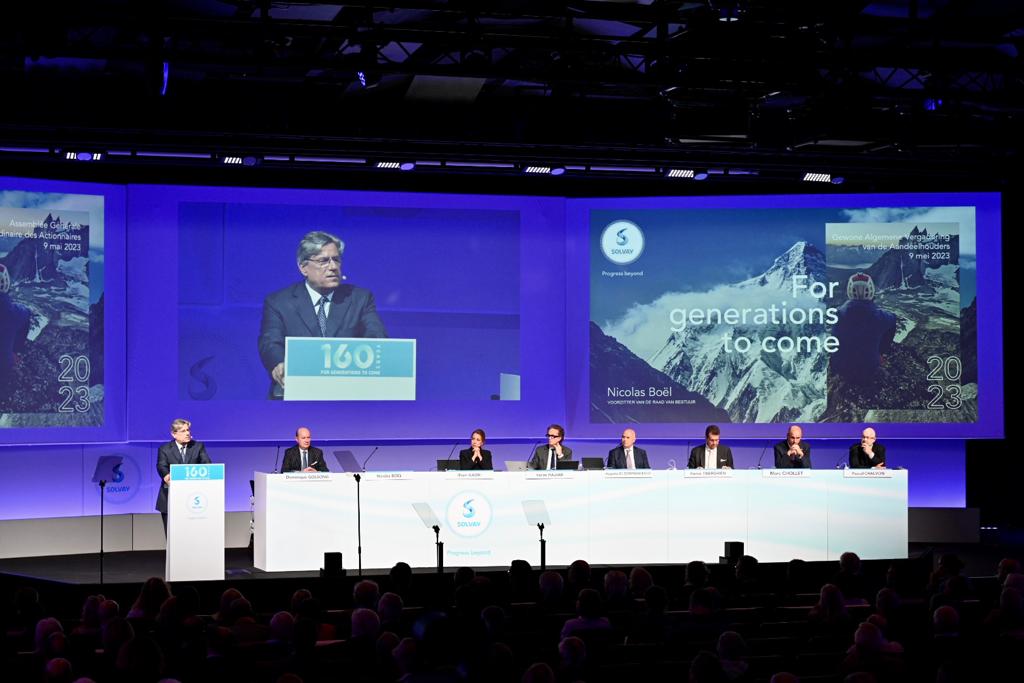 Outcome of the 2023 Shareholders' Meeting
All resolutions were endorsed by shareholders.
Solvay held its Ordinary General Shareholders' Meeting in Brussels. Shareholders voted in favor of all the proposed resolutions. 
Nicolas Boël, Chairman of the Board, highlighted the successes achieved in 2022, which strengthened the financial, environmental, social and governance performance of the Group.
Ilham Kadri, CEO, celebrated the 4-year transformation of Solvay that marked a major milestone in the 160-year journey of the Group, a legacy that will be transmitted to the two companies after the planned separation, for generations to come.
Solvay shareholders showed strong support to all resolutions and more specifically: 
the payment of a gross

dividend

of €4.05 per share for the year 2022. After deduction of the interim dividend of €1.54 gross per share, paid in January 2023, the balance amounts to €2.51 gross per share (after deduction of 30% of withholding tax) will be paid on May 17, 2023.

The re-election of two independent

board members

: Mrs Marjan Oudeman for a four-year term mandate, and Ms. Rosemary Thorne for a one-year term mandate to ensure the smooth transition of the Board duties, particularly her role as Chair of the Audit Committee. 

The remuneration report with a higher approval percentage than last year, and the approval of the proposed special share option award.
Nicolas Boël, Chairman of the Board commented: "I am very proud of our outstanding performance in 2022.  This illustrates the need to continue the strategic trajectory begun four years ago, with the next step being the creation of two powerful companies with strong management and solid prospects for the future. We intend to achieve this while remaining true to ourselves, to who we are. We will pass on 160 years of history and values to these two new champions, carried by the women and men who are driving our Group today."
Details of the votes and the presentations of the Chairman and of the CEO are now available on Solvay's website, in the Investors section.
Related media
About Solvay
Solvay is a science company whose technologies bring benefits to many aspects of daily life. With more than 22,000 employees in 61 countries, Solvay bonds people, ideas and elements to reinvent progress. The Group seeks to create sustainable shared value for all, notably through its Solvay One Planet roadmap crafted around three pillars: protecting the climate, preserving resources and fostering a better life. The Group's innovative solutions contribute to safer, cleaner, and more sustainable products found in homes, food and consumer goods, planes, cars, batteries, smart devices, health care applications, water and air purification systems. Founded in 1863, Solvay today ranks among the world's top three companies for the vast majority of its activities and delivered net sales of €13.4 billion in 2022. Solvay is listed on Euronext Brussels and Paris (SOLB). Learn more at www.solvay.com.