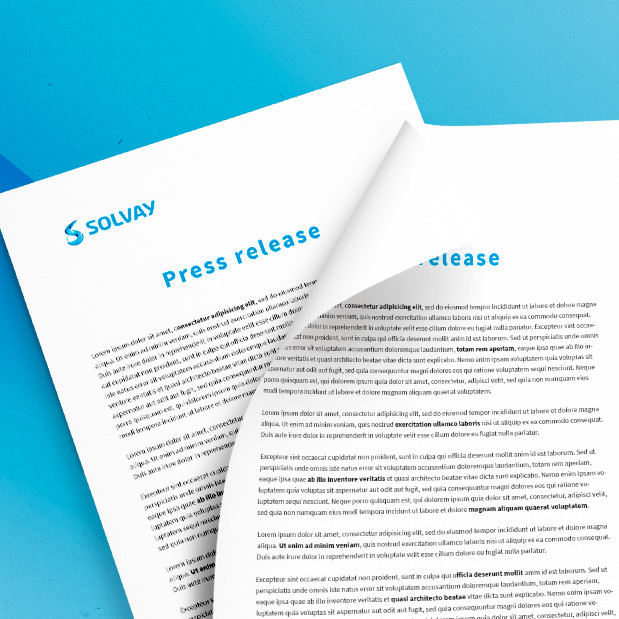 Solvay hails the unprecedented feat by André Borschberg and Solar Impulse 2: flying 5 days and 5 nights on solar energy only from Nagoya to Hawaii
Brussels, July 3, 2015 --- Solvay, the Solar Impulse partner since day one, congratulates André Borschberg, Bertrand Piccard and their teams on this historic feat: flying over the Pacific Ocean without a single drop of fuel. This, the longest and most difficult leg of the Solar Impulse world tour, is at once a fabulous human achievement, a superb demonstration of the robustness of the onboard technology, and a real lesson in risk management. 

The Pacific crossing was a truly out-of-the-ordinary challenge. Despite moments of doubt and frustration related to weather conditions, the Solar Impulse team remained focused on their main goal, that of demonstrating the extraordinary potential of renewable energy while effectively supporting the pilot. 
"I am amazed by André Borschberg's extraordinary performance. It has demonstrated the incredible resilience of which a human being is capable when driven by the taste for challenge and spurred on by his teams, partners and fans worldwide," comments Jean-Pierre Clamadieu, Chairman of the Solvay Executive Committee. "This leg of the journey was also a moment of truth for Solvay, allowing us to validate the reliability of our materials and solutions on board the aircraft. Being part of the Solar Impulse adventure is a source of real pride for all Group employees."

A Partner of Solar Impulse for nearly 12 years, Solvay has helped turn this dream into reality by providing unique products and solutions that enable the solar airplane to fly day and night. These solutions, in the areas of lightweight structures, batteries and energy efficiency, also have applications in our daily lives, particularly in the automotive, construction, and electronics sectors, smartphones and elsewhere. In particular Solvay has contributed to improving pilot comfort with its Solkane® 365 MFC foaming agent, an ultra-lightweight material used for the thermal insulation of the cockpit, which had to face temperatures ranging from -40°C to +40°C in this long stretch above the Pacific.  

In this partnership, Solvay has pushed back the boundaries of innovation and demonstrated its ability to create a sustainable chemistry that is delivering responses to the challenges facing our planet.
* * * * 
Solvay, Solar Impulse's technology partner
15 products, 25 different applications, 6 000 components
To reconcile light weight and performance under extreme climatic conditions where temperatures fluctuate between -40 °C and +40°C, Solvay has been involved in several fields:
Harvesting energy:
An ultra-thin (17 microns) polymer film based on Halar® ECTFE is used to protect the solar panels and the 18,000 photovoltaic cells from moisture, making the Solar Impulse 2 totally watertight.
The small gaps between the solar cells are taped over by high-tech Solstick Solef® PVDF , making them completely flexible and enabling them to follow the movement of the wings.
Storing energy:
Solvay's Solef® PVDF is used to help store energy in the lithium-ion batteries weighing 640 kg. Energy density has also been increased - from 240 Wh/kg in SiI to 260 Wh/kg in Si2. 
Optimizing fuel consumption:
    As a lubricant, Fomblin® PFPE provides mechanical equipment with top resistance to wear and tear and corrosion, thus reducing maintenance requirements and energy consumption.
    The cockpit's fairing is made from ultra-lightweight polyurethane insulation with a special foaming agent, Solkane® 365 MFC.
Making the structure lighter:
The wings have a honeycomb structure based on Torlon® PAI, sandwiched between two carbon-fiber sheets. This composite structure covered with impregnated paper combines excellent mechanical properties (robustness, torsion, bending, vibration) with an incredibly light weight.
The fastenings and screws used to attach the various wing components are manufactured using such high-strength lightweight materials as KetaSpire® PEEK and PrimoSpire® SRP.
The light fittings on the wings and cockpit equipment housing are made from Polyamide 6 Sinterline™. These highly complex, custom-built components are produced by 3D printing, using Solvay's new selective laser sinteringprocess.
And for the pilots' well-being:
   Their underclothes are made from Emana®, a fiber based on polyamide 6.6 which stimulates the microcirculation of blood and improves muscle performance.    
Follow us on twitter @SolvayGroup   
As an international chemical group, SOLVAY assists industries in finding and implementing ever more responsible and value-creating solutions. Solvay generates 90% of its net sales in activities where it is among the world's top three players. It serves many markets, varying from energy and the environment to automotive and aeronautics or electricity and electronics, with one goal: to raise the performance of its clients and improve society's quality of life. The group is headquartered in Brussels, employs about 26,000 people in 52 countries and generated 10.2 billion euros in net sales in 2014. Solvay SA (SOLB.BE) is listed on EURONEXT Brussels and EURONEXT Paris (Bloomberg: SOLB:BB - Reuters: SOLB.BR).