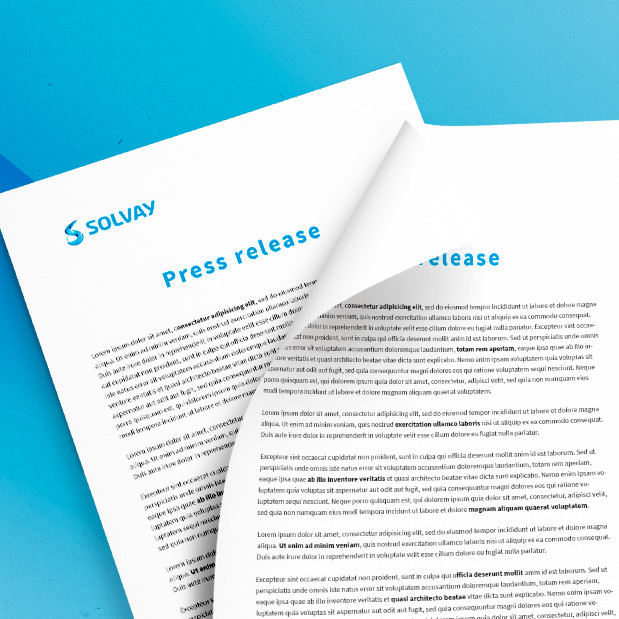 Solvay to Highlight Comprehensive Portfolio and Next Generation Solutions for Energy Storage and Electric Mobility at CIBF 2016
SHENZHEN, China, May 24, 2016– Solvay, a leading global supplier of high-performance polymers, will leverage its proprietary chemistry to support next-generation solutions for advanced energy storage products for high-end consumer electronics, and the growing market of hybrid as well as pure Electric Vehicles (xEV) at the 12th China International Battery Fair in Shenzhen (Booth 1AT02).  
In addition to its extensive market expertise and application know-how, Solvay offers a comprehensive portfolio spans binders for electrodes, separator coatings, electrolyte additives for batteries, structural polymers for battery packs and Aquivion® PFSA membranes for flow batteries.  
"By offering the broadest range of high-performance materials for use in advanced battery and battery packs for electric mobility and energy storage, we are helping our customers addressing key challenges such as high energy, safety and costs thereby helping them gain a competitive edge at the frontier of this fast developing industry," says Prakash Raman, Senior Vice President Solvay and Global Business Development Manager Battery, Solvay Specialty Polymers.  "We are committed to cater to the specific needs of our Chinese customers seeking to capture the opportunities for sustainable growth and innovation arising from the recently adopted Made in China 2025 roadmap and the country's 13th Five Years Plan."
Following the success of its Solef® 5130 and 5120 polyvinyledene fluoride (PVDF) binders for cathodes and anodes, Solvay will showcase a fourth-generation electrode binder with ultra-high adhesion capability and excellent flexibility to meet the harsh requirements of xEV Li-ion batteries. 
New functional PVDF technology for high-performance separator coatings in both solvent and water based processes helps manufacturers to improve on the conformable shape, life cycle and safety of high-end consumer electronics and automotive batteries. The safety of the separator, which keeps the anode and the cathode apart, is one of the most critical issues for global suppliers of high-energy xEV Li-ion batteries. 
Solvay's new Solef® HASC PVDF, used with today's most common ceramic coatings, exhibits excellent cohesion within the coating particles as well as high adhesion between the particles and the separator substrate. Along with good lamination behavior on electrodes, these are key to obtaining a more effective and long-term, high-energy battery performance.
"As a leading provider of advanced materials for the lithium-ion battery separator market, Solvay has always been dedicated to the continuous development of its water-based emulsion PVDF for separator coatings that seek to eliminate the need for organic solvents," adds Prakash Raman. "This is underscored by our special Solef® PVDF latex grades, demonstrating our dedicated commitment to Chinese battery manufacturers looking for ways to reduce both their carbon footprint and their solvent recycling costs by switching to water-based processes." 
For the electrolyte of Li-ion batteries, Solvay's Special Chem global business unit offers advanced functional additives such as lithium bis-trifluoromethane sulfonylimide (LiTFSI), monofluoroethylene carbonate (F1EC), lithium triflate (LiTA) and tertamyl benzene (TAB). LiTFSI, a key component offering high ionic conductivity for Li-ion batteries in liquid electrolyte, and LiTA are also the lithium salts of choice for next-generation, high stability and high-safety Li-sulfur batteries. 
F1EC provides a Solid Electrolyte Interphase (SEI) coating layer with high thermal stability on the negative electrode (anode) surface, thereby improving life cycle and battery capacity. TAB has a higher oxidation initiation voltage compared to the operating voltage of the cathode, and it is used as overcharge protection in the electrolyte of Li-ion batteries. In addition to these commercially available products, Solvay has developed new fluorinated compounds such as difluoroethylene carbonate (F2EC), a TFEEC fluorocarbonate, and a new salt and ionic liquid derivative of TFSAR (CF3SO2NHR derivatives with R=Me) targeting novel electrolyte systems fit for new electrodes and high-voltage applications.
Also on display at CIBF will be a broad range of high-performance specialty polymers for xEV battery module/pack applications leveraging Solvay's in-depth understanding particularly in electric vehicles. Among these materials, Amodel® polyphthalamide (PPA), Ryton® polyphenylene sulfide (PPS) and Ixef® polyarylamide (PARA) have exceled to be proven metal-replacement and light-weighting structural battery module/pack internal as well as housing components requiring high mechanical strength, high voltage resistance and non-compromising dimensional stability. Amodel® PPA is also widely used for high-voltage connectors and plugs. Furthermore, Galden® perfluoropolyether (PFPE) combines excellent electrical insulation properties with good thermal transfer performance and excellent high/low-temperature resistance as a cooling agent in liquid-cooled battery packs.
Solvay will also highlight its Aquivion® perfluorosulfonic acid (PSFA) offering for ion exchange membranes positioned between the separate electrolyte circuits in the galvanic cells of advanced, fast-recharge Redox flow batteries, an energy storage system technology currently also evaluated for use in electric mobility.
Throughout CIBF 2016 (May 24-26) at the Shenzhen Convention and Exhibition Center, Solvay's polymer, electrolyte and market experts will be available on Booth 1AT02 to discuss the company's offering of advanced material technologies for cutting-edge and sustainable high-energy battery packs and storage modules. 

Follow us on twitter @SolvayGroup
About Solvay
Solvay Specialty Polymers manufactures over 1500 products across 35 brands of high-performance polymers – fluoropolymers, fluoroelastomers, fluorinated fluids, semi-aromatic polyamides, sulfone polymers, aromatic ultra-high performance polymers, high barrier polymers and cross-linked high-performance compounds – for use in Aerospace, Alternative Energy, Automotive, Healthcare, Membranes, Oil and Gas, Packaging, Plumbing, Semiconductors, Wire & Cable, and other industries. Learn more at www.solvayspecialtypolymers.com.
An international chemical and advanced materials company, Solvay assists its customers in innovating, developing and delivering high-value, sustainable products and solutions which consume less energy and reduce CO2 emissions, optimize the use of resources and improve the quality of life. Solvay serves diversified global end markets, including automotive and aerospace, consumer goods and healthcare, energy and environment, electricity and electronics, building and construction as well as industrial applications. Solvay is headquartered in Brussels with about 30,900 employees spread across 53 countries. It generated pro forma net sales of € 12.4 bn in 2015, with 90% made from activities where it ranks among the world's top 3 players. Solvay SA (SOLB.BE) is listed on Euronext in Brussels and Paris (Bloomberg: SOLB:BB - Reuters: SOLB.BR).