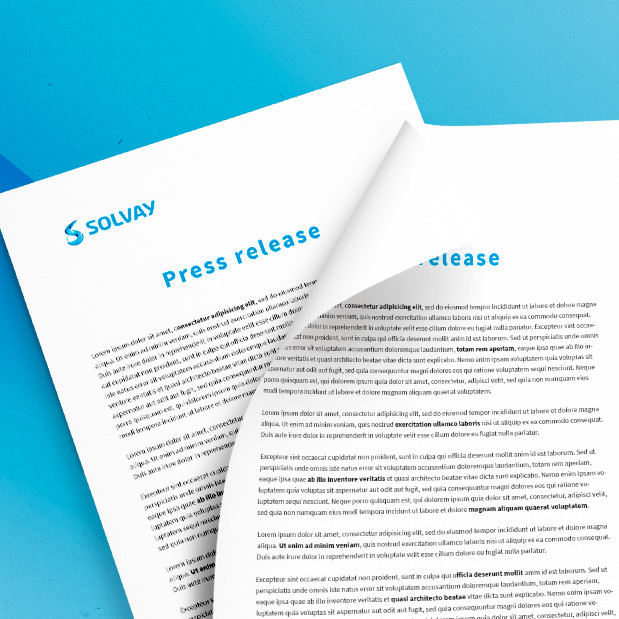 Solvay to invest in production facility for NOCOLOK® in China
Lansol Fluor chemicals, a joint venture between Solvay and Sinochem Lantian, a Chinese chemical company, is building a production facility for NOCOLOK®, a brazing flux, in Quzhou (Zhejiang province). The Solvay group will be investing €5 million in the project. Production is to begin by the spring of 2014, to produce around 3,000 tonnes p.a.
"The new facility is an example of the Solvay group's strategy to invest in growing markets and to expand production and development sites close to our markets and customers", says Horst Kröger, Manager Business Development and Strategy of Solvay's Global Business Unit (GBU) Special Chemicals.
With its fluorine specialty NOCOLOK® Solvay is a global market leader for aluminium brazing flux. In the automotive industry the brazing flux is the standar d for the production of heat exchangers such as coolers and air conditioning systems. With the new production facility Solvay aims to serve the fast-growing automotive market in Asia, and specifically in China.
The Solvay group has had a cooperation with the Sinochem Lantian Group since 2006. "Our good experiences with our Chinese partner have encouraged us to expand the cooperation further", Kröger explains. At the Quzhou site near Hangzhou, in Zhejiang province in East China, Lansol with its 97 employees operates a facility for the production of hydrogen fluoride and for highly pure hydrofluoric acid (HF), which Lansol mainly sells to the two partners in the joint-venture in China (Sinochem Lantian) and in Korea (Solvay) for their own processing demands. In addition, Lansol also sells HF to the domestic solar panel industry and to export customers in Korea.
The new NOCOLOK® plant is to start producing by July 2014. The groundbreaking ceremony was held in July 2013. The new facility will offer approx. 25 new jobs. "We will begin by producing around 3,000 tonnes p.a. of NOCOLOK®, but we can adapt our production capacity very quickly if demand increases", says Kröger.
The brazing flux NOCOLOK® is used mainly to braze heat exchangers in the automotive industry. In that segment Solvay Fluor is a global leader. NOCOLOK® wets the contact surfaces and melts on heating. It opens the oxide layer, so that the solder can create a strong an permanent bond. Also the producers of stationary heat exchangers in air conditioning systems and refrigerators are increasingly changing their production to use aluminium and the NOCOLOK® brazing process. Solvay Fluor has optimized the formula to allow for the new applications.
GBU Special Chemicals belongs to Solvay's segment Advanced Materials and is active in a range of markets: Energy, Conservation and Storage, Semicon/Electronics, Agro & Food, and Performance Materials. It is a world leader in Fluorine Chemistry and maintains the position through innovation, using its distinct knowledge for highend applications such as heat exchangers and Li-ion batteries. Special Chemicals also develops its Electronics platform as a niche player with strong partners. The GBU has a global presence with more than 35 sites, HQ in Seoul and 2,300 employees spread across four continents.
As an international chemical group, SOLVAY assists industries in finding and implementing ever more responsible and value-creating solutions. The Group is firmly committed to sustainable development and focused on innovation and operational excellence. Solvay serves diversified markets, generating 90% of its turnover in activities where it is one of the top three worldwide. The group is headquartered in Brussels, employs about 29,000 people in 55 countries and generated 12.4 billion euros in net sales in 2012. Solvay SA is listed as SOLB.BE on NYSE Euronext in Brussels and Paris (Bloomberg: SOLB:BB - Reuters: SOLB.BR).
Sinochem'score businesses span over energy, agriculture, chemical, real estate and financial service. It is one of China's four state oil companies, China's biggest agricultural input company (fertilizer, seed and pesticide), China's leading chemical service company. It also exerts strong influence in real estate and non-banking financial service sector. As a global conglomerate with market orientation, Sinochem's quality product and service is relevant to many aspects of mass economy and people's well being. Its brand enjoys high r eputation and acknowledgement around the world.
Sinochem currently owns more than 300 subsidiaries inside and outside China. The company's headquarter is located in Beijing. Sinochem Group is China's earliest entrant in Fortune Global 500 and has entered the list for 22 times, ranking 113 th in 2011. Through years of strategic transformation and management overhaul, Sinochem has maintained a sustainable, healthy and rapid development. Sinochem has been rated by SASAC as "top A corporate performance" for 8 years in a row. Sinochem's vision is to become a respectable company with global influence, making fortune to all the stakeholders and the society . Our 40,000 employees will follow the doctrine of "Creating Value, Pursuing Excellence", shoulder social responsibility as corporate citizen, and adopt scientific development approach to realize sustainable business potency.